The More Things Change, The More Filmmakers Need the Forum!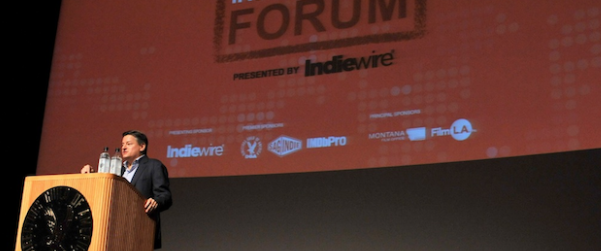 It seems every time we turn around, there's another hot topic bubbling up in the independent film world. California passed the tax credit! Netflix is making movies! Amazon is making a web series! Cult shows are making comebacks (Twin Peaks!)!
It would be impossible to keep up with it all—if it weren't for the upcoming Film Independent Forum. From October 24-26, we're convening a brain trust of filmmakers, content creators, game-changers and deal-makers to share their take on the latest news in the business and how it all affects filmmakers trying to get their work made and seen.
We've already announced the opening night screening of Nightcrawler, followed by a Q&A with writer/director Dan Gilroy and producer Jennifer Fox; keynotes by Tim League (Founder of Alamo Drafthouse) and Jill Soloway, writer/director, (Transparent). Now we are excited to share highlights from the latest Forum line-up with even more great names.
Money Matters: A Financing Clinic
Brian O'Shea, CEO, The Exchange
Stuart Pollok, President of Film, Indomitable Entertainment
Michele Turnure-Salleo, Director, San Francisco Film Society's Filmmaker360
Peter Trinh, Agent, International and Independent Film, ICM Partners
Gary Michael Walters, CEO, Bold Films
Moderated by Paula Manzanedo-Schmit, Vice President, Film Finances Inc.
Beyond the Lottery: California's New Film and TV Tax Credit
Stephanie Allain, Director, Los Angeles Film Festival, producer, Dear White People, Beyond the Lights
Paul Audley, President, FilmL.A., Inc.
Victor Moyers, President of Production, Broad Green Pictures
Additional panelists to be announced.
Moderated by Josh Welsh, President, Film Independent
Serial Content: What does it take to launch a show?
Jake Avnet, executive producer, WIGS
Kenya Barris, writer/executive producer, Black-ish
Raymond McKinnon, creator/executive producer, Rectify
Moderated by Ben Travers, Assistant TV Editor, Indiewire
Distribution and Marketing Case Study
Aron Gaudet, writer/director/producer, Beneath the Harvest Sky
Gita Pullapilly, writer/director/producer, Beneath the Harvest Sky
The Producer-Director Partnership: A Most Creative Collaboration
Ted Hope, CEO, Fandor
Albert Berger, producer, The Leftovers and Nebraska
For more info—including the full schedule, and details on signing up for one-on-one Indie/Links meetings with key industry insiders—and to register, go to our Forum site.
Pamela Miller / Website & Grants Manager