Undercover Indies: What Makes 'Eternal Sunshine of the Spotless Mind' So Unforgettable?
For most people, the most widely accepted definition of "independent film" is any sort of movie made outside (or largely outside) the studio system. Many of our most critically acclaimed and important films have been indies, yet often the average moviegoer has no clue that what they're watching has been made through means different than the typical blockbuster. With Undercover Indies we hope to shine a light on some familiar film titles that you may be surprised to learn are actually—surprise!—independent productions.
Eternal Sunshine of the Spotless Mind is a beautiful, strange and poetic film. Written by Charlie Kaufman and directed by Michel Gondry, the film focuses on Clementine (Kate Winslet) and Joel (Jim Carrey), a seemingly normal-ish couple navigating a truly unusual love story. When Joel catches word that Clementine has erased him from her memory via an odd procedure performed by the mysterious Lacuna Corporation, he attempts to do the same. What unfolds is a combination of drama, romance, psychological fantasy and science fiction.
Why you don't think it's an indie.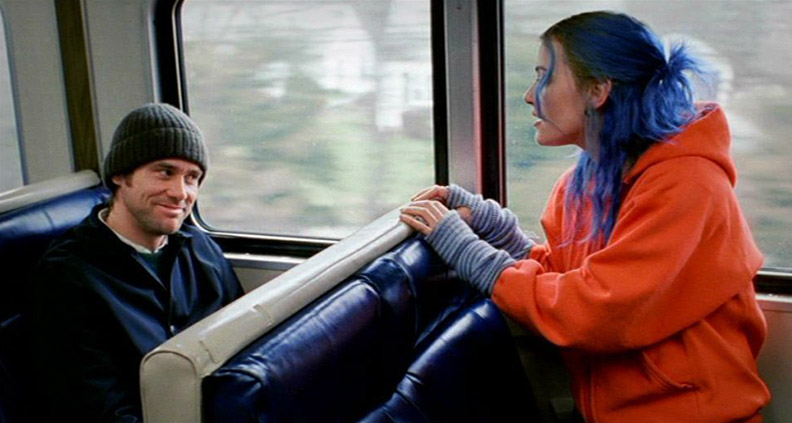 While Eternal Sunshine of the Spotless Mind may not be a guaranteed household name, it's certainly an iconic work. Even if you haven't seen the film itself, you've likely seen images or heard references to the film, which have probably (and ironically, given the nature of the narrative) lodged themselves in your brain—the key one being the peaceful-yet-haunting image of Jim Carrey and Kate Winslet laying together on a frozen like by a massive crack in the ice.
Speaking of Jim Carrey and Kate Winslet, the cast alone is likely to make you think that this is big budget film. Only a few years removed from hits like Titanic and Dumb and Dumber, Winslet and Carrey are joined by a supporting cast that features the A-list likes of Mark Ruffalo, Kirsten Dunst, Elijah Wood and David Cross. And while a few of these massively talented actors were not quite yet to the level of full superstardom, they would all get there within a matter of a few years.
But the actors weren't the only ones who moved on to big things. Ever heard of Jon Brion? Maybe not. But Kanye West certainly did after watching Eternal Sunshine. He was so inspired by Jon Brion's score for the film that he asked the LA-based musician to collaborate with him on the 2005 album Late Registration, creating much of the hit "Gold Digger" together after their very first day working.
Working from a story idea developed by Gondry and French artist Pierre Bismuth, Charlie Kaufman won the 2005 Academy Award for Best Original Screenplay for the film, which did well at many other international awards ceremonies.
Why it is and indie.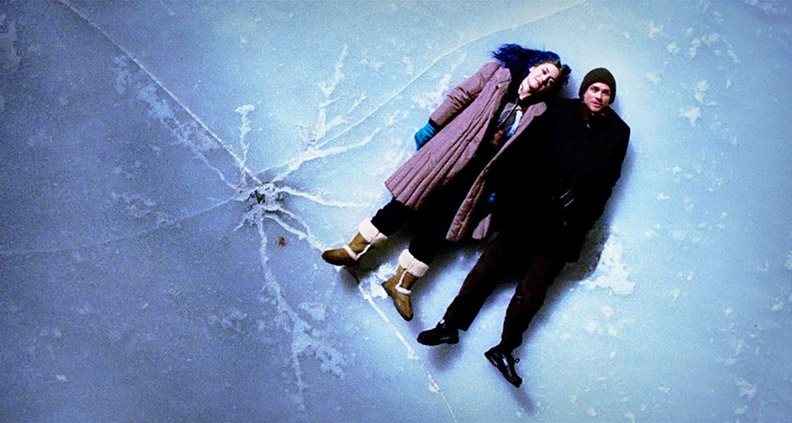 For all you indie buffs out there, this may be an obvious one. Due to the bizarre, existential tone of the film, the distinctly artistic visual style and palpably raw, emotional performances, this film screams indie. However, its stylistic traits are not the only reason Eternal Sunshine fits the mold.
Let's start at the top: the idea. The concept of the film originated with Bismuth, who originally came up with sending cards out to people claiming that someone they knew had erased them from memory. He wanted their reactions for an art experiment—not the typical source of inspiration for blockbuster films.
Even though Sunshine holds up as one of Jim Carrey's most acclaimed dramatic performances, he wasn't Gondry's first choice for the role. At the time, Nicolas Cage was all the rage. As the director put it, "Every independent director who wanted to make a commercial movie asked Nicolas Cage to be in their movie." But as is often the case in independent film, they ended up with a happy accident, someone with the right passion for the project—something Carrey clearly had.
Next: the execution. Many of the visual tricks were done practically, the "old-fashioned way," without the use of heavy visual effects. For example, the climactic scene where the tide washes up into Joel's imaginary beach house was done by actually building a house along the Montauk shores and simply allowing the tide to roll in. In fact, nature dictated the famous scene on the lake as well. While the script called for snow, Gondry was prepared to do something different if the weather did not cooperate, leading him to swap out a snowy field for the frozen lake—no fancy potato-flake snow blowers on that set.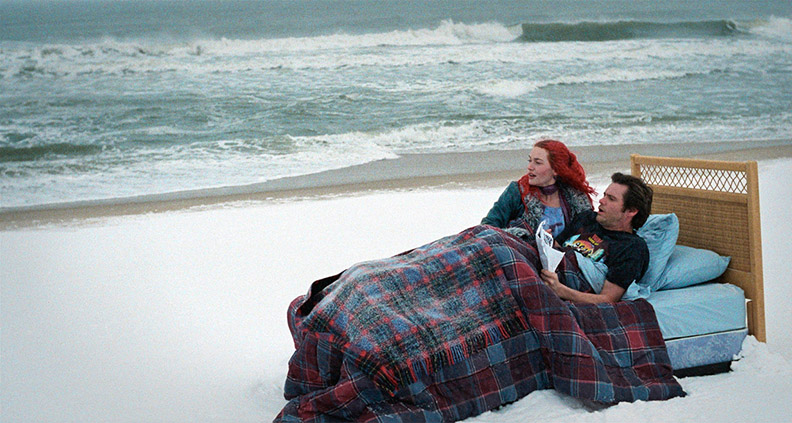 Not only did the crew need to stay flexible, the actors did as well, encouraged to improvise often—except, interestingly, for Carrey, who's character Gondry felt needed to remain reserved. This is a tactic employed in many films, but is generally capitalized on in indie films seeking to convey a more vérité, slice-of-life aesthetic as opposed to Sunshine's expressionistic flights of fancy.
The film was finished in about three short months and cost approximately $20 million. While there are many films made for less, considering the scope of what was achieved on set, a much bigger budget could have been anticipated.
Somehow, Eternal Sunshine of the Spotless Mind pulls off being a quintessential independent film while also tricking us in to believing that it is not, in fact, an independent film. It looks much more expensive, carefully planned and overall more finessed than it actually was, boasting a highly successful cast to boot. The concept was fresh and simple enough to have wide commercial appeal while still maintaining the artsy, philosophical core that so many indie film viewers hold dear to their heart. In a word, it's unforgettable.
NOTE: a version of this blog originally ran in 2017, authored by Film Independent blogger Kaia Placa. It appears in a revised version here. Special thanks to Kaia.
Film Independent promotes unique independent voices, providing a wide variety of resources to help filmmakers create and advance new work. To support our efforts with a donation, please click here and become a Member of Film Independent here.
Follow Film Independent…