The Fi Hall of Fame: Ten Classic Indies About Messy Lives in Sunny Los Angeles
Film Independent's annual Board Member Matching Campaign has been extended to September 29! To raise support for the next 30 years of filmmaker support, all donations make before or on the 29th will be doubled—dollar-for-dollar up to $100,000. To celebrate the campaign, we're re-posting a few of our most popular blogs.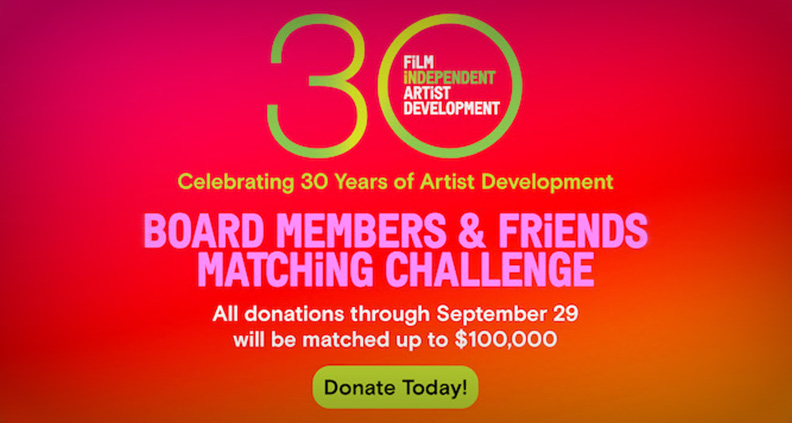 For those of us who have been here for a decade or two, it's remarkable to consider both how much and how little the city of Los Angeles has changed over the years. There are still plenty of the old landmarks—the Hollywood Sign, Pink's Hot Dogs, that dude who rollerblades around is white robes and plays guitar on the Venice boardwalk—while other, seemingly indestructible, institutions have tragically bitten the dust (ArcLight, The Cat & Fiddle Pub, Hollywood Park).
So! With local issues perpetually at the forefront of our mind this week, here now are ten films that remind us of life in Los Angeles during a very particular and only recently bygone era: the '90s and early 2000s. These films are honest portrayals of what livin' la vida loca LA-style is all about, whether they're a glimpse into the lifestyles of the rich and famous, the realities of showbiz or struggles within SoCal's toughest 'hoods. These indies movies showcase all the good, bad and ugly that is life in Los Angeles, as true now as they were back then.
SHORT CUTS (1993)
Director: Robert Altman
Writers: Robert Altman, Frank Barhydt
Starring: Andie MacDowell, Julianne Moore, Tim Robbins, Lily Tomlin
Producer: Cary Brokaw
Why We Love It: Trailblazing filmmaker Robert Altman's movies (almost) always boast big ensembles, long takes, even longer monologues and intersecting stories involving countless complex characters—all brought to life by some of the finest players in the motion picture industry. But even amid the rest of Altman's filmography, Short Cuts stands tall as one of the writer/director's most celebrated and acclaimed works. It's also undoubtedly one of the first films that'd come to mind for any cinema buff asked to name which movies remind them of Los Angles and what life in the city is actually like for 99% of its inhabitants. Featuring a cast of too many A-list stars to name, Short Cuts depicts the complicated lives of several suburban LA residents colliding as they lie, cheat, love and hate amidst earthquakes and Medfly infestations. The film was nominated for four Film Independent Spirit Awards and won three: Best Feature, Best Director and Best Screenplay. Not to mention this is also the film where two-time Spirit Award winner Julianne Moore delivered her breakthrough film performance.
Where to Watch: Criterion DVD/Blu-Ray
MENACE II SOCIETY (1993)
Directors: Albert and Alan Hughes
Writer: Tyger Williams (screenplay)
Starring: Larenz Tate, Tyrin Turner
Producer: Darin Scott
Why We Love It: On LA's toughest streets, Hollywood dreams are pretty much obsolete as young African-Americans negotiate a dangerous world of poverty, gangs, drugs and death. Survival is the priority for Caine (Spirit Award nominee Tyrin Turner), a hustler and street thug determined to turn his life around and free himself from a life of crime and violence. The Hughes Brothers made a splash with this gritty indie drama, which won the 1994 Spirit Award for Best Cinematography. Menace remains one of the mid-'90s most harrowing depictions of South Central gang violence, capturing the voice of communities and individuals who weren't often being represented in mainstream movies of the day. Costarring Larenz Tate, Jada Pinkett Smith and Spirit Award Winner Samuel L. Jackson, Menace II Society is as audacious and entertaining as it is important.
Where to Watch: Pluto TV
CLUELESS (1995)
Writer and Director: Amy Heckerling
Starring: Alicia Silverstone, Stacey Dash, Brittany Murphy, Paul Rudd
Producers: Robert Lawrence, Scott Rudin
Why We Love It: You simply can't make a list of movies that perfectly capture LA life without including Amy Heckerling's totally classic '90s teen comedy. In the role that made her famous, Alicia Silverstone plays Cher: the most popular 16-year-old high school "It" girl in Beverly Hills circa 1995. Cher lives a lavish lifestyle, boasting the best clothes, the best friends, and charitably giving out-of-town newbie Tai (Brittany Murphy) a makeover to ensure she's automatically initiated into the cool kids clique. Those who love the film can relate almost anything in life to a Clueless moment. From Cher's shopping sprees on Rodeo Drive to high school students with bandaged, post-plastic-surgery faces to the garish Beverly Hills architecture, this movie is, like, totally as LA as it gets.
Where to Watch: Paramount+, Pluto TV
FRIDAY (1995)
Director: F. Gary Gray
Writer: Ice Cube, DJ Pooh
Starring: Ice Cube, Chris Tucker
Producer: Patricia Charbonnet
Why We Love It: After Cheech and Chong but before Jay and Silent Bob, "Smokey and Craig" sat on a porch, got high and went looking for something to do. It may not sound like a million-dollar pitch, but this cult favorite and surprise success would go on to inspire two sequels and pave the way for Ice Cube and F. Gary Gray's 2015 N.W.A. biopic, Straight Outta Compton. Gray's sidesplitting comedy stars Cube and Chris Tucker as two stoners who need to come up with $200 by the end of Friday night to pay back their dealer. Friday is one of those movies where you just. Can't. Stop. Laughing. You may even feel like you've gotten a contact high from all of the onscreen pot smoke. A true landmark in stoner-movie history, the film laid the groundwork for countless knockoffs and will forever stand out as one of cinemas most memorable marijuana movies, all while showing a much different South LA than was glimpsed in Boyz n the Hood or Menace II Society.
Where to Watch: Max
SWINGERS (1996)
Director: Doug Liman
Writer: Jon Favreau
Starring: Jon Favreau, Vince Vaughn, Heather Graham
Producer: Victor Simpkins
Why We Love It: Long before Iron Man and Wedding Crashers, Swingers was the film that put Jon Favreau and Vince Vaughn on the map, making the duo an R-rated odd couple for Generation X and showing Hollywood that the new kids in town weren't necessarily losers—just late bloomers. Doug Liman's indie comedy about two aspiring actors who get caught up in LA's swanky nightlife scene was a true underdog the year of its release, and Favreau and Vaughn its big success story. Swingers was an especially important career moment for Favreau, who not only celebrated the victory of having his first screenplay become an instant indie classic, but who also saw adoring fans claim the film as the definitive guide to landing ladies in the mid-'90s LA lounge scene. The film would inspire Favreau's directorial debut Made, a sort-of-sequel that featured the duo once again hard at work in Hollywood trying to make ends meet.
Where to Watch: Paramount+
CHUCK & BUCK (2000)
Director: Miguel Arteta
Writer: Mike White
Starring: Mike White, Chris Weitz, Lupe Ontiveros
Producer: Matthew Greenfield
Why We Love It: Before he pulled out a surprise pandemic-era hit with HBO's White Lotus, indie stalwart Mike White kicked off his career with this oddball character study directed by frequent collaborator Miguel Arteta (Beatriz at Dinner), about an introverted naif, Buck (White), who reconnects with an old childhood friend, Chuck (Weitz), at Buck's mother's funeral. Freshly untethered following his loved one's death, Buck takes Chuck up his hollow offer to come visit him in Los Angeles. Taking up residence in a cheap motel, Buck soon falls in with a local theater community run by headstrong box office manager Beverly (Oliveros). Surrounded by his new creative community, Buck tries to work through his trauma and process his complicated history with Chuck, who grows more and more weary of Buck's helicoptering friendship with each passing day.
Where to Watch: FreeVee
THE ANNIVERSARY PARTY (2001)
Writers and Directors: Alan Cumming, Jennifer Jason Leigh
Starring: Alan Cumming, Jennifer Jason Leigh, Parker Posey, Phoebe Cates
Producers: Alan Cumming, Jennifer Jason Leigh
Why We Love It: If you've never seen this collaboration between two of independent film's finest actors, then shame on you! Alan Cumming and Jennifer Jason Leigh's Spirit Award nominated dramedy is the ultimate voyeur's look at a typical (i.e. make-believe) Hollywood gathering. Cumming and Leigh play a couple on the mend from a temporary separation, celebrating their wedding anniversary with a dozen or so of their closest Hollywood friends. Leigh and Cumming (who co-wrote the film together) loosely based each of the film's characters on the actors that played them, including Gwyneth Paltrow as an A-list "goddess" movie star, Jane Adams and John C. Reilly as an eccentric married couple and—most ironically—real-life husband-and-wife Kevin Kline and Phoebe Cates as, respectively, a big-time Hollywood star and his wife, who gave up her once-flourishing acting career to sit on the sidelines and raise a family. Shot digitally in less than a month on a modest budget, The Anniversary Party exemplifies what happens when talented friends come together to make something speciat. It's exactly what you'd hope for an elite Hollywood social gathering.
Where to Watch: Kanopy
MULHOLLAND DRIVE (2001)
Writer and Director: David Lynch
Starring: Naomi Watts, Justin Theroux, Laura Harring
Producers: Neal Edelstein, Tony Krantz, Michael Polaire, Alain Sarde, Mary Sweeney
Why We Love It: Another famous street, another noir and another exploration of Hollywood's dark side. David Lynch never fails to deliver original, twisted films that are instantly recognizable as uniquely his own without the viewer even seeing the credits. Deeply layered with puzzling plot points to trick viewers, Lynch dares us to solve multiple mysteries all while questioning whether or not we're on a wild goose chase. In the end, you'll have to draw your own conclusions about what means what, but at least one thing's for sure: there's never a dull moment along the way. Naomi Watts delivers a crazy-good performance as an aspiring, starry-eyed actress who gets tangled up in a web of lust and curiosity after finding a mysterious woman (Laura Harring) in her shower. Throw in a car accident, a movie director (Justin Theroux) being forced to cast an unwanted actress and a steamy romance between leading ladies, and you've got a map to Mulholland Dr.
Where to Watch: Criterion DVD/Blu-Ray
LAUREL CANYON (2002)
Writer and Director: Lisa Cholodenko
Starring: Frances McDormand, Kate Beckinsale, Christian Bale
Producer: Jeffrey Kusama-Hinte
Why We Love It: Lisa Cholodenko's sophomore feature isn't as dour as her drug-heavy debut High Art, but that's not to say it isn't just as intoxicating. Her 2002 dramedy is set in Laurel Canyon, the famous Hollywood Hills bohemian enclave where aging music producer Frances McDormand still lives and works. McDormand's character is a successful, pot-smoking showbiz type, sexually uninhibited and dating a younger musician played by Alessandro Nivola. In other words—she's wild, cool and free. Her son (Christian Bale) is the complete opposite: a smart, serious psychiatrist who has agreed to temporarily move into his mother's house with his uptight fiancée (Kate Beckinsale). It doesn't take long before the heat of the Valley starts getting to everyone, as mother and son psychoanalyze one another and discuss what may or may not have been appropriate parenting. Everything from the music to the conversations and interactions emphasizes LA life and how "the industry" seduces the curious newcomers. McDormand and Nivola both received Spirit Award nominations for their performances.
Where to Watch: Tubi
FRIENDS WITH MONEY (2006)
Writer and Director: Nicole Holofcener
Starring: Jennifer Aniston, Catherine Keener, Frances McDormand, Joan Cusack
Producer: Anthony Bregman
Why We Love It: There are two things you can always count on when sitting down to watch a film written and directed by Spirit Award winner Nicole Holofcener: 1) the movie is going to star Catherine Keener, and 2) it's going to be a well-observant, slice-of-life comedy of manners with an all-star cast and plenty of sarcastic wit to go around. Like several of Holofcener's films, Friends with Money take place in Los Angeles and presents a variety of strong, independent female characters portrayed by some of the industry's most talented leading ladies. This, her third film, features Jennifer Aniston as the "poor" friend who cleans houses to get by—even as best friends Keener, McDormand and Cusack all range from upper middle class to stinkin' rich. Yet all four are linked by the common thread of mid-life chaos, from public outbursts and nervous breakdowns to sexually ambiguous husbands and spoiled children. Holofcener's biting wit and razor sharp tongue are in full effect as she brings the desperation of these Los Angeles women front and center. Like just about all of her screenplays, Holofcener received a Spirit Award nomination for the film, and Frances McDormand took home the Spirit Award for Best Supporting Female.
Where to Watch: VOD rental, all platforms
Coming soon… The 2023 Film Independent Forum!
Film Independent promotes unique independent voices by helping filmmakers create and advance new work. To become a Member of Film Independent, just click here. To support us with a donation, click here.
More Film Independent…
(Header: Friday)