The New Wave Actors: Seven Performers You Need to Know Right Now
The entertainment industry landscape is constantly evolving. And with that evolution has come a new generation of actors who are challenging norms, pushing boundaries, and demanding more authentic and inclusive representation onscreen. On June 20 at the Wallis Annenberg Center for the Performing Arts in Beverly Hills, SAGindie Executive Director Darrien Gipson moderated a Film Independent roundtable with seven up-and-coming performers currently reshaping how we see ourselves in film and TV: Annie Gonzalez, Isis King, Lionel Boyce, Sue Ann Pien, Lukita Maxwell, Young Mazino and Josie Totah.
The group was celebrated together as Film Independent's 2023 New Wave Actors honorees—performers who have lately emerged, continuing to deliver stellar performances and carve out new spaces for representation in popular media. Watch the full panel below and keep reading for more highlights from the conversation…
Gipson began by asking, "If you're a creative BIPOC person today, do you have to be an activist too?" Annie Gonzalez (Flamin' Hot, Gente-fied) answered immediately: "Being a brown person on screen is a radical act," making activism a necessary part of her journey, she said. Meanwhile, Isis King (With Love, When They See Us) acknowledged the exhaustion that comes with being a longtime advocate for trans rights. Breaking away from tragic narratives is crucial, she said, as transgender people deserve representation that reflects the full scope of their lives. "You shouldn't have to do [that]," she said. "I should be able to live, share my story, share my art."
Sue Ann Pien (As We See It) shared what it's like to be on the autism spectrum and the bravery it takes to be out—and outspoken—about it. "Is this a bad thing to be out about? Because that was a fear," she explained. "There's a lot of stigma [around autism] to be so forward and outspoken. And then there's another sense of Well, why do people who look like me not understand that they are autistic?" Pien emphasized the need for more creative diversity and highlighted the significance of having individuals from marginalized communities in positions of power within the industry. "If anyone is going to speak the truth, why not us?" added Gipson.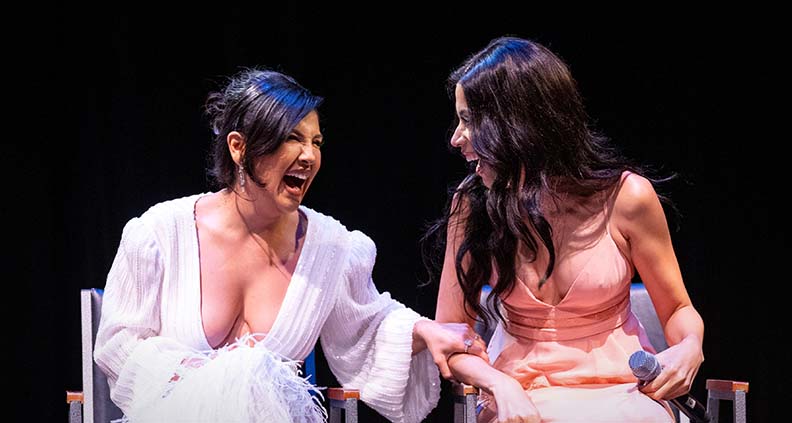 "Not everyone in the room is going to have the same truth," said Gipson, directing the conversation back to Gonzalez. "I loved the dynamic of your show [Gente-fied] and the family unit. You've dealt with issues, but that wasn't [at the core of the show]." Gonzalez agreed, adding that it was a result of having people who are the face of the story also telling the story to add to the authenticity of the world. "The more we have brown writers, trans writers, Asian directors, etc. at the top, the easier it is for all of us to do our job," she said.
Gipson turned to Lionel Boyce, observing his gentle touch on FX's The Bear, asking how he developed his character on the second-year hit. Boyce shared that he studied as an intern at a couple of fine dining restaurants to help him further his understanding of the milieu. "It was a bakery and I would talk to the bakers—it's where [cooks] go to retire from kitchen. It's the intensity and urgency of working in the kitchen without the chaos and mayhem of cursing each other out. So I think realizing that it allowed me to say: Okay, this character's kind of living in his own space in this world. Every time you step over here it feels like an exhale, instead of adding to the chaos," he said. Gipson then asked Boyce if he'd picked up any baking skills. "I had to, so that I looked like I knew what I was doing!" he laughed.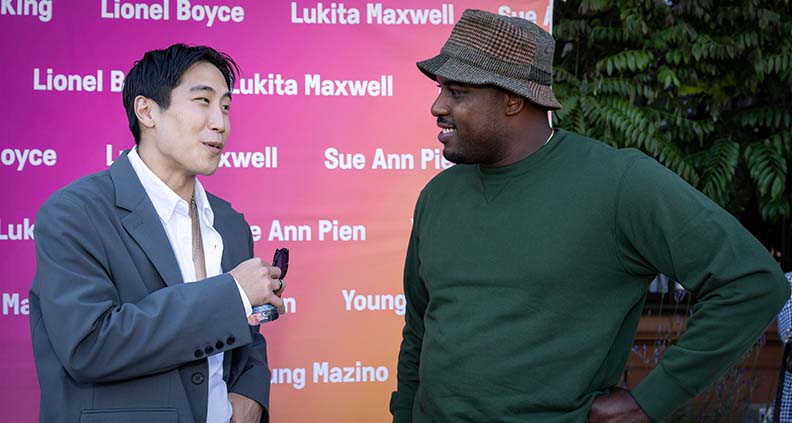 Gipson praised King for her portrayal of Sol Perez on Amazon's With Love. King discussed the process it took for us to see the character onscreen. "I want to go back to getting the role, you know, being a trans person. I've never seen the character description [of a trans person] be that they are heart of the family, warm, kind, hardworking—all of these things that I feel like I am. For a trans person, especially a Black or Brown trans person, that's not ever the description. So to see that and to kind of know that the character is grounded in the heart that I feel like I already have, that's not ever anything I ever see." Gloria Calderón Kellett, showrunner of With Love, was present at this conversation. King praised Kellett for knowing that queer writers were necessary to create a fuller story. "Gloria knew that it was important to have queer writers. One of the writers is nonbinary and they help write [my] character, which goes back to everything everyone said. To pick up some of the little nuances of the trans person was so important."
Gipson asked Glee alum Josie Totah about working in Hollywood before and after her transition. "I got into this industry, like a lot of kids do, by it being just something that's a fun thing to do and activity that obviously comes with a lot of privilege, to be able to have family that are willing to support that activity and you know move me to LA when I booked my first show and I was, like, 10-years-old. And then it became like a job, which I didn't really realize. But I kept booking like these roles and then I sort of found myself like cornering this market of like, the little gay boy."
Totah explained that having Hollywood force the "little gay boy" narrative onto her at this young age was difficult to navigate. She spoke about the damaging effect of the industry in rewriting the identities of people who are ever-evolving and therefore can not always fit into the same box. "How am I expected to live my truth with that incongruence and that cognitive dissonance that existed for several years? And I think when my show on NBC that I'd done in high school got canceled, I was obviously devastated. But I was also sort of relieved. I describe it as like the water sort of boiling over and that was the opportunity for me to finally step into my truth."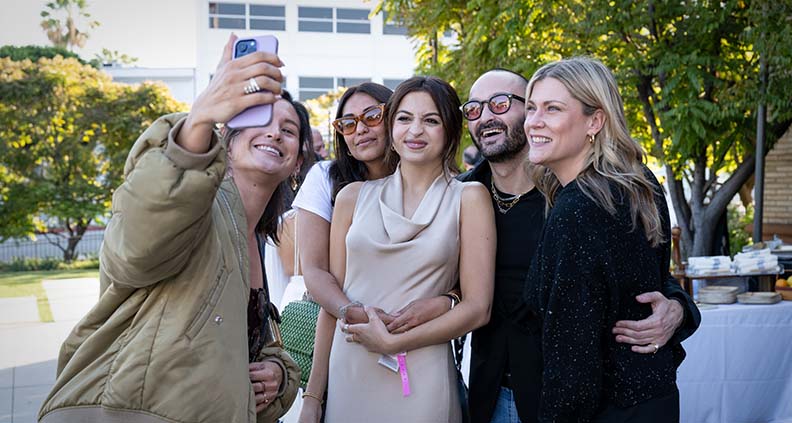 These revelations continued through the night. Young Mazino, who can be seen in Netflix's Beef, shared his transition from music to acting. "I think for music, it's developed into something that, for me, is more private. It's something I do to individually express any feeling or emotion or energy. But acting is something more to be shared. It's a very collaborative experience, especially in film," he said. Even through the exhaustion of press and being on set, he finds gratitude for where he is in his life and newfound career path. "I think I'm blessed to be here. Acting has always been like a spirit or entity—I think she's this divine, feminine spirit that seems to just carry me through all kinds of situations throughout my life, whether or not I was aware she was watching over me."
"Obviously, Jason Segel is the lead character of Apple+'s Shrinking, but if he's the earth you're the sun in that show," said Gipson to Lukita Maxwell. Gipson continues to talk about how every relationship on the show revolves around Maxwell's character. She asked how Maxwell was able to relate to each member of the high-profile ensemble cast.
"I was really fortunate to work with this insane ensemble that have these beautiful, vibrant careers and I just felt like every day on set was a lesson and I learned so much. It's Jason Segel, Harrison Ford and Jessica Williams! The first day on set, I feel like I came on to set with a blind confidence. I kind of dissociated from the fact that I was doing the show," Maxwell said. "But then Jason and Krista and Harrison Ford are there, and I got so nervous before starting my first scene. I'd met Jason a couple of times before, so I felt a little bit more comfortable. Everybody left the room on the first day and it was just me and Jason. I turned to him and I was like, dude, I'm so anxious. He made me sit down and he said, hey kid, you don't have anything to prove here. Your only job is to work hard and focus on the work. Having that little nugget of advice going into this crazy ensemble was my anchor." Finding this anchor helped Maxwell ground herself into her character, making her performance even more charming and lovable.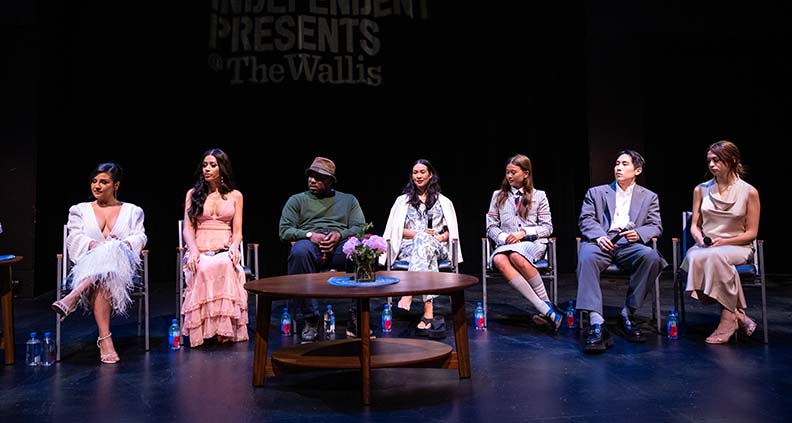 Gipson ended the evening by asking each member of the panel what would they'd like to see being created in the world, content-wise, as well as what they'd want the creators of said content to understand. "I say this with the most groundedness," said Gonzalez, "I'm so good at what I do in so many different facets. I sing, I dance, I act. And for so long, so many people would tell me, I don't know where to put you because you're a little Mexican girl from East LA. But my talent can't be boxed into that. It's not an accent. It's not the way we do our makeup, even though that's important. I would love to exist in a rom-com that's not [explicitly labeled] a Latinx project." 
Boyce chimed in by urging the industry to greenlight more unfamiliar, weirdly specific stories. "When you hire those people to make something, they're going to hire people outside of the six same people. I'm looking for something interesting." King went on to reiterate that the trans community is not a monolith, that every trans person has different experiences. "We transition different. We have different perspectives." She added one more thing: "And also book me, that's the main thing. Like, book me. That's what I want them to know."
Film Independent promotes unique independent voices, providing a wide variety of resources to help filmmakers create and advance new work. Learn more online and become a Member of Film Independent today.
Keep up with Film Independent…
(Header image by Getty Images)