Up-and-Comer Calmatic Talks Music Videos, Vince Staples and 'Old Town Road'
"I'm gonna start telling people: I'm a not a director; I'm a rapper and producer that happens to make videos." So says Calmatic, the LA-based multidisciplinary artist whose impressive and ascendant music video oeuvre was the subject of Film Independent's October 21 Closing Night Conversation at The New Wave. A witty and innovative visual stylist whose catalogue boats work for a wide range of artists, the filmmaker inarguably leveled up this year with the viral phenomenon "Old Town Road"—Lil Nas X's inescapably catchy ode to urban cowboydom, for which Calmatic directed the video.
Gathered in comfy, lounge-style seating in the Warehouse space at host venue The Geffen Contemporary at MOCA, New Wave attendees were first greeted by Film Independent Artistic Director Jacqueline Lyanga, who introduced a short program of some of the director's best-known work. Calmatic himself then joined Lyanga onstage for a lively 25-minute conversation about his life and career.
A self-taught filmmaker, Calmatic's style first began to develop when—as the only member of his crew to own a decent camera—he began shooting footage and drawing inspiration from hip-hop peers such as Odd Future, picking up a wide array stylistic tricks from online editing tutorials. Combined with an offbeat sense of humor and strong interest in themes of communication and technology, Calmatic soon carved out a unique brand, with marquee assignments and millions of YouTube views. Watch the whole panel below:
CALMATIC – CLOSING NIGHT
The learning curve. Calmatic spoke about growing up Los Angeles involved in the local music scene. Making beats, he became close with LA hip-hop crew OverDoz., for whom he made "Pasadena", his first music video. "One day I got a camera, so I just started filming them," he said. "We were broke. We had four nights to shoot, so we'd just go out," shooting all night from sunset to sunrise. In editing, Calmatic was inspired by visual elements from Tyler, the Creator's "Yonkers" and Lady Gaga, incorporating similar techniques— in his own style—into the project. "It was just a bunch of experiments," he said.
Collaboration. "When I first started doing videos I had to edit, light, shoot and make the budget [myself], just out of necessity," said Calmatic. But over time, he began to accumulate a trusted pool of collaborators. "As expectations got higher, I couldn't do everything." He realized that he needed to work with "people that were dedicated to cinematography"—or production design, VFX, editing, etc.—"the same way I was dedicated to directing," he said. The first of these was DP Ryan Helfant, who Calmatic continues to work with whenever possible.
Influences. "Growing up, my favorite videos had story elements," said Calmatic. "They would cut the video in the middle and have a little scene play out." The influence of such videos can be seen across the director's work, especially "Old Town Road," which is as memorable for its comedic interludes as it is its visual design. Of his cinematic touchstones, Calmatic says: "My two biggest influences are Spike Lee and Spike Jonze—two Spikes," though he notes he's just as frequently inspired by his immediate peers.
"Old Town Road." Speaking about the hit video—which as of the October 21 conversation had accumulated over 366 million YouTube views—Calmatic said: "The cool thing [about "Old Town Road'] is that we were developing the treatment in real time." The director said he was doubtful that label execs would support his vision. But surprisingly the only bit of hesitation came from Lil Nas X himself. "He thought it was going to be bad," Calmatic laughed, saying that when the rapper arrived to the video's square dance sequence, he was concerned that the filmmaker's vision focused too heavily on the country & western side of the track's genre-crossover appeal. "I think throughout the whole process no one really understood what was going on, except me."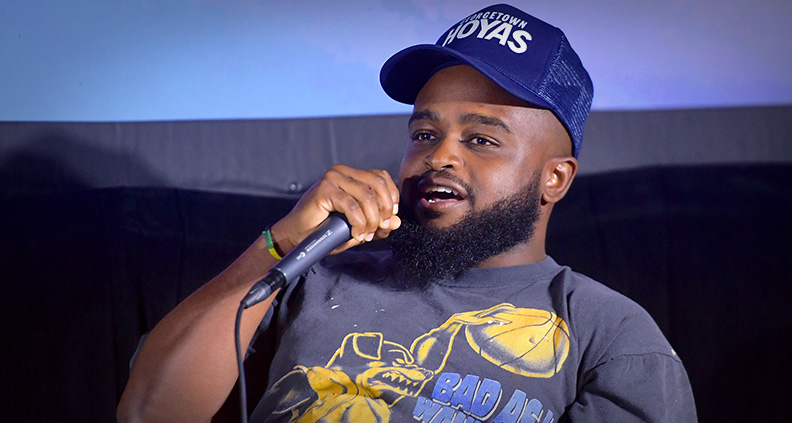 Process. Lyanga asked Calmatic about his visual references. "The way I come up with ideas is, I go on Tumblr and I just play the song," he said. "I scroll through a bunch of images," until he find a visual that sparks a creative idea—sometimes even a childhood memory—of his own, he says. As example of this is the 1970s-inspired Afro-American imagery found in the director's video for Anderson .Paak's "Come Down."
Vince Staples. Calmatic's Google Earth-inspired video for Long Beach rapper Vince Staples' 2018 track "Fun" grew out of an aborted treatment for a song off of the Black Panther soundtrack, to have been shot in Oakland. Relocated to his native stomping grounds of South LA, Calmatic was inspired by ideas of technology, surveillance and poverty tourism. "In 2019, whether it be on YouTube or social media or Google Earth, you can actually see what life is like on the other side from the comfort of your own home," he said.
Hip-hop. Lyanga circled back to ask Calmatic how his previous aspirations as a hip-hop producer may have influenced his directorial approach. "Everything I do is influenced by music," said the director, who said he considered himself part of the same hip-hop tradition established by forerunners such as J Dilla and MF Doom. "Not just standard hip-hop, but [hip-hop that's] weird, underground, unexplainable…" he said. "That's the way I edit my videos. I don't just hit on the snare, I cut just a little bit off it. It's still on beat, but it creates a certain rhythm," he said.
Up next: House Party. Calmatic's next big project? The world of feature films, with a reboot of the 1990 cult-classic comedy House Party. Though, the director cautioned: "Honestly, it's not even a remake. It's a whole new film. People think it's going to have flattops and '80s clothes." Lyanga asked what attracted him to this particular material. "It was the writers, Steven Glover and Jamal Olori," he said, adding of the Atlanta writing duo, adding: "Their brains are super crazy, and I don't know how they come up with half of the stuff they come up with."
The 2019 New Wave program consisted of keynotes, conversations, panels, community events and spotlight programming from Film Independent and KCRW, along with free admission to official host venues MOCA Grand Avenue and The Geffen Contemporary at MOCA. The New Wave continues Saturday, October 19 and Sunday, October 20.
The New Wave is produced by Film Independent, in partnership with KCRW and sponsored by official host, The Museum of Contemporary Art (MOCA). Supporting Sponsors are Easterseals Disability Services, Hulu, LA County Department of Arts and Culture, National Endowment for the Arts, Netflix, SAG-AFTRA, SAGindie, Warner Bros. and Writers Guild of America West.
Follow Film Independent…