Interview: Seth Bogart Brings the Noise to 'Welcome to the Dollhouse'
When approached to serve as Film Independent at LACMA's first-ever Guest Composer for Bring the Noise, it didn't take long for LA-based garage rock mastermind Seth Bogart to decide what film he wanted to take a crack at providing the live score for. "It's still my favorite movie," said Bogart of his pick, 1995's Welcome to the Dollhouse—Todd Solondz's blacker-than-black coming-of-age comedy about the trials and travails of adolescent outcast Dawn Weiner. "It was an instant obsession," said Bogart, surrounded by keyboards and guitars in his Eagle Rock home studio as he worked on music for the January 28 event.
Bogart—who performs under his own name as well as "Hunx" with the self-described "trashy punk" outfit Hunx and His Punx—first made a name for himself online, creating a series of viral music videos that showcased the flamboyant frontman's penchant for kitschy, John Waters-inspired visuals and lo-fi production aesthetics (sonic and otherwise). Bogart admits that the prospect of performing live accompaniment to his all-time favorite movie in front of a paying audience will be "a challenge"—but a challenge he's looking forward to.
As with all future editions of Bring the Noise, January 28's Welcome to the Dollhouse screening will feature an original, one-night-only performance of a live score set to a classic film selected by that month's guest composer. Future guest composers are slated to include Bleachers' Jack Antonoff, Warpaint's Emily Kokal, Nick Zinner of the Yeah Yeah Yeahs and more. For more information, including how to buy tickets, check out our website. Maybe you've already seen Welcome to the Dollhouse. But we guarantee you've never seen it like this.
We recently stopped by Bogart's studio for a sneak preview of what to expect on January 28 and to chat about the rocker's favorite movie music, Dollhouse's enduring cult appeal, going solo and the secret to making a great fake band.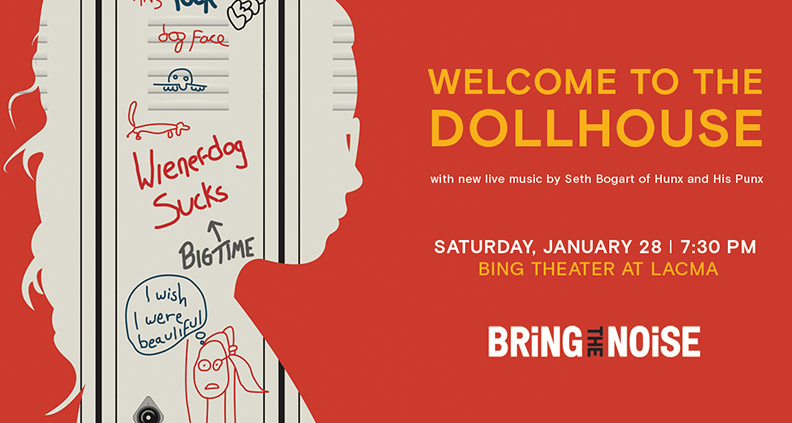 With Hunx and His Punx, the visual component was a huge part of the band's appeal. What are some of your cinematic influences, both as an artist and as a musician?
Welcome to the Dollhouse is obviously a big influence. Pee-wee's Playhouse and John Waters both really influenced me a lot when I was in high school—just the way they looked and [what they] were saying. Costumes, colors. The artwork.
What are some of your favorite musical moments in film?
I really love Hairspray. I love the idea of this teenage dance show where you have to go through all these competitions to get to the next level. So that's one of my favorite movie-music things, but only the original version.
Not the John Travolta one?
[laughs] I actually tried to watch that once, but I couldn't! I tend to always like movies that have a band in them, which is another thing I like about Welcome to the Dollhouse. Also Some Kind of Wonderful, this '80s movie where the girl's a punk and plays drums. I always like that kind of thing.
Do you have any favorite film composers?
I really like Mark Mothersbaugh. He does film but I think he's more known for kids' shows and commercials. But he's probably my favorite.
Do you have any favorite movie soundtracks?
I really love all the Gregg Araki soundtracks, like Totally Fucked Up and Doom Generation. They're essential to his films. When I was asked to do [Bring the Noise] I was really trying to think of backups, and thought of him. But the original music [in those films] is irreplaceable. I kind of feel the same way about Cry Baby and Hairspray. But I really do like Welcome to the Dollhouse. I finally own the actual soundtrack, but when I was a kid I would hold up the handheld tape recorder [to the TV] when I watched it and tape the band. I was 15-years-old and a super weird teenager when it first came out, so it was an instant obsession.
Bring the Noise is coming up in just under two weeks, on January 28. How far along in the composing process are you?
I started a couple weeks ago and it was going so fast that this week I've had all this other stuff to do and I didn't work on it. So now I'm like, Oh god, I have to get serious! I'm going to try and get everything written this week, but I think I'm in a good place. I'm, like, halfway.
Do you compose as you watch the film, or do you work on a musical idea first and then sort of see where it fits?
Both. I went through the whole movie and timed out all the places I need to make songs for. But I've been starting to play along with it, and it's weird. Some of the songs I wrote fit perfectly even though they're all really odd times, like a minute and 21 seconds. Stuff like that.
Are you going to play full songs?
There are, like, three songs I'll probably sing that are the songs that the band in the movie plays. But other than that, they're more like partial songs and instrumental music. I want to try and do something in the vein of the original, just my version. I really love the film, so I want to be loyal to the original and just replace the parts instead of playing over the whole movie.
How would you describe your own music, either with Hunx and His Punx or otherwise? 
Hunx is kind of just like a really trashy punk band, honestly. We all wore wigs and costumes and makeup all the time and would be really wasted and crazy. The band hasn't been active in a while because this last year I just released a record under my own name, which was a little more like weird pop music. That was a very interactive experience, with a video playing and me as the announcer and all these costume changes and stuff like that.
What's the biggest challenge in being a part of Bring the Noise?
I think the entire thing is going to be a challenge! [laughs] First of all, it's going to be live and it's in front of all these people at, like, this giant museum. So if I fuck it up I can't be like, I'm drunk! But I was so bored with the standard way of doing music that it's worth it. It's exciting.
And how do you feel about Welcome to the Dollhouse now that you've been watching and re-watching it for Bring the Noise?
It's still my favorite movie. It's so good!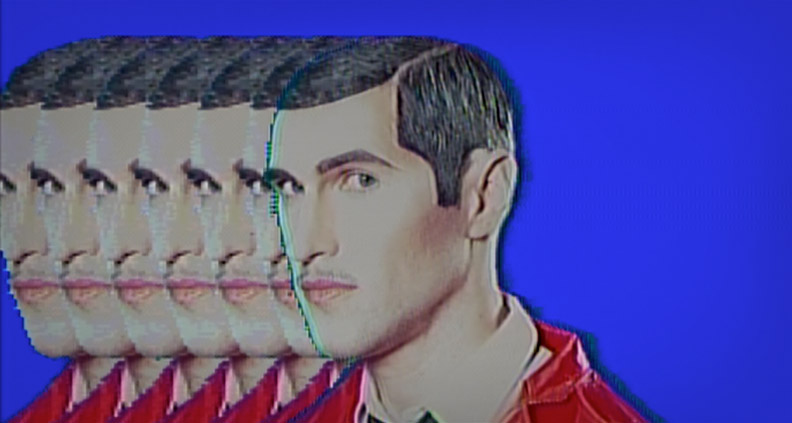 Ready to rock and/or roll? Click here for more information about Bring the Noise. Individual tickets are $25 each for Film Independent and LACMA Film Club Members and $35 for LACMA Members, students with valid ID and seniors 65+. General public can snag tickets for $50 apiece.
Film Independent at LACMA's Bring the Noise program is brought to you by Premier Sponsor Audi, Lead Sponsor Hollywood Foreign Press Association and Promotional Supporter KCRW 89.9FM.
To learn more about Film Independent, subscribe to our YouTube channel or follow us on Twitter and Facebook. To learn how to become a Member of Film Independent, just click here.