Watch Five Los Angeles Shorts by our Global Media Makers Fellows
Beginning in 2016, Film Independent has presented Global Media Makers (GMM), a cultural exchange program that fosters relationships between mid-career filmmakers and industry professionals in the U.S. and abroad. Each year the marquee section of this program has been its Los Angeles Residency: a five-week intensive wherein GMM Fellows further develop current projects with a team of US-based Mentors. In 2022, the Residency was held in October. 
As part of their Los Angeles adventures, GMM Fellows once again took part in the iPhone Collaborative Workshop. Through this workshop, filmmakers from India, Lebanon, Nepal, Tunisia and Turkey were introduced to local LA-based Film Independent Fellows living in the Hollywood, Highland Park, Inglewood and DTLA neighborhoods of the city. After an introductory session where the filmmakers got to know each other both personally and professionally, teams were paired up and given a prompt: Create a film encompassing their impression of the City of Los Angeles. 
Over the course of this challenge, the Fellows took Uber rides through South Los Angeles, got soaked on Santa Monica Beach, and left their mark all over the city with the letter "K". They had tacos in Angelino Heights and pizza at LACMA while serenaded by a live jazz combo and captured the spirit and intelligence of an unhoused man residing in Mid-Wilshire. The results are five short films we're excited to share with you today:
ANGELENOS
Directed by: Aren Perdeci & Ela Alyamac (Turkey) 
Logline: Angelenos' joys, sorrows, desolations, hopes, and fears…all in one minute.
DEAR JOHN
Directed by: Mehdi Hmili (Tunisia) 
Logline: A visual love letter to John Cassavetes by remembering his films shot in Los Angeles.
IN THE REARVIEW
Directed by: Shyam Bora (India) 
Logline: An exploration of the LA city through my Uber rides.
PRINCE K: LOS ANGELES
Directed by: Wadih Safieddine (Lebanon) 
Logline: Searching for the letter K across the city of Los Angeles is like searching for the Unity of all things to me – I have been searching for at least 30 years…
SANAR
Directed by: Ram Krishna Pokharel (Nepal) 
Logline: Follow Jorge as he navigates life unhoused in the Mid-Wilshire neighborhood of Los Angeles.
Each film was shot on the new iPhone 14 Pro Max with color grading provided by Picture Shop. To celebrate the release of their films, we reached out to the filmmakers to share more about their experience with the workshop.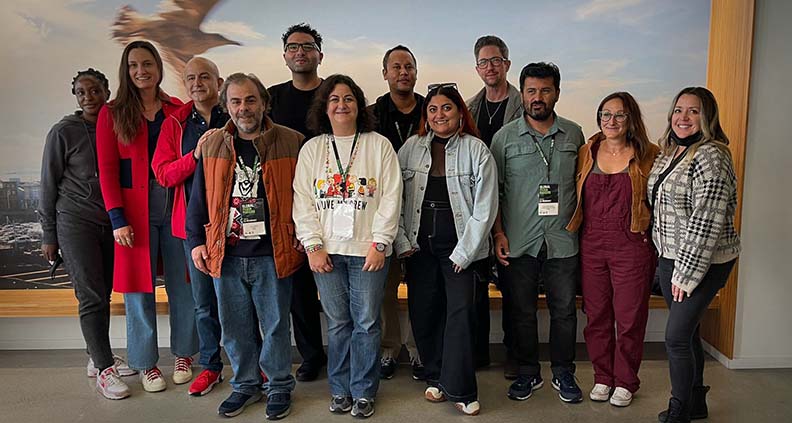 Describe your initial reaction to this Collaborative Workshop. How did the process eventually lead to your film proposal? 
Wadih Safieddine (2022 Global Media Makers Fellow): I was super excited when this was first mentioned to us producers. With my crazy work and family schedule back home, I haven't been able to find any time for any purely creative activity for 10 years, maybe (writing, composing music, shooting video essays…). A few ideas came to my mind as soon as I was told about the workshop, but the actual proposal first came from an amazing meditation session led by our creative advisor, Shari Page who helped me connect with my deeper, inner self; and then confront my revised ideas with my producer, Katherine Fairfax Wright. She instantly identified the most personal idea I had. 
Mehdi Hmili (2022 Global Media Makers Fellow): I was afraid not to have enough time to make a perfect film. But with the sessions and the help of my Fellows, it was much easier to understand the concept. 
Stephanie Osuna-Hernandez (2021 Project Involve Fellow): I was ecstatic to meet and work with a filmmaker who was from another country and show them the LA I know and love. It was cool to think that I would be connecting with someone from another country all because of our love for filmmaking. 
What preconceptions did you have before coming to Los Angeles? 
Shyam Bora (2022 Global Media Makers Fellow): This was my first time in LA, in fact, the US. My preconceptions of the city were a mix of popular culture (Hollywood, Venice Beach, diversity, popular culture) and my limited knowledge of the independent filmmaking scene of the city. Thanks to this wonderful opportunity, I got to meet this bunch of amazing new friends (from LA and other parts of the country and the world) and I now would love to maintain and build on the connections with the people and the city. 
How did your collaborators contribute to the film in terms of ideas? 
Safieddine: Initially, in this "Prince K" idea, I wanted to establish a bit more of the contrast between the dream that LA is for most foreigners including myself, and the reality of homeless people who may have had the same dream, but lost themselves on the sidewalks of Hollywood Boulevard, with their dreams shattered. My producer, Katherine, helped me realize how I probably wouldn't have enough time to approach the homeless people in a decent enough way to shoot them and include them in my video and I naturally ended giving up on this aspect of the idea. Then, my editor, Romulo, had a great understanding of the initial idea and added to it with the mirroring effect he created, the restructuring of the edit I had in mind and the VO, as well as the last VO line, that was actually suggested by him.  
Katherine Fairfax-Wright (Producer, 2011 Documentary Lab Fellow, 2012 Producing Lab Fellow, 2022 Episodic Directing Lab Intensive Fellow): What stood out to me most about Wadih's proposal was how unique to him it was. I was intrigued by how he harkened back to his past, how he intended to connect with present-day Los Angeles vis-a-vis a former incarnation of himself from his young adulthood. 
Erick Castrillión (2015 Project Involve Fellow): I thought that it was an interesting idea, but I highly encouraged Mehdi to make it all about himself, rather than other filmmakers from LA that inspired him. Even if it was in the context of a love letter, it should be about himself.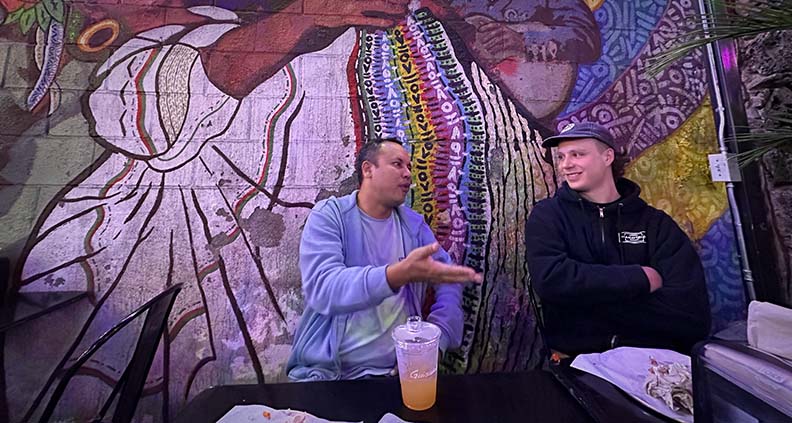 Bora: As a Producer, my goal is always to help my team push the creativity and the vision. I feel very lucky and blessed to have worked with collaborators who felt the same as me. The final film is a product of this shared vision and each of the collaborators contributed immensely to the journey. It is truly OUR film. 
Osuna-Hernandez: I realized Shyam and I were both very aligned from the very start. I really loved how Shyam was focused on the humans in LA and their versions of LA. He wanted to initially focus on the faces of LA residents but I was fully on board when he shifted from that idea to the rearview mirror POV and conversations with Uber drivers. I loved how excited he was when he got the epiphany to switch his creative and then we worked together to make his vision come to life. He wanted me to take him to the LA I knew, which was far from the LA you see in media. He was very open to exploring new places and it made the whole process so fun and easy. Some notes I had for him were to remember his focus of "de-glamorizing LA" when shooting and he did a great job at sticking to that. 
What surprised you about your GMM collaborator's view of Los Angeles? What did you want to show them most about the city? 
Castrillión: I was surprised at the level of shock Mehdi had at the social and wealth divide when he rode LA's public transportation. The way he described it as a form of violence, and how he was not alone in this. The homelessness and the wealth gap are really apparent in the buses and the metro. On the other hand, I also liked how Mehdi wanted to see in real life the locations of some of his favorite films. 
Fairfax-Wright: I've been intrigued by how many common touchpoints there are among the cohort's various proposals. It's an indicator of the power that media has to form narratives, in the sense that these individuals from all across the globe have such a shared concept of what Los Angeles is, much of that having been formed by the films they've watched. It's fun to work with them as they connect on that shared concept, and then also break away from it as they live out their respective stories here. 
What was your favorite moment during the shoot? 
Aren Perdeci & Ela Alyamac (2022 Global Media Makers Fellows):  Every moment of our shooting process was very magical. In order to capture real and intimate moments of Angelenos we waited for long periods of time on locations and we tried to receive those moments from the universe. To be able to receive these kinds of moments, we needed to feel everything, love everything and understand what was coming. Our favorite moments were at Santa Monica Pier. We were about to shoot a beautiful and intimate moment of a father and daughter in the magic hour. They were on the beach and they were looking at the sunset. We came closer with the camera and we forgot that we are on the beach. We concentrated on the moment and suddenly a big wave came and we got wet and we needed to buy new socks and shoes just after the shooting but we captured this moment and we were so happy, getting wet was totally worth it.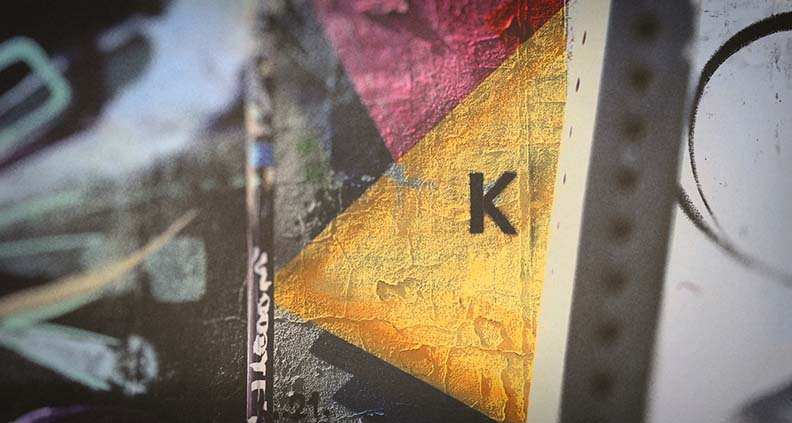 Safieddine: The video took me back 30 years in my life when I had to look 1) for the stationery and the black spray needed to create the "K" stencil I used, and 2) for the walls in the city where spraying was allowed. I loved doing things myself, as producers usually tend to delegate all these tasks. 
Hmili: The most beautiful moment was when I visited John Cassavetes's grave. That was very emotional. 
What did you gain from this experience? What do you hope people learn about both you and the city after watching the short? 
Safieddine: I hope I managed to share the overall spiritual and artistic quest that has been mine for over 30 years and I hope the viewer will feel how LA fueled my desire to keep this quest ongoing. 
Fairfax-Wright: I've found that the iPhone Collaborative workshop offers a fruitful exercise in setting distinct parameters under which creativity can then flourish, which is a useful dynamic for all storytellers to be reminded of. It's been a real pleasure to partake in the workshop! 
Castrillión: I made a new friend, and I absolutely LOVED the intro session, the meditation, the intros to the previous short films…that revitalized me. I also was able to gain a new perspective on the city I live in. 
Osuna-Hernandez: I learned so much about Shyam and more about India. He lived in Mumbai for a while so we were constantly comparing it to LA. Sometimes we forget that there are people who live across the globe and are also trying to make their filmmaking dreams come true just like us. He gave me some information about international grants/programs which I never would have thought of because sometimes it's hard to think larger than the US. I hope that people can see that no matter how different we seem to be, we have so many similarities. I loved hearing about his filmmaking experience and all the great work he has made in India. 
How did you feel when you finally screened your film for the rest of the GMM Fellows and peers? 
Osuna-Hernandez: I really loved seeing how the audience reacted to Shyam's film and how they appreciated Shyam's approach to the project. He sparked a lot of conversations and folks wanted to see more. They wanted him to do this Uber POV series in other cities and I'm all for it. I loved to see the progress from his drafts to the final we saw on screen. I am very proud to say I was able to help Shyam with his film. 
Safieddine: I was feeling anxious (Will my video match the other works in terms of quality?), excited to share, and proud of myself for having achieved it, with the very packed schedule we otherwise had at the GMM program. 
Perdeci & Alyamac: We were very excited and we felt like our feature film was being screened. Even though the film is one minute in length, it carries a part of our soul and we gave it all the love we give to everything we do. To share the film we made with the rest of the GMM Fellows and peers was a very precious experience for us since we have become a big family during our residency.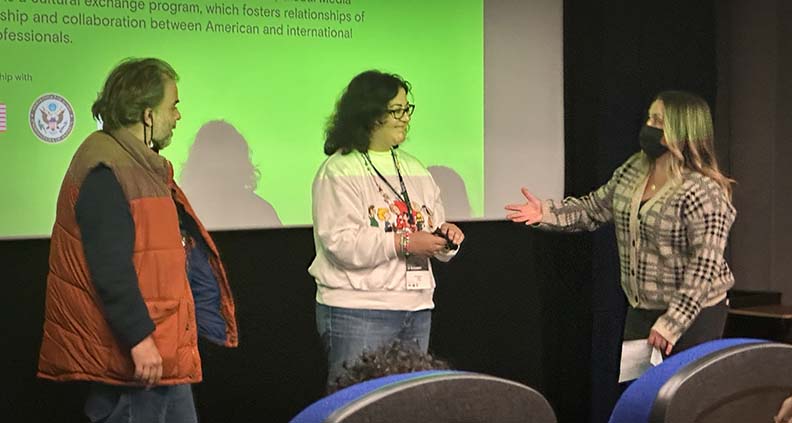 To learn more about Global Media Makers, click here. Global Media Makers is supported through a partnership between Film Independent and the U.S. Department of State's Bureau of Educational and Cultural Affairs. 
Celebrating 30 years, Film Independent Artist Development promotes unique independent voices by helping filmmakers create and advance new work. Become a Memberof Film Independent today. Support us with a donation here.
More Film Independent…