WATCH NOW: Benh Zeitlin on the Music of 'Wendy' and 'Beasts of the Southern Wild'
Benh Zeitlin's 2012 feature debut Beasts of the Southern Wild is a magical piece of filmmaking, in more ways than one. Of course there's the film itself: a magical-realist swampland fantasia, equal parts Italian neo-realism and Little Nemo in Slumberland. And then there's the story of the film, which the New Orleans-based filmmaker collaborated on with the help of local Louisiana artisans and a cast made up of largely nonprofessional actors. The result was one of the defining indie film hits of the 2010s, catapulting the then-29-year-old Zeitlin to awards stages and international acclaim. But what happened next?
Eight years passed without Zeitlin's follow-up. But the writer, director, composer and arts collective co-founder has been anything but inactive, stepping behind the scenes as an executive producer on projects including the features Burning Cane and Give Me Liberty—both of which were 2020 Film Independent Spirit Award nominees, with Liberty winning the John Cassavetes Award—and working hard on Wendy, his very Benh Zeitlin-y interpolation of the Peter Pan mythos, which premiered earlier this year at Sundance. Wendy's theatrical run has been unfortunately cut short by the outbreak of COVID-19. But happily, the film is now available for streaming rental from all major platforms.
And in a very different world that was somehow (!) only two months ago, Zeitlin and his Wendy composer Dan Romer stopped by the fifth and final night of Film Independent's 2020 Directors Close-Up series to talk about their film—and in particular, its score and sonic design—with moderator/Dolby Institute Senior Director Glenn Kiser, at the Landmark Theaters in West LA on February 12. Watch the full panel and read up on some of the highlights below…
THE SOUNDSCAPES OF 'WENDY'
Collaboration. "When me and Dan got together, in many ways he taught me how to write music properly," said Zeitlin of his years-long collaboration with Romer. The two were involved in the same local music scene, and Romer was going to college with members of a band Zeitlin fronted. In composing Wendy's main theme, Zeitlin said he would hum basic musical ideas to Romer, who would then flesh them out. "Dan really takes those skeletons and turns them into actual pieces of music, which I could never do on my own," Zeitlin said, describing his friend as "the real musical genius in the room—I'm something of a brute."
Approach. "We have sort of a ragtag aesthetic to our scores," said Zeitlin. "We try to try to exist between a really grand orchestral score and a trashy folk band in your backyard"—an approach that suits his film's "handmade" feeling, he says. Said Romer: "I think that melody writing isn't really something you'll better at from studying, and it's not innate either. Every melody you write is a combination of a thousand songs you've heard in your life that you've put together."
Process. Zeitlin and Romer's processes are deeply entwined. In a conventional filmmaker/composer relationship, the composer will typically write music for a scene after seeing it cut together. In both Beasts and Wendy, however, Zeitlin and Romer were working together on writing music simultaneous to the picture edit, with the two processes informing each other. "A lot of the time with music, you do whatever is your best instinct in the moment, go to another part of the film and that film will reveal itself to you eventually," said Romer.
Whirly-tubes. Moving into a discussion of sound design, and how this often overlaps with scoring, Kiser asked about the distinctive sound created for "The Mother"—a mystical, behemoth-sized creature in Wendy's Neverland who lives submerged in a surprise location. After eventually deciding that the sound of heavy, womb-like breathing didn't match the creature's underwater dwellings, Zeitlin and Romer came up with a "voice" for the Mother by compositing together the sound of children's whirly-tube toys. "I bought, like, nineteen of them online," said Romer, "just so we could cut them up and try weird things."
Tuned glass. Kiser asked about the thought process that went into creating Wendy's climactic underwater sequence. Situated in Wendy's perspective for the duration of this sequence, Zeitlin said, "We needed to create this feeling of being underwater, and so we thought about bubbles." said Zeitlin. To create this effect, he says, they played "tuned" wine glasses and then manipulated the sound waves to create a repetitive, undulating pattern to match the rhythm of waves.
A child's tale. Kiser asked Zeitlin about working with younger actors and why he likes to tell stories from the perspectives of young people. "Among the reasons I really enjoy working with a kid's point of view is because kids are focused in very specific ways. It works [in film] because [their] world is comprised of these small details," which, he says, are simply onscreen. The trick, he says, is to make sure that young performers are having fun being their characters.
The Directors Close-Up panels took place at The Landmark (10850 W Pico Blvd) on Wednesday evenings. The 2020 Directors Close-Up was sponsored by the Directors Guild of America, Landmark Theatres and SAGIndie. The official photographer is Getty Images. Additional support provided by BRICKTOWN.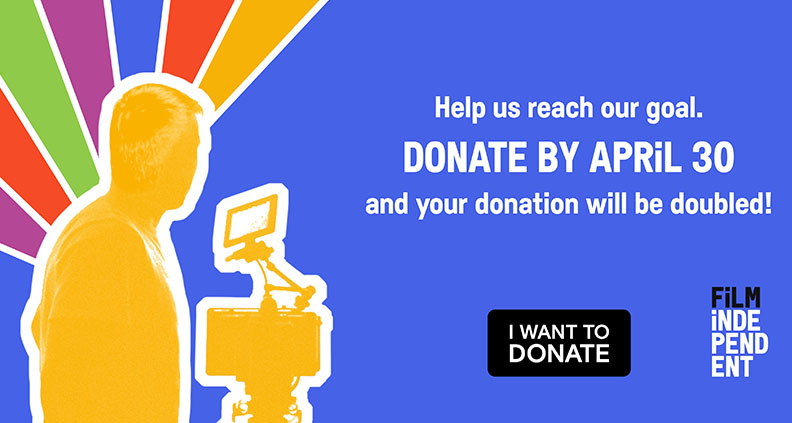 Film Independent promotes unique independent voices by helping filmmakers create and advance new work. If you want to help support us and all that we do to help support visual storytellers worldwide, now's the time.
For a limited time through April 30, all donations received will be doubled, up to $80,000, thanks to a generous Film Independent Board Members and Friends Matching Gift. Become a Member of Film Independent here.
Keep up with Film Independent…