Directors Close-Up Recap: James Ponsoldt and Jason Segel Bring 'The End of the Tour's Psychic Ghost Story to the Screen
Film Independent's 2016 Directors Close-Up series kicked off Wednesday, February 3 at the Landmark with a look under the hood of The End of the Tour—one of 2015's most deceptively complicated indie films.
The film's 37-year-old director James Ponsoldt (Smashed, The Spectacular Now) anchored the panel, speaking earnestly and extensively about the challenges faced in bringing journalist David Lipsky's 2010 memoir, Although of Course You End Up Becoming Yourself to the screen.
Much of the discussion focused on Ponsoldt's collaboration with his cast and the inherent difficulty of depicting late novelist David Foster Wallace on film.
Wallace—best known as the author of Infinite Jest—is as close to a secular Christ figure as exists in culture today, making his depiction a potential minefield of hurt feelings and the impulse to be overprotective of the material.
Everyone who cares about David Foster Wallace has his or her own opinion of how the writer should be depicted, if at all, in a commercial film release. But these were concerns of which Ponsoldt and lead actor Jason Segel, who plays Wallace opposite Jesse Eisenberg's David Lipsky, were keenly aware.
"I knew that it was a performance that, if it deviates even a little to the left, it's an SNL sketch," said a Segel, who joined Ponsoldt and costar Mickey Sumner on the panel, moderated by screenwriter Jane Anderson (Olive Kitteridge).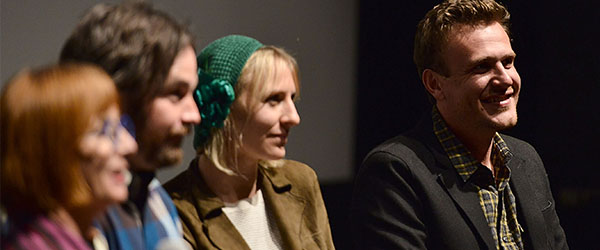 "Did you have any discussion about the character or the script before filming?" asked Adams, referring to the film's accelerated pre-production.
Ponsoldt and Segel admitted that they hadn't. In fact, Eisenberg and Segel had only met briefly for a single dinner prior to filming. Luckily, the filmmakers used this to their advantage, turning this lack of advance prep into a dynamic that informed the characters' polite awkwardness with each other.
"Personally, I like the process of discovering something when the camera is running," said Ponsoldt, who stated that he's willing to let his actors try literally anything they want to.
The discussion shifted to Ponsoldt and Segel's differing interpretation of Lipsky and Wallace's relationship, which revealed the benefits of sometimes having differing ideas of a character's motivation.
"Do you think a director needs to know everything that the actor is thinking?" asked Anderson.
Ponsoldt said he thought it was okay if an actor has secrets he or she keeps from the director. In fact—secrets and their associated shame are a key part of The End of the Tour's depiction of Wallace as related to the character's history of addiction and depression (tragically, Wallace committed suicide in 2008).
"I didn't tell you that I was talking to my younger self until later," confessed Segel, whose interpretation of Wallace and Lipsky's dynamic was one of an older writer trying to warn a younger version of himself about the perils of ambition.
On the other hand, Ponsoldt saw the character's relationship as "an unrequited, platonic love story about two people in a room," adding, "One person wants something, and the other person doesn't want to give it to him."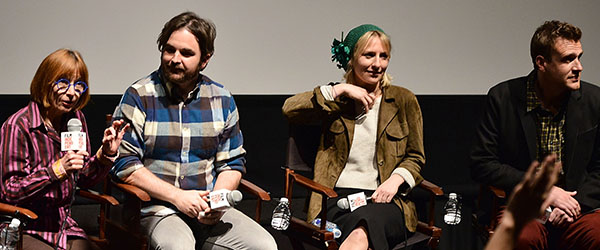 Sumner—who plays the small-but-crucial role of a former Wallace's ex-girlfriend who enters the story to stoke the male leads' competitive nature—compared the process of filming the tightly-scripted End of the Tour to her experience on Noah Baumbach and Greta Gerwig's Frances Ha.
"On [Frances] I never got a script, I didn't talk or ask any questions," she said (not disparagingly) about the earlier film's improvisatory evolution. She explained that much of the conception of her character in Ha was informed by the character's physicality and design—clothes, glasses, hair, etc.
By contrast, Tour boasted a strictly adhered to screenplay from playwright Donald Margulies, based off of actual transcripts of Lipsky's unpublished Rolling Stone interview with Wallace dating from the mid-1990s.
Ponsoldt estimated that 80% of the film's dialogue came directly from Lipsky's original interview tapes. This presented a unique challenge for Segel, who honed his acting chops on a number of improv-friendly Judd Apatow-produced project—some of which he also wrote, like 2008's Forgetting Sarah Marshall.
"This was the first experience I had where you didn't deviate from the script at all," said Segel, adding, "David Foster Wallace is a million times smarter than I am, so when I showed up I had [the words] memorized perfectly."
Segel shared one of his tricks for memorizing such copious dialogue: "I wrote everything down to trick my brain into thinking they were my thoughts," he said, adding, "by the time the directors says 'action' you want to be thinking as little about what you're doing as possible."
Throughout the night—which featured extended clips from the film—Segel, Sumner and Ponsoldt emphasized trust; that in order for a film to truly work actors need to place their trust in the director, and vice versa.
"Every person has to feel respected and purposeful," Ponsoldt stressed, adding that actors and crew "need to feel that their opinion and presence matters."
Segel agreed, noting that he knew he did something less than stellar, that Ponsoldt simply wouldn't use the take, illustrated by the final film clip of the evening—Lipsky's interrogation of Wallace's history of addiction and Wallace's subsequent veiled confession of clinical depression.
Ponsoldt and Segel explained that the take of the scene used in the film was the one after Ponsoldt had encouraged Segel to go as big as possible, producing results that both actor and director agreed were less than stellar. But the exhaustion Segel felt after this take led to the performance ultimately seen in the final film, in which the actor's depleted energy and resignation mirrored the characters' own.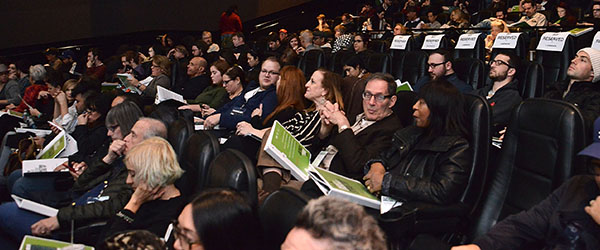 The evening wrapped with a lengthy Q&A session from the sold-out Landmark crowd, which further clarified Ponsoldt's strategy for bringing The End of the Tour to life on the big screen.
Film Independent's Directors Close-Up returns to the Landmark this Wednesday, February 10 with Developing Anomalisa. Directors Charlie Kaufman and Duke Johnson will discuss their innovative stop-motion animated film (nominated for a Best Picture Film Independent Spirit Award) and its circuitous production journey.
Passes for Wednesday's panel as well as future editions of the 2016 Directors Close-Up series can be purchased here. For the full slate of upcoming Directors Close-Up panels, click here.
For more information about Film Independent, please visit our website or subscribe to our YouTube channel. Learn how to become a Member of Film Independent by clicking here.
Matt Warren / Film Independent Digital Content Manager