Who You Gonna Call? Five Female-Driven Action Movies That Bust More Than Ghosts
Paul Feig's much-ballyhooed Ghostbusters reboot finally premieres this weekend following a seemingly endless hype cycle full of speculation and debate—much of it focused on the impolitic kvetching of fanboys worried that the film's all-female ghost-busting squad would fail to live up to the paranormal hijinks of yesteryear's rumpled, all-male lineup of Saturday Night Live and Second City alums.
Whether Feig's Ghostbusters is successful—either critically or commercially—is almost beside the point. From a gender-debate perspective, the important thing is that the film is finally a tangible entertainment product available to be judged on its own merits, freed from the chatter of uninformed online speculation and the use of personal nostalgia as a flimsy pretense for regressive gender ideas.
We may be a little biased (current 'buster Kate McKinnon killed as one of the co-hosts of this year's Film Independent Spirit Awards) but the idea of placing an ass-kicking woman at the center of a frenetic action spectacle—even one tinged with comedy (as is Ghostbusters)—doesn't seem like all that much of a novelty once you pause to take an inventory of the multitude of female-driven genre movies steadily emerging from the independent film world.
Inspired by this week's big Ghostbusters release, we'd like to spotlight a handful of recent action-oriented, female-fronted indies that illustrate just how effective women are (and continue to be) as the protagonists in low-budget genre films.
---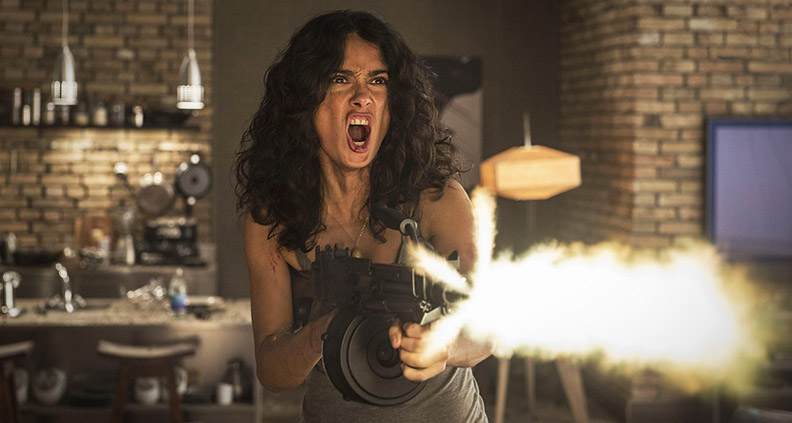 EVERLY (2014, dir. Joe Lynch, starring Salma Hayek)
Prior to starring in Joe Lynch's violent revenge saga Everly, Salma Hayek had enjoyed a long and varied career as a Hollywood leading lady, trading rom-com barbs with Matthew Perry and portraying real-life historical figures like Frida Khalo. And while she was no stranger to dodging bullets (thanks to Robert Rodriguez's El Mariachi trilogy, among a handful of other titles) it wasn't until Everly that Hayak finally took center stage in an ultra-violent actioner. Hayek portrays the titular character, a resourceful prostitute held hostage by a nefarious crime lord who, guns blazing, battles her way to emancipation—a powerful, fast-paced example of independent action cinema at its finest.
---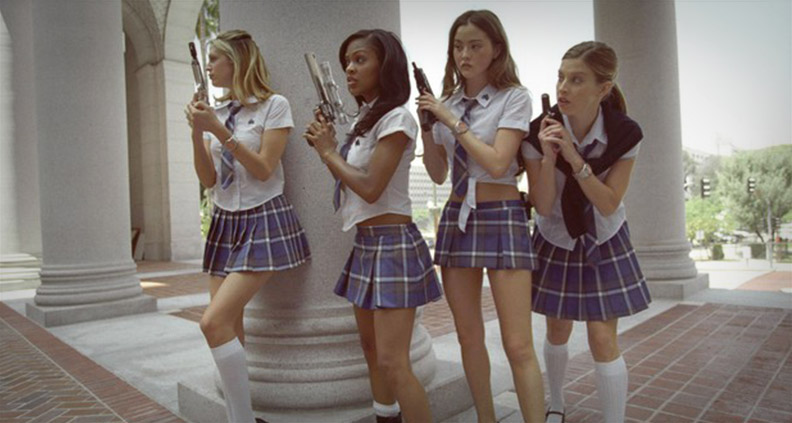 D.E.B.S. (2004, dir. Angela Robinson, starring Sara Foster, Jordana Brewster, Meagan Good, Devon Aoki, Jill Ritchie)
Based on her 2003 short film of the same name, D.E.B.S. is Angela Robinson's stylish, LGBT-friendly riff on Charlie's Angels, subverting the idea of an all-female paramilitary special ops team with a healthy dosage of truthful, mature high school relationship dynamics worthy of being compared to peak Buffy the Vampire Slayer. The espionage satire follows the exploits of the D.E.B.S. squad (Discipline, Energy, Beauty, and Strength) as they wrestle with threats both global and personal. The film stars a who's-who of mid-2000s ingénues and laid the groundwork for similar female ass-kickers in on shows like Marvel's Agents of S.H.I.E.L.D. Definitely worth checking out.
---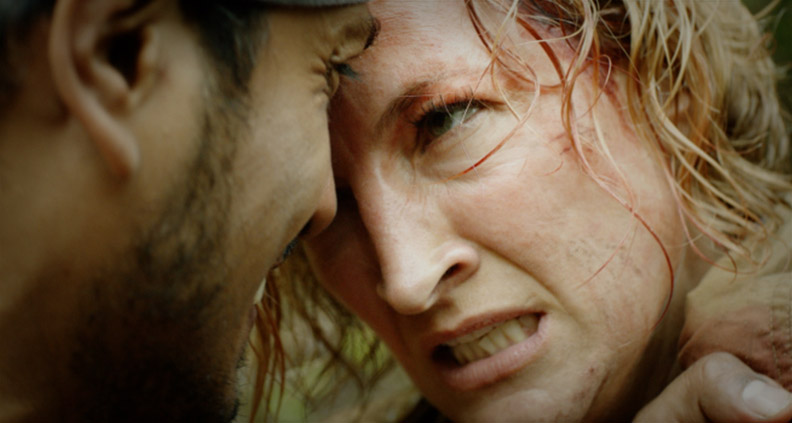 CAMINO (2015, dir. Josh C. Waller, starring  Zoë Bell)
Native New Zealander Zoë Bell first made a name for herself as Uma Thurman's stunt double on the Kill Bill movies—making her the unsung star of Quentin Tarantino's ultra-violent diptych, which she then parlayed into a feature roll as (what else?) a New Zealand-born stuntwoman named "Zoë Bell" in Tarantino's grindhouse throwback Death Proof. Camino is a tense cat-and-mouse thriller set in the Colombian jungle, where Bell's photojournalist character stumbles upon some incriminating information about a shady missionary group up to no good. From there, she fights to survive—not just evading her pursuers, but also by navigating her way through the inhospitable jungle surroundings.
---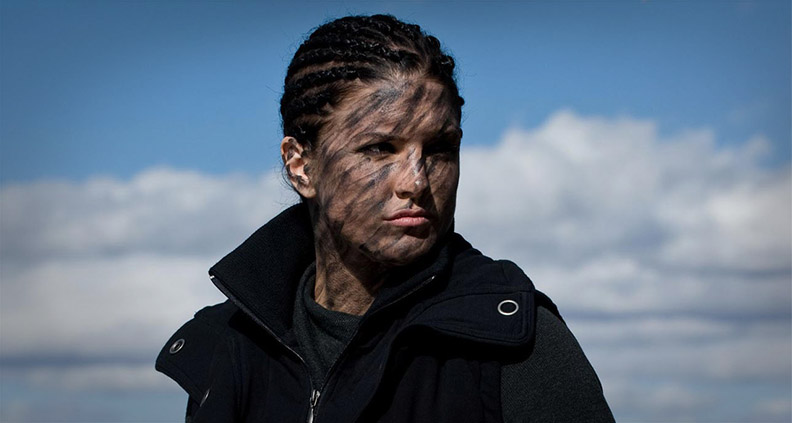 HAYWIRE (2011, dir. Steven Soderbergh, starring Gina Carano)
The story goes that Steven Soderbergh was inspired to make his ice-cold 2011 spy thriller after seeing MMA star Carano on pay-per-view—deciding more or less on the spot to build an action vehicle around the charismatic pugilist. The result is a late-career highlight in filmography full of them, with Carano's nearly mute special agent Mallory Kane beating the holy hell out of a murderer's row of Hollywood leading men including Michael Fassbender, Channing Tatum and Ewan McGregor. But what really stands out is the action: Soderbergh knows that when you have an elite martial artist like Carano at your disposal, the best thing to do is just frame up a wide shot and let the camera roll while your star does her utterly fascinating, femur-snapping thing.
---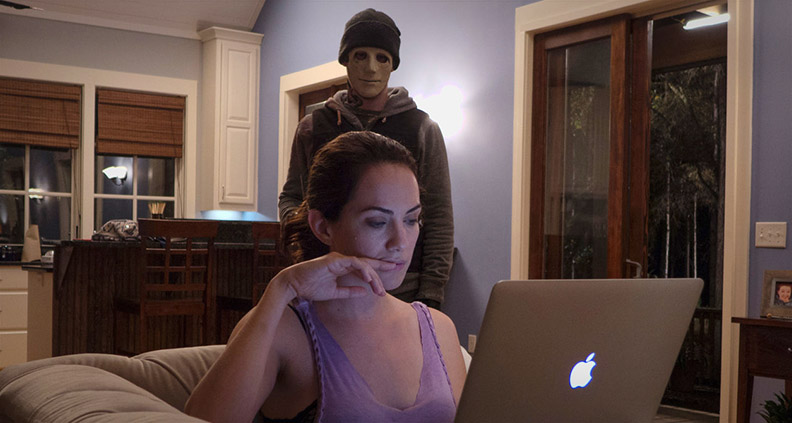 HUSH (2016, dir. Mike Flanagan, starring Kate Siegel)
Skewing more toward outright horror than action, Hush nevertheless includes an impressive amount of visceral combat and intricately diagramed fight sequences that—more than once—turn the tables on who, exactly, is trying to get away from whom. In a breakthrough performance, newcomer Kate Siegel stars as a deaf woman staying in a remote cabin in the woods… alone. Soon, the house comes under attack by a sadistic, crossbow-wielding psychopath (John Gallagher, Jr.) who wants to make Siegel's Maddie his most dangerous game. Little does he know, Maddie is far more resourceful than first appears, turning her disability into her greatest strength in the fight to survive in a hugely entertaining piece of low-budget genre perfection.
---
To learn more about Film Independent, subscribe to our YouTube channel or follow us on Twitter and Facebook. To learn how to become a Member of Film Independent, just click here.