2023 Film Independent Forum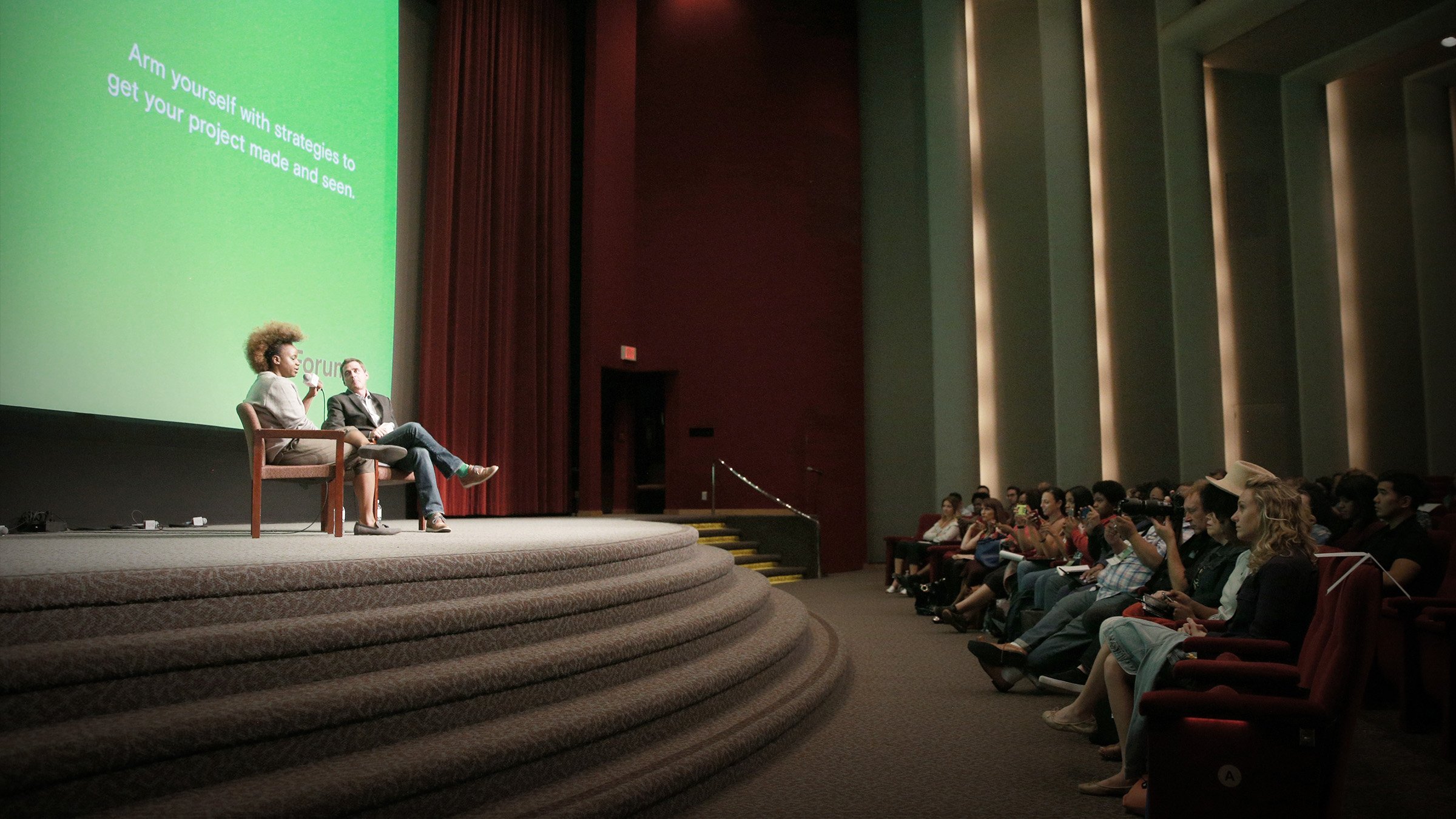 2023 Film Independent Forum
The Film Independent Forum is specifically designed to inspire and empower filmmakers by providing them the tools and connections needed to get their projects made and seen.
The 2023 Forum, taking place entirely in person at the DGA in Los Angeles, offers a communal experience filled with screenings, panels, workshops, one-on-one meetings, networking opportunities and receptions. Learn more about this year's program on the Forum Schedule page.
Passes
Film Independent Members enjoy a significant discount on Forum passes, which are $149 for Members, $189 for non-Members and FREE for Arts Circle Members.
Passholders will experience a keynote from filmmaker and Film Independent Fellow Justin Simien (Haunted Mansion, Dear White People); the LA Premiere of Frybread Face and Me, including a conversation with director and Film Independent Fellow Billy Luther; the presentation of the inaugural Changemaker Award to Film Independent Fellows Smriti Mundhra, Pamela Ribon and Kim Yutani; a screening of Fair Play, plus a conversation with EP Ram Bergman; and much more!
Arts Circle and Filmmaker Pro passholders also receive an added bonus: priority registration for our popular one-on-one Industry Connect sessions at the Forum.
Register for your pass here, or using the 'Register Now' button at the top of this page. See you at the Forum!

Accessibility
Film Independent is committed to hosting events that are accessible. For inquiries regarding accessibility, or to request an accommodation, please contact us at accessibility@filmindependent.org or 323 556 9305.

Speakers & Panelists
Kori Adelson (Executive Producer, Fear Street 1,2,3; Dicks: The Musical)
Stephanie Allain (Executive Producer; Leimert Park, Really Love)
Maria Altamirano (Producer, All Dirt Roads Taste of Salt; Co-Producer, Los Espookys)
John August (Writer, Aladdin, Big Fish)
Thembi Banks (Writer/Director, Young. Wild. Free.)
Ram Bergman (Executive Producer, Fair Play; Producer, Knives Out)
Julian Breece (Writer; Rustin, When They See Us)
Ryan Broussard (VP, Sales and Production Incentives, Wrapbook)
Chad Burris (Producer, Frybread Face and Me)
Lisa Callif (Partner, Donaldson Callif Perez)
Tze Chun (Executive Producer, Secrets of the Mogwai; Writer, Gotham)
Jess Dang (Writer/Director, Surrender)
Eric d'Arbeloff (Co-President, Roadside Attractions)
Adamma Ebo (Writer/Director; Honk for Jesus. Save Your Soul.)
Adanne Ebo (Producer; Honk for Jesus. Save Your Soul.)
John Patton Ford (Writer/Director, Emily the Criminal)
Alton Glass (CEO, GRX Immersive Labs)
Aurora Guererro (Director; Queen Sugar, Mosquita y Mari)
Fiona Hardingham (Producer, Smoke Country)
Jacob Jaffke (Producer; X, Pearl, MaXXXine; EP, Bodies Bodies Bodies)
Jenny Jue (Casting Director, Okja)
Eddie Kim (Producer, Liquor Store Dreams)
Fred Koschmann (Editor, Frybread Face and Me)
Angela Lee (Director of Artist Development, Film Independent)
Adina Luo (Director, You Have the Floor)
Billy Luther (Writer/Director; Frybread Face and Me, Miss Navajo)
Liz Manashil (Distribution Consultant; formerly, Sundance Creative Distribution)
Stephanie Meurer (Producer; Uncle Frank, Native Son)
Melanie Miller (Producer; Stutz, Navalny)
Jessica Olthof (Producer, Surrender)
Alex Orlovsky (Producer, His Three Daughters; EP, Never Rarely Sometimes Always)
Darren Haruo Rae (Producer, Surrender)
Orly Ravid (Founder/Co-Executive Director, The Film Collaborative)
Billy Ray (Writer/Producer; Captain Phillips, Richard Jewell, The Hunger Games)
Jay Redd (VFX Supervisor; For All Mankind, Alice Through the Looking Glass)
Danielle Renfrew Behrens (Producer; Columbus, Loot)
Justin Simien (Director, The Haunted Mansion, Dear White People)
Peter Simonite (Cinematographer, Frybread Face and Me)
Valerie Stadler (Producer, Aristotle and Dante Discover the Secrets of the Universe; EP, Fat Camp)
William Swartout (Chief Technology Officer, USC Institute for Creative Technologies)
Drew Sykes (Producer, Emily the Criminal)
Rahdi Taylor (Executive VP; The Concordia Fellowship, Concordia Studio)
Datari Turner (Producer; They Cloned Tyrone, Uncorked)
So Yun Um (Director/Writer/Producer, Liquor Store Dreams)
Dea Vazquez (Associate Director, Fiction Programs, Film Independent)
Josh Welsh (President, Film Independent)
Andi Wong (Agent, CAA)
Miranda Yousef (Director, Art for Everybody)