First Look Screening: 2021 Project Involve Short Films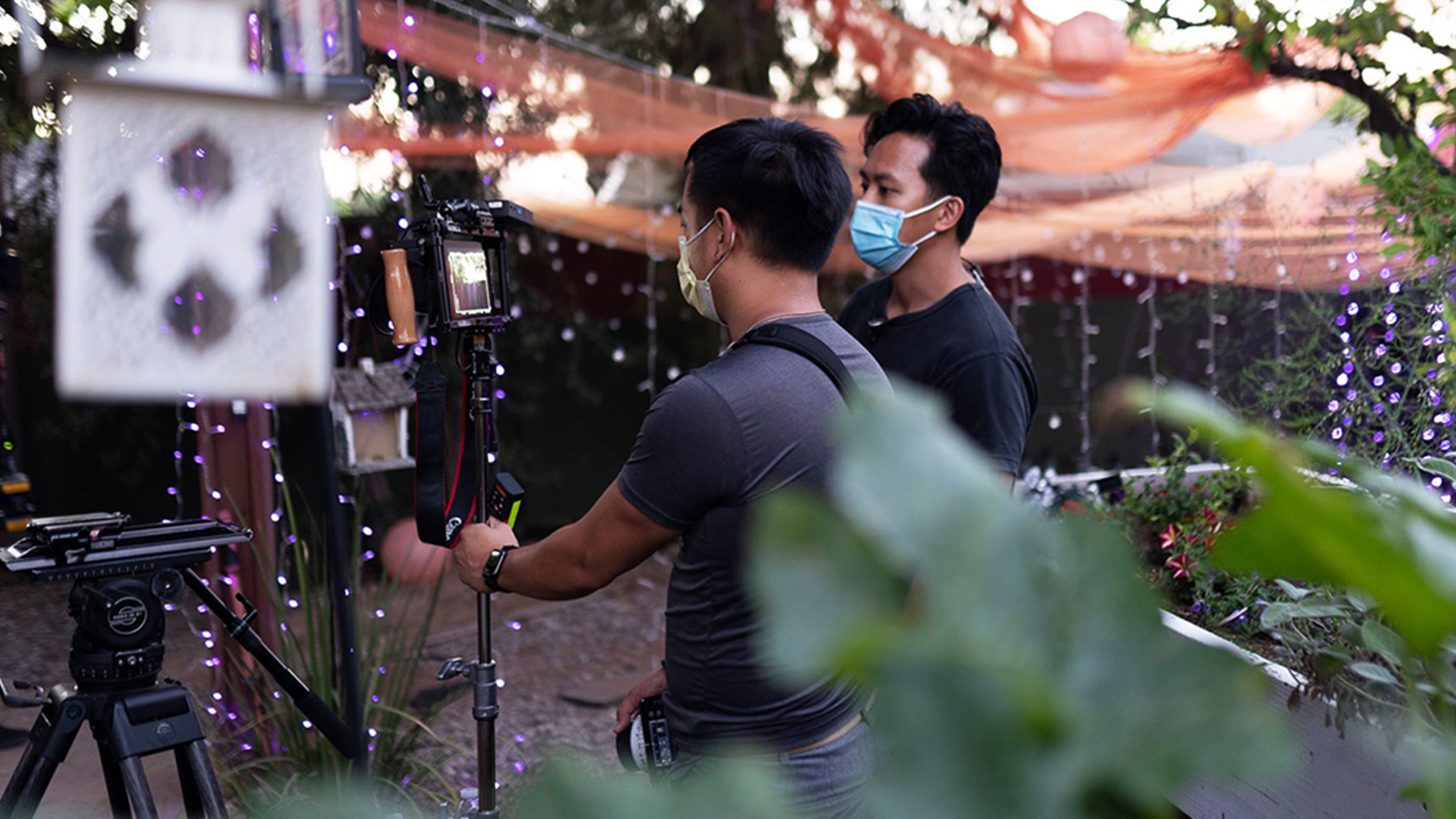 First Look Screening: 2021 Project Involve Short Films
Please note…
The online screening has reached its registration capacity*.
* Except Arts Circle and Film Lover Members – see 'Registration Information' below.
Your choice: in person OR online
Register for our in-person event* by clicking 'Get Tickets' above, or choose 'Watch Online' if you'd rather enjoy the screening from home. Details for both options available below.
* Those attending this in-person event must provide proof of COVID-19 vaccination to enter, and wear a mask or face covering at all times.
You and a guest are invited to join us for a theatrical screening of the 2021 Project Involve short films. Film Independent is proud to present these seven short films, which are the culmination of our most recent Project Involve program. As our longest-running Artist Development program, Project Involve has provided vital and impactful support to filmmakers from underrepresented backgrounds for nearly thirty years. We're proud to be a leader in the ongoing fight to build a more inclusive and equitable industry.
If you prefer, you can register to watch in our Film Independent Presents Online Screening Room, powered by Vision Media. Please note, the screening will be available online from November 12 (12:00 am PT) through November 13 (11:59 pm PT).

The 2021 Project Involve Short Films and Fellows are:
7lbs 8oz
When a young mother moves into a Jersey City neighborhood, an encounter with a stranger shows her the value of community. 
Animator/Writer/Director: Yoo Lee
Producers: Xin Li, Evelyn Martinez
Executive Producer: Jordan Hart
Cinematographer: Ino Yang Popper
Editor: Mengyao Zhang
All I Ever Wanted
Set in the 90s, a hopeless romantic teen, obsessed with rom-coms, pushes her friend to pursue a normal teenage love life she always longed for, but she's suddenly confronted with the fact that her friend is actually the one she's always longed for.
Director: Erin Lau
Producers: Fiona Hardingham, Selena Leoni
Writer: Van B. Nguyen
Executive Producer: Calvin Lam
Cinematographer: Jon Pham
Editor: Sara Schultz
Calabaza
A last-minute change to a pumpkin carving date sends a young Latinx man reeling and forces him to confront the realities of living at home with his father.
Director: Stephanie Osuna-Hernandez
Producers: Evelyn Martinez, Mireia Vilanova
Writer: Gerardo Maravilla
Executive Producer: Ciara Wardlow
Cinematographer: B. Rubén Mendoza
Editor: Mengyao Zhang
Dear Mama…
The death of a musical icon draws different reactions from a father and his young, artistic daughter, forcing them to confront the emotional aftermath of their own tragedy as they begin to heal.
Director: Winter Dunn
Producers: Xin Li, Nicole Mairose Dizon
Writer: Charmaine Cleveland
Executive Producer: Jordan Hart
Cinematographer: Mike Maliwanag
Editor: Ge Zhai
Hard
A teenage boy experiences awkwardness and struggles to navigate the uncertainties of his sexuality after his first time with a girl doesn't go as expected, forcing him to confront his feelings of desire for his best friend.
Director: Robin Takao D'Oench
Producers: Selena Leoni, Mireia Vilanova
Writer: Corey Dashaun
Exec: Calvin Lam
Cinematographer: Andrés Solórzano
Editor: Emily Auday
The Gift
While taking care of her elderly employer, Rosa, an in-home caregiver, awaits news on her ailing mother who's in another country and struggles to send her a gift that might fill Rosa's absence.
Writer/Director: Gauri Adelkar
Producer: Apoorva Charan
Cinematographer: Andrea Gonzalez Mereles
Editor: Katelyn Wright
The Mason Ring
A pair of siblings make a late night drop off at a funeral home, to deliver their grandfather's mason ring for him to be buried in the next day – but unexpected events lead to an impromptu goodbye with the deceased.
Writer/Director: Terry Dawson
Producers: Fiona Hardingham, Nicole Mairose Dizon
Executive Producer: Ciara Wardlow
Cinematographer: Ino Yang Popper
Editor: Tian Jiao Zi "Selinda" Zhou

Registration Information
Film Lover Members are guaranteed access to, and receive priority entry at this event. Arts Circle Members are guaranteed access, and receive both priority entry and reserved seating. Email membership@filmindependent.org for more.
Film Independent Members and the general public can register for this event starting at 5:00 pm on Friday, October 29. | Registration is free; one registration per individual.
Tickets/Parking
On the day of the event, registrants may pick up tickets as early as 30 minues prior to the scheduled start time – look for Film Independent signage. Tickets are nontransferable and for general, unreserved theater seating only (except for Arts Circle Members). Attendees must be in their seat(s) at least 15 minutes prior to the advertised start time or seat(s) may be released. Entry/seating will be handled on a first-come, first-served basis. Registration does not guarantee entry, even with a ticket in hand.
Proof of vaccination and masks are required. All guests must wear a mask or face covering upon entering and remaining within the venue. The mask or face covering must cover the nose, mouth and chin at all times.
The DGA Theater provides several levels of secure underground parking on site.
How to Watch Online
On the first day of screening availability, registrants will be emailed a secure link by our partner Vision Media to watch this title in the Film Independent Presents Online Screening Room.
Screening Policies
Availability window and registration capacity may vary; always register as early as possible. Limit one registration per individual, per event. Links to watch online are watermarked, nontransferable and may only be used by the individual who completed the registration.
Registrants are required to follow all rules and guidelines as laid out by Film Independent and/or its partners. If a guest has been registered for an event by a Member, these policies shall apply to that guest. Violation of policies may result in suspension or termination of Membership/access to future events.
Event details and guest participation are subject to change or cancellation without prior notice.