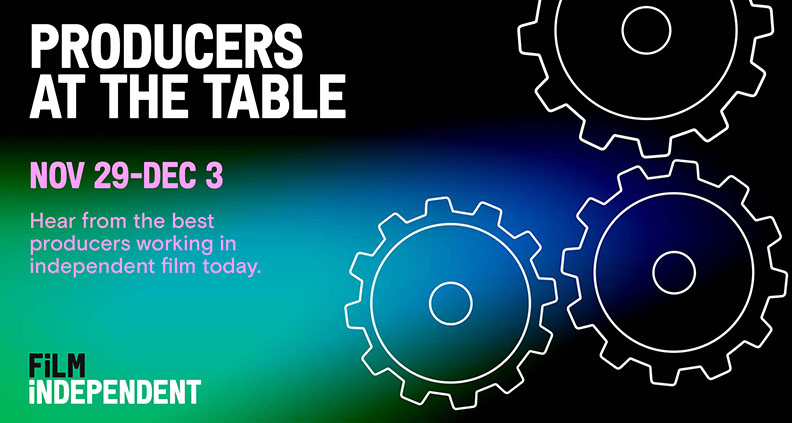 From wherever you are in the world, we invite you to hear from the best producers working in independent film today.
Through a series of five sessions, we will get you up to speed on the most current and pressing issues that producers are tackling today, as we slowly emerge out of our global pandemic and look to a different, better future.
Producers at the Table series passes are $49 for the general public and only $39 for Film Independent Members – and they're on sale now.
Passes are free for Arts Circle and Filmmaker Pro Members.

View the full schedule for Producers at the Table, or take a peek at a snapshot below, including a list of the industry speakers who will be sharing the advice and expertise. All sessions will take place online and begin at 12:00 pm PT.

Monday, November 29
The Producers Profession: A Creative Balancing Act
Tuesday, November 30
On the Set: Striving for Change
Wednesday, December 1
Is Hybrid Here to Stay? Distribution and Exhibition Strategies
Thursday, December 2
Financing Strategies in Uncertain Times
Friday, December 3
From Star Maps to Searchlight: A Keynote Conversation with Matthew Greenfield, President of Searchlight Pictures
Speakers & Panelists
Miguel Arteta (Director, Beatriz at Dinner)
Arianna Bocco (President, IFC Films)
Karin Chien (Producer, Jack & Diane)
Howard Cohen (Co-President, Roadside Attractions)
Cassian Elwes (Producer, Mudbound)
Paul Garnes (President, Array Filmworks)
Aron Gaudet (Co-Director, Queenpins)
Matthew Greenfield (President, Searchlight Pictures)
Margot Hand (Producer, Passing)
Christine Hsu (Agent, CAA)
Kevin Iwashina (Head of Documentary, Endeavor Content)
Greg Laemmle (President, Laemmle Theatres)
Angela Lee (Producer, Songs My Brothers Taught Me)
Pin-Chun Liu (Producer, Test Pattern)
Lauren Mann (Producer, The Card Counter)
Amanda Marshall (Producer, Swiss Army Man)
Sara Murphy (Producer, Licorice Pizza)
Gita Pullapilly (Co-Director, Queenpins)
Kim Roth (Producer, Blue Bayou)
Rachel Shane (Producer, The Eyes of Tammy Faye)
Summer Shelton (Producer, Maine)
Lizzie Shapiro (Producer, Shiva Baby)
Avril Speaks (Producer, Jinn)
Tucker Tooley (Producer, Concrete Cowboy)
Schedule, content, speakers and moderators are subject to change.