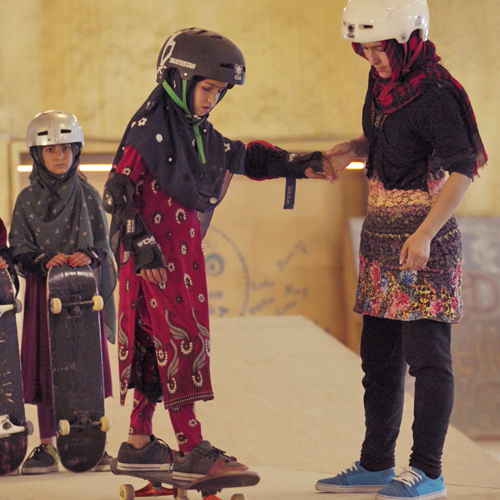 Learning to Skateboard in a
Warzone (if you're a girl)
Feature Film
Feature Films
Learning to Skateboard in a Warzone (if you're a girl) – dir. Carol Dysinger, LA Premiere
Saturday, October 19 – 12:00 pm
MOCA Geffen, Warehouse
The screening of Learning to Skate in a Warzone (if you're a girl) will be followed by a free skateboarding tutorial led by LA Girls Skate Sesh in the Aileen Getty Plaza.

Tickets are available now to Film Independent Members and the general public.
Click the button below to get started. See you at The New Wave!
---
Housed in space that serves as both a schoolhouse and a skatepark, Skateistan is a non-profit organization in Afghanistan that teaches young girls to read, write – and skateboard – in Kabul. The girls are taught to have courage and are given the skills to prepare them for life in Afghanistan and beyond.
Learning to Skateboard in a Warzone (if you're a girl)
is an inspiring documentary about empowerment that had its world premiere at the 2019 Tribeca Film Festival, where it garnered a jury award.
2019, 40 minutes, UK/USA | Directed by Carol Dysinger
Carol Dysinger is a filmmaker, writer, artist and educator whose contemporary work offers a counter-narrative to traditional stories of conflict. She is in the midst of a trilogy on Afghanistan and America post-9/11. In 2005, she traveled solo to Afghanistan with camera in hand to make her feature directorial debut, Camp Victory, Afghanistan, which screened at MOMA, SXSW, Human Rights Watch and The Hague. She received a Guggenheim fellowship in 2018 for a new work shot over 15 years in Afghanistan. As an Associate Professor at New York University's Tisch School of the Arts, Maurice Kanbar Department of Graduate Film and Television and the Interactive Telecommunications Program, she has developed innovative curriculum combining documentary and narrative, as well as blending AR and VR with cinematic storytelling techniques. Additionally, she is a longtime consultant for Sundance Doc Lab.