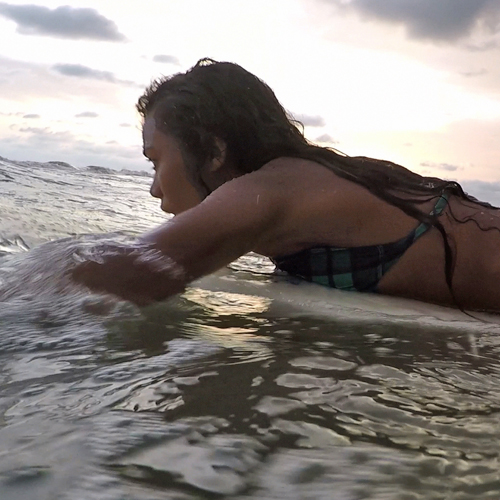 Documentary Short
Documentary Short Films
Sound of Waves – dir. Vanessa Ishel Castillo Ortega
Sunday, October 20 – 12:00 pm
MOCA Grand Avenue, Ahmanson Auditorium
The New Wave's Documentary Short Film program highlights award-winning nonfiction storytelling from some of today's most urgent voices. Films include Edgecombe (dir. Crystal Kayiza), Enforcement Hours (dir. Paloma Martinez), Ghosts of Sugar Land (dir. Bassam Tariq), Sound of Waves (dir. Vanessa Ishel Castillo Ortega), St. Louis Superman (dir. Smriti Mundhra, Sami Khan) and Sweetheart Dancers (dir. Ben-Alex Dupris).

Tickets are available now to Film Independent Members and the general public.
Click the button below to get started. See you at The New Wave!
---
Elida is an enthusiastic teenager with many passions, including playing the violin and spending time with her friends on the beach. But what she really loves is surfing – she's known to her friends as "Candy Surfer." She surfs in defiance of her mother, who considers it too dangerous not only because Elida is fifteen, but because she is missing her right hand.
2018, 15 minutes, Mexico | Written and directed by Vanessa Ishel Castillo Ortega