Conscience Point

Logline
Exposing a painful, quintessentially American geography, Conscience Point unearths a deep clash of values between the Native American Shinnecock and their elite Hamptons neighbors, who have made sacred land their playground.
Synopsis
The Hamptons: playground of the super rich. Epicenter of a luxury property boom, with developers scheming for any scrap of land on which to make millions. Meanwhile, the original inhabitants of this beautiful peninsula, the Shinnecock Indians, find themselves pushed to a point of near extinction, squeezed onto a tiny 750-acre reservation. Over hundreds of years the Shinnecock have seen their ancient burial grounds plowed up unceremoniously for the widening of roads, golf courses and new mansions. On the reservation, wounds run deep. A long-simmering tension between the wealthiest Americans and the Shinnecock will come to a head in the summer of 2018 when the world will be watching the U.S. Open golf tournament unfolding at the ultra-exclusive Shinnecock Hills Golf Club. Few will have any idea that the course was literally carved out of a Shinnecock burial site. A resonant, universal story about place, belonging and power, Conscience Point will expose the true story that underlies the Hamptons as longtime Shinnecock activist Becky Hill-Genia takes a courageous stand to secure the Shinnecock's future against the odds.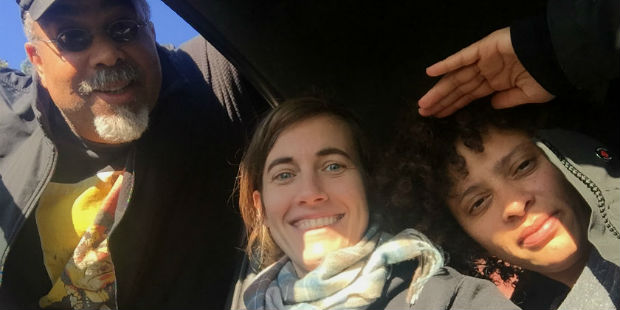 Meet the Filmmakers
Treva Wurmfeld — Director/Producer
Treva Wurmfeld's feature directorial debut, Shepard & Dark, about playwright Sam Shepard, made its world premiere at the Toronto International Film Festival in 2012 and won top awards at the Woodstock International Film Festival, the Cleveland International Film Festival and the Florida Film Festival. That year, Wurmfeld was included in Filmmaker Magazines 25 new faces of Independent Film. Shepard & Dark was an official selection at the Cannes Film Festival and Wurmfeld was nominated for the Camera d'Or prize. Shepard & Dark was released by Music Box films in the Fall of 2013. Previously Wurmfeld shot and produced for the Emmy Award-winning A&E series Intervention and wrote and directed the short film, Oyster in 2007. More recently, she produced and directed a short documentary, The Hama Hama Way. She received her MFA from Hunter College, in 2006.
Julianna Brannum — Producer
Julianna Brannum is a documentary filmmaker based in Austin, TX. Her first film, The Creek Runs Red, was selected to air on PBS's national prime-time series, Independent Lens. She later co-produced a feature-length documentary with Emmy Award-winning producer Stanley Nelson for PBS's We Shall Remain, a five-part series on Native American history. The episode, "Wounded Knee", chronicled the siege of Wounded Knee, SD in 1973 led by the American Indian Movement and had its premiere at the Sundance Film Festival and later won the ABC News VideoSource Award for Outstanding Use of Archival in a Film. Ms. Brannum was selected as a Sundance Institute/Ford Foundation Fellow and has been awarded grants from the Sundance Institute's Native Initiative, National Geographic, Women in Film, ITVS, the Oklahoma Humanities Council, Vision Maker Media, and the Sundance Documentary Fund for her public television documentary LaDonna Harris: Indian 101. She was also awarded a fellowship from the Rockefeller Foundation and the Tribeca Film Institute in support of the film. The film aired nationally on PBS in November 2015 and was Executive Produced by Johnny Depp. Ms. Brannum most recently served as Series Producer on the PBS series, Native America, produced by Providence Pictures. This epic, 4-part series focuses on the civilizations of the Americas. Native America will air nationally on PBS in Fall 2018. Ms. Brannum has also produced programs for Discovery Channel, HGTV, DIY, A&E, and Bravo and is a graduate of the University of Oklahoma where she was awarded the 2008 Distinguished Alumni Award for the College of Arts and Sciences and is a member of the Quahada band of the Comanche Nation of Oklahoma.
Charels Certain — Co-Producer
Charles Certain is a Shinnecock Montauk Native residing on the Shinnecock Reservation in South Hampton, New York. Owner of Certain Media, Inc. For the last 11 years he has worked as a videographer and editor for the town of Southampton. His footage appears regularly on the local government cable station. He also documents all the important events on the reservation, including the famous annual Shinnecock Pow Wow. When he isn't documenting the world around him he is playing music and running his audio and video studio. He is excited to be a Co-Producer on Conscience Point, helping to tell the story of the rich long island indigenous history and the personal stories of the people who make up South Hampton and the Shinnecock Nation.
Alli Joseph — Co-Producer
Alli Joseph is a seasoned journalist, producer and Shinnecock Indian Nation member who developed her producing, writing and editing skills working for large media companies like Scripps (Food Network), NBC Universal, Grey Advertising Worldwide, Newscorp, Salon, Cablevision, Viacom (VH1 and CBS News), AOL, Time Inc., USA Networks and Hachette Filipacchi. Alli has worked across TV, documentary film, digital and print media producing human interest and social justice stories, as well as in entertainment/news. Alli also records and edits oral histories for private clients to save stories of elders across cultures for future generations through her family history production company, Seventh Generation Stories. She was a McCormick Tribune Foundation Fellow in Executive Media Management and a Poynter Institute Sense-making Fellow, and sat on the board of the Radio and Television Digital News Association (RTDNA) representing Native American Journalists as ex-officio for the Native American Journalists Association (NAJA). Alli remains active in advocating for minority journalists' entrepreneurship and career development and co-directed a Ford Foundation-sponsored start-up business program called "NewU" for five years. Alli began working within the Shinnecock community as a filmmaker in 2003, chronicling land repatriation and sacred burial grounds issues. Currently she is a host/producer for Salon, and a faculty member in entrepreneurial journalism for the Maynard Institute for Journalism Education's Maynard200 program.
Brian Johnson — Editor
Brian Johnson is an Emmy and ACE nominated film editor who works in both fiction and non- fiction film and television. Since attending film school at New York University, Brian has been an editor on projects such as He Named Me Malala for which he received Emmy and American Cinema Editors nominations, the Sundance Award winning After Innocence, Michael Apted's Married in America series, the acclaimed On Freddie Roach for HBO, Rob Epstein and Jeffrey Freidman's And the Oscar Goes To, Anita Hill by Freida Mock, and the Academy Award nominated Buena Vista Social Club for which he was nominated for an American Cinema Editors award.
Doug Liman — Executive Producer
Doug Liman is the Director/Producer of critically-acclaimed movies: Swingers(1996), Go (1999), The Bourne Identity (2002), Mr. & Mrs. Smith (2005), Jumper (2008), Fair Game (2010), Edge of Tomorrow/Live Die Repeat (2014), American Made (2015), The Wall (2016), and upcoming Chaos Walking starring Tom Holland and Daisy Ridley. Liman has also developed and produced several TV series including TheO.C., Covert Affairs, and Suits. Liman serves on the board of the Legal Action Center and the Arthur Liman Public Interest Program at Yale Law School.
Contact
For inquiries, please contact fiscalsponsorship@filmindependent.org.