Interview: Film Independent Artist Development Director Angela C. Lee's Wild Ride to #AD30 
If you watched our livestream of the Film Independent Spirit Awards on March 4, then you very well know that this year's ceremony was about way more than just making fun of the 2008 Will Ferrell vehicle Semi-Pro. The 2023 awards show kicked off a year-long celebration of the 30th anniversary of our Artist Development efforts – known on these streets as #AD30. That's right, ever since Project Involve debuted in 1993, Film Independent Artist Development has been on the forefront of filmmaker support and education within the industry.
Since last year, Artist Development has been under the exemplary stewardship of Angela C. Lee – Chicagoan, parent, Wall Street refugee and Spirit Award-nominated independent producer. From collaborations with filmmakers including Chloé Zhao and Sean Baker to Film Independent's diverse portfolio of labs, fellowships, finance market and more, Lee's work has significantly shaped the film landscape of the past decade.
An alum of Film Independent's Fast Track and Producing Lab programs, Lee recently sat down with us to discuss her background, career sustainability, creative collaboration and going from Project Involve rejectee to the highest table in the land.
ANGELA C. LEE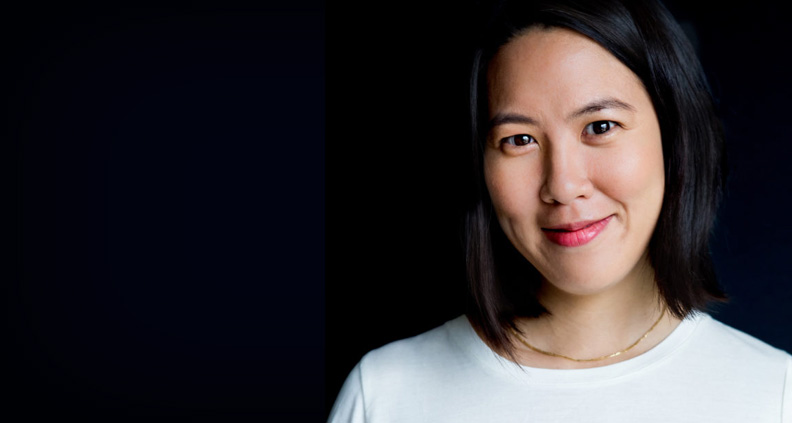 To start, tell me a little bit about your background. Where are you from, originally?
Lee: Chicago–a born-and-bred Southsider and White Sox fan!
Not the Cubs?
Lee: I'll root for any team playing against the Cubs [laughs]. I grew up in Bridgeport and stayed local at the University of Chicago where I studied econ before going to Wall Street after graduation. But after a few years, the work wasn't fulfilling enough for me. Film and television had always been an important part of my life. I wondered how my path might be different if I saw myself reflected more in the media I watched growing up and I decided to do something about it.
It seems like the indie film scene in New York in the mid-2000s was a pretty happening place.
Lee: It was a very busy time, yeah. I found an opportunity working on the Lodge Kerrigan film Keane and ended up building a relationship with the producer of that film, Andrew Fierberg, who became an important mentor to me as I was starting my career. He also produced Steven Shainberg's Secretary and started a company with Steven and Christina Lurie called Vox3 Films where I worked at before focusing on Producing. They did some really great indie films. It's at Vox3 where I hired an intern by the name of Chloé Zhao.
Oh wow.
Lee: You never know when or where you will meet your future collaborators. When she shared her previous shorts with me, I knew immediately what an immense talent and storyteller she was and knew I wanted to help her make her first feature. It was also around that time I saw Sean Baker's Prince of Broadway, which I thought was exceptional. So, I brought [Sean] into Vox3 for a meeting–he had this project he wanted to write with Shih-Ching Tsou who he had collaborated with on the indie film Take-Out called Left Handed Girl which I loved immediately. At that point I was thinking about moving to Los Angeles. I felt there was a ceiling to what I wanted to do in New York. The company was supportive–they let me take on the Sean and Shih-Ching's project to try and produce in LA. Knowing we needed to begin getting support in order to make Left Handed Girl, we applied to and got into Film Independent's Fast Track!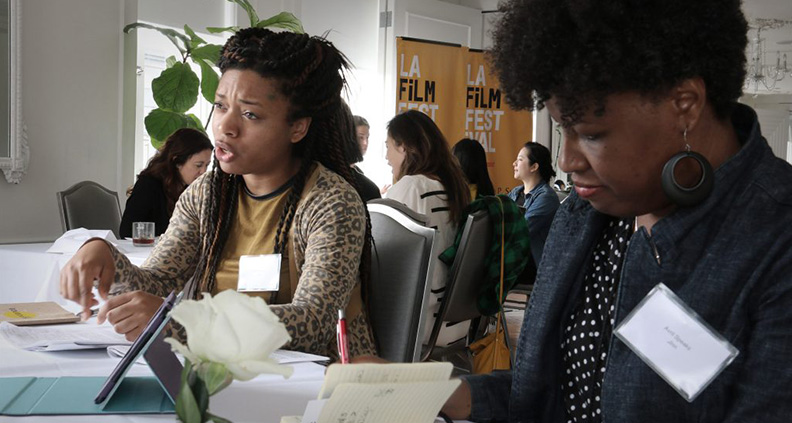 Was Fast Track your first experience with Film Independent?
Lee: When I was an executive at Vox3 I actually applied to Project Involve, on the executive track. I'd never seen a program that was supporting Development Executives. I loved that Film Independent recognized the importance of diversifying the gatekeepers of Hollywood, as well as the creative class. [Film Independent] was on the forefront of DEI before any studio thought that was work we needed to do.
So did you get into Project Involve?
Lee: No! [laughs] I got dinged by Francisco [Velasquez, Associate Director of Project Involve] and the PI team because I lived in New York at the time. A crucial element of PI is the community you build with your cohort and living in New York would have been harder to fully take advantage of the program.
How often do you remind Francisco of that rejection?
Lee: Just recently, actually! He was, like, "Well, look. Now you're my boss." Jokes aside, I'm a firm believer in the idea that if something is meant to be, it will happen. Clearly, my path was meant to cross with Film Independent.
You produced Chloé's Songs My Brothers Taught Me. How'd that happen?
Lee: Chloé had shared her interest to tell a story set in Pine Ridge. We took our first trip to South Dakota in 2010 and the inspiration for Songs was born after getting to know so many wonderful people on this visit and many subsequent trips. And Film Independent was the first program to support her when she was selected for the Screenwriting Lab and then I was selected for the Producing Lab and Fast Track. When she accepted the Spirit Award for Nomadland there was a little Post-It note behind her that said "I heart Film Independent."
After participating in the Artist Development programs, how did you come to actually work for Film Independent?
Lee: It's no secret that being an independent producer is not very sustainable. While I was in post-production on Songs, Film Independent reached out and said: "Would you be interested to join Artist Development and help run the filmmaker labs?" I said, yes! As a Producer, I wanted to be very selective and intentional about the projects I signed up to produce. I had a family and didn't want to produce just for the sake of producing. Joining Artist Development has been an amazing opportunity for me because this role is like producing but on a larger scale with significant impact; I am able to champion inclusive and exciting new voices , help provide resources and access, and advocate on behalf of artists. Not to mention share some of the things I wish someone had taught me, especially since I never went to film school. That's been the joy for me over the course of these last nine years.
In your opinion, what's a good example of a Film Independent Artist Development success story?
Lee: Oh, there are so many! I love sharing the story about Marvin Lemus and Linda Yvette Chavez, both Project Involve Fellows though in different years. Linda later was selected for our Screenwriting Lab with her beautiful script Fieras and around that same time Marvin reached out to Francisco Velasquez (Associate Director, Project Involve) looking for collaborator recommendations for a new project, Francisco suggested Linda and that was the start of the incredible partnership that led to three seasons of the show Gentified. We also supported producer Apoorva Charan through Project Involve. She was later selected for the Producing Lab with her feature Joyland which also was selected for Fast Track with writer/director Saim Saddiq where they found financing and producing partners for their film. After an incredible fest run winning prizes at Cannes, we were so thrilled for Joyland's Spirit Award win for Best International Film. Plus, all the amazing Fi fellows nominated for Oscars this year including Pamela Ribon (My Year of Dicks), Sara Dosa (Fire of Love) and Oscar winners Guneet Monga (The Elephant Whisperers) and Shane Boris (Navalny). Personally, I think we're too understated in touting our successes. We've really played a significant role in breaking some incredible talent in the industry. Now we're celebrating our 30th anniversary of Artist Development, which all started with Project Involve, and I'm excited to see how Artist Development continues to evolve in its next 30 years.
What are your goals as Artist Development Director for this 30th Anniversary year?
Lee: I want the industry at large to more fully recognize the impact Film Independent's Artist Development programs and the breadth and depth of their inclusivity have made on our culture and then to join us to continue to champion innovation, inclusivity and sustainability for future generations of storytellers. And then it's just looking at our landscape and saying: "What would be most helpful for our community?" You know, we're not just here looking for the next Chloé Zhao. This ecosystem is built on the working artist. So how can we support sustainability and success day-to-day? I also want to expand Artist Development to not only nurture individual projects, but further support artists more holistically and set them for success and sustainability not just in their craft but also as entrepreneurs. The Amplifier Fellowship and Imaginar Producers Residency are two programs that reflect this next generation of artist support I'm so excited by. And finally, my big goal would be to create a fund administered by Film Independent that could provide significant funding for filmmakers. We live in a country that doesn't support artists as meaningfully as other countries do, and as it gets harder and harder to get films made, I believe Film Independent is in a position that can make a difference.
So you're assessing needs and designing programs and initiatives to serve them.
Lee: Absolutely. As an exercise for one of the programs I once participated in as a Producer, I had to come up with a mission statement for my work. For me, it's a mandate to champion and advocate on behalf of artists and storytellers. To spotlight communities we don't know much about. To highlight things most of us don't see in our day-to-day lives. That's entertaining of course. But that's also thought-provoking, moves us and expands our sense of compassion. With social media it's so easy to just get caught up in a hole and surround yourself with people who think the same way. That being amongst others and having a dialogue is so crucial. At Film Independent, we're lifting up a whole community of artists who work in all these different spaces and providing them the tools to get their perspectives out. That's why I love Film Independent and our work so much and so grateful and honored to be in this position to do this.
For more information on any of our Artist Development Labs or the projects that have been developed in them, please contact us. Additional information can be found at filmindependent.org. 2023 marks 30 years of Film Independent Artist Development. 
Film Independent promotes unique independent voices by helping filmmakers create and advance new work. To become a Member of Film Independent, just click here. To support us with a donation, click here. 
Keep up with Film Independent…