EJ Lee: All-American

Before Jeremy Lin and Yao Ming, there was Eun Jung Lee. EJ Lee, a Louisiana legend nicknamed the "Korean Magic Johnson of NCAA women's basketball," has been overlooked her entire career. But finally, at the age of 60, EJ receives her first opportunity to become a college head coach and lead an underdog team in West Texas.
Project type: Nonfiction Feature
Project status: Production
Director/Producer: Jason Rhee
Producer: Razi Jafri
Producer/Editor: Zoe Sua Cho
Co-Producer: Cindy Martin
Executive Producer: Brenda Robinson

Help independent filmmakers tell their stories.
Make a donation to EJ Lee: All American today.
Film Independent's Fiscal Sponsorship program opens the door to nonprofit funding for independent filmmakers and media artists. Donate today and help bring EJ Lee: All-American to life.

Logline
Before Jeremy Lin and Yao Ming, there was Eun Jung Lee. EJ Lee, a Louisiana legend nicknamed the "Korean Magic Johnson of NCAA women's basketball," has been overlooked her entire career. But finally, at the age of 60, EJ receives her first opportunity to become a college head coach and lead an underdog team in West Texas.
Synopsis
EJ Lee: All-American is a feature-length documentary that combines verité and archival footage of a female Louisiana legend who's been described as the greatest player you've never heard of. The film will be an intimate character study of this little-known Asian American superstar with a Southern twang by interweaving the historical journey of EJ developing into one of the best players in Korea and America and the present-day narrative tracking the final chapters of EJ's 40-year-career as a first-time college head coach.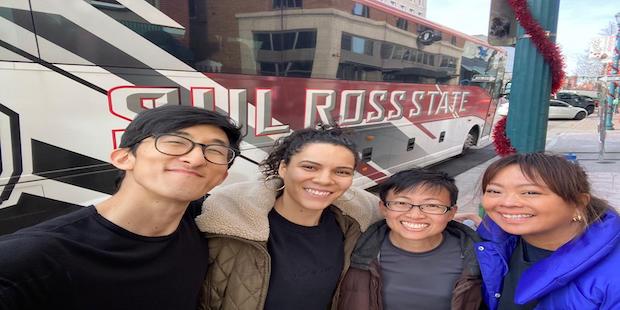 Meet the Filmmakers
Jason Rhee – Director/Producer
Jason Rhee is a Korean American writer and director with a passion for telling stories centered around his childhood and the AAPI community. Jason was selected as a script intern and writer's PA for Conan, as well as a writing intern and contributor for The Onion. With a background in screenwriting, comedy, and satire, he's produced two one-woman shows with stand-up comedian Kellye Howard, which has been featured on ABC and described as "exposing admirable vulnerability and strength." Jason directed a sold-out run of a third show with Kellye at the Steppenwolf Theater as part of its 2022 LookOut series. After three years as The Onion's writer assistant, Jason is currently working on personal projects, including a documentary about the "Korean Magic Johnson of the NCAA" that is being workshopped in the 2022 Kartemquin Diverse Fellows in Doc program. He is a proud member of the Asian American Documentary Network and the Writers Guild of America East.
Razi Jafri – Producer
Razi Jafri is a Detroit-based documentary filmmaker and producer whose work focuses on America's changing cultural landscape through stories of race, religion, immigration and politics. His recent projects include Hamtramck, USA, a film about democracy in America's first Muslim majority city. The feature documentary was selected for a world premier at the 2020 SXSW film festival and was nationally broadcast on America ReFramed in Spring 2021. He is the producer of The Moon on my Uniform formerly titled Loyalty) a forthcoming feature documentary that follows three Muslim chaplains as they navigate religious freedom and Islamophobia in the U.S. military. Razi has served as a mentor in Kartemquin Films Diverse Voices in Docs Fellowship. He has been awarded fellowships by the Kresge Foundation, Facing Change: Documenting Detroit, the New York Foundation for the Arts (NYFA), The Salzburg Global Forum, and the Knight Foundation Fellowship at the Sundance Film Festival, and most recently, the Sundance Producing Lab + Fellowship. His film and photography projects have received support from the Ford Foundation, the Doris Duke Foundation, the Knight Foundation, the Kresge Foundation, the Center for Asian American Media, the Islamic Scholarship Fund, the El Hibri Foundation, and others.
Zoe Sua Cho – Producer/Editor
Zoe Sua Cho is a Korean-born, New Zealand-bred filmmaker and co-founder of Mass Ornament Films. She has produced numerous short films which went to win at top international film festivals, including Recorder Exam (Best Student Short winner at Woodstock Film Festival), Wolkaan (Toronto International Film Festival), and Needle (1st prize winner at Cinefondation, Cannes Film Festival). In 2017, she co-produced, and edited feature documentary Drifting Towards the Crescent directed by Laura Stewart, which premiered at Rotterdam International Film Festival, and produced Anahita Ghazvinizadeh's They, an official selection at Cannes Film Festival. As a director, Zoe's film experiment Hotel/Transit was nominated for the Critics' Award at Black Movie Geneve International Film Festival in 2015. In 2018, Zoe edited and produced feature film House of Hummingbird directed by Bora Kim, which participated in the IFP Labs and Sundance Institute's Feature Film Program. The film premiered at Busan International Film Festival where it won the KNN Audience award and the NETPAC award for best Korean film. She is a fellow of LA Film Independent's Project Involve and Fast Track, IFP Cannes Producer Network Fellow, Sundance Feature Films Fellow and a 2018 Berlinale Talents Fellow.
Cindy Martin – Co-Producer
Cindy Martin is an award-winning Documentary Filmmaker committed to enhancing voices from underrepresented communities, with a focus on AAPI, BIPOC and women stories. In 2022, she was named a Diverse Voices in Docs Fellow at Kartemquin. In 2021, she was a cohort of the Community Film Workshop's Production Institute in Chicago. Cindy received a Bachelor's Degree in Broadcast Journalism from the University of Illinois at Urbana-Champaign, specializing in Psychology and Politics. Just a few months after graduation, she moved to London where she lived for 16 years and worked for: Reuters Television, Associated Press Television News (APTN), Getty Images and ABC News. She then moved to Los Angeles where she worked as the West Coast Producer for Sky News, and produced an award-winning documentary about the deadly Kilauea volcano eruption in Hawaii. Cindy also worked as a "one-woman band" for international media companies, including: CGTN, AJ+ and APTN. Cindy is a member of: Sundance Institute, Asian-American Documentary Network (A-Doc), Asian-American Journalists Association (AAJA), Independent Film Alliance (IFA), Doc Chicago, Foundation for Asian-American Independent Media (FAAIM) and Mezcla Media Collective.
Brenda Robinson – Executive Producer
Brenda Robinson is an entertainment attorney and producer with extensive experience in the film, television and music industries. As a dedicated philanthropist in the arts and entertainment community and advocate on behalf of creative artists, Brenda currently serves on the boards of Film Independent and The Representation Project. She is a proud board member of Cinema/Chicago and the Chicago International Film Festival and currently acts as legal counsel to the festival. Brenda is also currently the Board Chair of the USC Annenberg Inclusion Initiative. She was most recently a financier on the Academy Award-winning documentary Icarus as well as Won't You Be My Neighbor and Step. She is an executive producer on numerous projects including Jump Shot: The Kenny Sailors Story, alongside executive producer Steph Curry. Brenda is a member of The Recording Academy and the Academy of Motion Pictures Arts and Sciences (AMPAS).
Contact
For inquiries, please contact fiscalsponsorship@filmindependent.org.