I Forgive You for Dying

A father-daughter story about childhood trauma, mental health, and healing...
Project type: Nonfiction Feature
Project status: Development
Writer/Director/Producer: Mary Bronaugh
Producer: Brendan Bennett
Executive Producer: Jacqueline Lundquist

Email: maryaiming@gmail.com

Help independent filmmakers tell their stories.
Make a donation to I Forgive You for Dying today.
Film Independent's Fiscal Sponsorship program opens the door to nonprofit funding for independent filmmakers and media artists. Donate today and help bring I Forgive You for Dying to life.
Logline
I Forgive You for Dying is a feature documentary that explores the psychology of childhood trauma through one daughter's brave journey to forgive her father, who died fighting in the Vietnam War.
Using a combination of beautiful archival film, innovative sketch-style animation, and fascinating discussions with experts; the film uses one woman's true story to reveal profound breakthroughs in child psychology and mental health.
Synopsis
When Don Lundquist is called to fight in the Vietnam War, he must leave his three year-old daughter Jacqueline at home without a father. After returning only a year later, news arrives that Don has suddenly died of a massive heart attack, and young Jacqueline is left feeling confused and overwhelmed. Instead of feeling grief at his passing, she feels abandoned by him. For the next 30 years, Jacqueline refuses to acknowledge she ever had a father…
Until she becomes pregnant with her own child.
Desperate for guidance, Jacqueline bravely unburies personal letters and tapes her father sent to her while stationed in Vietnam. Through Don's words, she discovers complicated truths about her family and her own life story – from the heartbreaking costs of his combat, to her father's deep devotion and love for her – that she never knew she needed.
Based on the book Letters from the Battlefield, written by the real-life Jacqueline and Don Lundquist, I Forgive You for Dying is a captivating, father-daughter drama that turns traditional documentary styles on their head.
By combining beautiful archival film, innovative sketch-style animation, and fascinating discussions with experts in psychology; the film visually transports us into the mind of a child experiencing trauma.
It unveils the mental and emotional impacts of abandonment on a young child, the generational trauma of war on a family, and how to courageously heal after the ones we love have left us.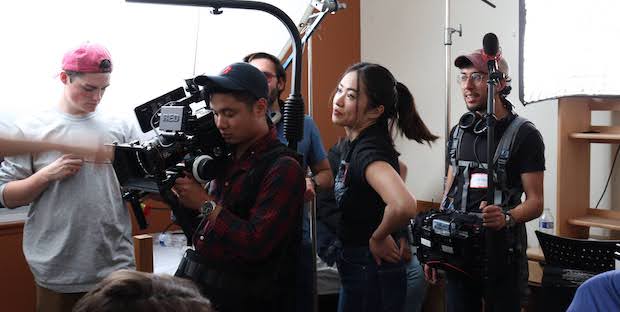 Meet the Filmmakers
Mary Bronaugh- Writer/Director/Producer
Mary Bronaugh is a writer, director, and producer. Most recently, she worked as a Staff Writer on Disney Channel's #1 series Big City Greens, which just announced season 4 and a Disney+ movie musical. Its writers room has been nominated for multiple Television Academy Awards (Emmys) for its stories. She has also worked as a Development Writer at Walt Disney Television, NBCUniversal, and Paramount. She is currently developing an original series with Alcon Entertainment and Jeff "Swampy" Marsh's production company Surfing Giant Studios.
She has also written, directed, and produced indie films and series with historic organizations like Film Independent and the Academy Award winning Six Point Harness. Most recently, she wrote, directed, and produced an original short called Swearing, which had its world premiere at the Flickers' Rhode Island International Film Festival in 2022.
Other credits include producing the short film The Birds and The Bees written by Bob Tzudiker and Noni White (The Lion King, Tarzan, Newsies) and starring Angelica Huston, Hasan Minhaj, and Sean Astin; plus creating and directing the limited half-hour comedy series Ensemble, which premiered on the LA cable channel KFLA LD-8.1 and streams on YouTube.
Brendan Bennett – Producer
Brendan Bennett is a filmmaker raised on Bainbridge Island, Washington. Brendan loves taking on projects and seeing them through every step of the process. His work as a producer has been screened at SXSW and other prestigious festivals in the US, Ireland, the UK, Spain, Brazil, France, Denmark, Greece, and has been viewed by over 12 million people online. These films have gone on to win DGA, ASC, and Telly awards and have been featured in articles for Variety, Deadline, and the Hollywood Reporter.
He has also produced a number of short films with partners including Amazon Studios, Universal Pictures, Warner Brothers, Microsoft, and Technicolor. Brendan graduated from USC School of Cinematic Arts and is excited to continue building worlds and telling poignant, dramatic stories with a dash of humor.
Jacqueline Lundquist – Executive Producer
Jacqueline Lundquist is the author of three books, including Letters from the Battlefield, on which this film is based.
Aside from her writing, she is a philanthropist, currently serving as the Vice President of Corporate Affairs and Chief Serendipity Officer at WaterHealth International, which works in over 1,000 sites in India and Africa to provide clean and safe drinking water to millions of people, provide jobs and opportunities to women, and eradicate plastic in hotels, corporate offices, and communities.
Previously in the United States, Jacqueline tackled national community service issues with the Clinton Administration. She's worked on causes for HIV / AIDS, women's and children's issues, breast cancer awareness, the environment, and the promotion of fashion and the arts.
Contact
For inquiries, please contact fiscalsponsorship@filmindependent.org.