Midtown

Go inside the mind of America on the eve of the most consequential election in modern American history.
Film Independent's Fiscal Sponsorship program opens the door to nonprofit funding for independent filmmakers and media artists. Donate today and help bring Midtown to life.
Logline
Midtown will distill America's experience of contemporary electoral politics through an observational study of Midtown Manhattan on Election Night 2020. By capturing the diverse tapestry of people that congregate around midtown, the film will bring to life the political textures of our country in a free-form vignette style. Midtown will go inside the inner lives of Americans and explore the way our political experience has shaped us as a society.
Synopsis
There are many flashpoints in Midtown where New Yorkers will be experiencing the weight of this election, and respond to the results in realtime. The voting lines, the public spaces, the shops, and the sidewalks outside places like the Fox News building, where there are a multitude of screens present. These screens, present also in Times Square, and the patchwork groups of Americans who gather around them will be among the focal points of the film. Crowds of people stopping and staring as the results come in, muttering to one another, reacting to anything they consider unseemly or unexpected.
There is also Trump Tower, a space where everyone from your typical MAGA-hat wearing Trump supporter, to pro-Israel groups, to dissident Antifa and anti-racism counter-protestors will likely be staged. Shop owners will be looking to sell their latest Trump merch, and performers will bring their best act. Groups of sidewalk-dwellers will be discussing the evening's events and the stakes of the election as it happens.
Covering these scenes with an observational approach, we'll build a portrait of the evening and of the country, using natural moments captured throughout the course of the day and evening, weaving in footage from newscasts and archival material that will help drive the story of the Trump Presidency and of Election Night 2020.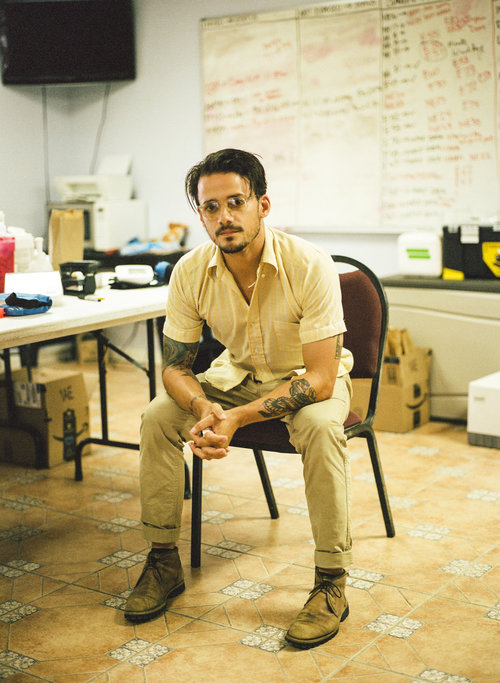 Meet the Filmmakers
Eric Arthur Fernandez – Director/Producer
Eric Arthur Fernandez is an Emmy award-winning producer and cinematographer that specializes in documentary filmmaking about contemporary social-issues and current affairs. His work has appeared in the New York Times, PBS, VICE News, and The Guardian, and he regularly works as a documentary cinematographer for shows and networks such as National Geographic "Explorer," VICE News Tonight on HBO, PBS, Netflix, CBSN Originals, Al Jazeera, and the BBC.
His work has taken him all over the U.S. and to over a dozen countries, including Haiti, Pakistan, Dominican Republic, Honduras, El Salvador, Nicaragua, Bosnia, Rwanda, Kenya, and Burundi, often juggling multiple roles as a producer and cinematographer. Domestically, he has covered the aftermath of Hurricane Maria in Puerto Rico, the mental health crisis inside Cook County Jail in Chicago, the events following Freddie Gray's death in Baltimore, and border and immigration stories all over the Americas. Often focused on issues of justice, immigration, policing, crime and criminality, environment, and labor, Fernandez is a sharp reporter and a sensitive, empathetic storyteller. He's received various awards from the Society of Professional Journalists, the LA Press Club, as well as an Emmy award for a half-hour PBS piece he produced about the impact that gentrification has had on the jazz scene in Los Angeles.
He is a member of the Frontline Freelance Register, was hostile-environment certified in 2016, and studied Journalism and Film at the New School in Manhattan. His friends call him Fern, and when he's not working, you can find him surfing, climbing, reading, or hanging out at home in Brooklyn with his cat.
Contact
For inquiries, please contact fiscalsponsorship@filmindependent.org.