Scenes From Our Marriage

The heart may forgive, but the mind can't forget...
Project type: Fiction Feature
Project status: Development
Director/Writer/Executive Producer: Yolonda Ross
Producers: Sasha Solodukhina, Avril Speaks
Director of Photography: Justin Zweifach

Email: SFOMfilm@gmail.com

Help independent filmmakers tell their stories.
Make a donation to Scenes From Our Marriage today.
Film Independent's Fiscal Sponsorship program opens the door to nonprofit funding for independent filmmakers and media artists. Donate today and help bring Scenes From Our Marriage to life.
Logline
Co-stars Ela' (Clarke Peters) and Legbani (Yolonda Ross) burn up the stage in a new racially fueled Broadway play. But when trust is violated, fact and fiction become blurred as the couple wrestles with what it means to love and succeed as black artists in show business.
Synopsis
Scenes From Our Marriage is a love gone wrong tale, told over three acts. Layered into the love story is a discussion of race.
ACT 1 NEW LOVE
The dynamic duo Legbani and Ela', are riding high off the success of their new Broadway play, What a Difference a Shade Makes. The couple discusses their fairytale romance, and upcoming nuptials during an at home celebrity interview. The older well established Ela' takes the lead when asked about the parallels of playing husband and wife on stage and off, but it's newcomer Legbani, who is nominated for a Tony Award.
ACT 2 MARRIED LIFE AND DRAMA
The couple and their cast of friends perform their high energy show night after night, then unwind at late-night after parties. Interest in Legbani soars, elevating her to a new platform. As a seasoned theater vet, Ela' thrives in this atmosphere with the added thrill of enjoying it with his wife. During one of those late nights, Legbani is made an offer, that doesn't include her well-known husband, leaving her conflicted. To add fire to the flame, LEGBANI wins the Tony leaving Ela' feeling slighted for his decades of hard work, and no trophies in hand.
ACT 3 TILL DEATH DO US PART
The cast finally gets a few days off. They decide to celebrate together. In a moment of weakness Ela' cheats with a castmate, turning their relationship upside down and causing major turmoil in the play. The cast takes sides and performances are compromised. The pain deepens as Legbani forgives Ela', but is unable to forget. The show must go on, but will their relationship survive the infidelity?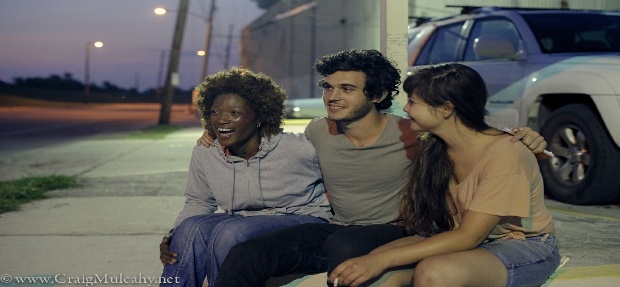 Meet the Filmmakers
Yolonda Ross — Writer/Director/Executive Producer
Yolonda is a two-time Film Independent Spirit Award nominee and Gotham Award winner for her leading roles in HBO'S Stranger Inside and John Sayles's Go For Sisters. Her previous work includes 24, Antwone Fisher, Whitney David Mamet's The Unit and Phil Spector, along with HBO'S Treme, where she portrayed filmmaker Dana Lyndsey. It was this part and her numerous times working with new filmmakers in the Sundance Film Labs that made Ross decide to make her own directorial debut with her short film, Breaking Night. Her short went on to become the music video for the famed classic rock song, Blinded By the Light. She's a member of NY's Labyrinth Theater Company, and recurs on How to Get Away With Murder and Baz Luhrmann's Netflix series The Get Down. Yolonda is a series regular on the critically acclaimed Showtime series, THE CHI, executive produced by Lena Waithe, Common, and Elwood Reid. She can next be seen in the Carol Morley thriller Out of the Blue. Scenes From Our Marriage will be her feature debut.
Sasha Soludukhina — Producer
Sasha studied film at Wesleyan University. She currently lives in New Orleans where she has produced a number of features, shorts, and music videos including Nick Singer's Other Months, Ben Cannon's feature documentary, Big Bad Art and Yolonda Ross' Breaking Night. Most recently she wrapped on All Styles and American Rhapsody. She plays a large part in the indie film industry in New Orleans as the International Crowdfunding Coordinator and New Orleans Chapter Leader for the collective Film Fatales. Sasha is currently in pre-production for the feature film Wellwood.
Avril Speaks — Producer
Avril Speaks is a Film Independent Producing Lab Fellow and winner of the 2018 Movie Magic Producer Award. She earned her M.F.A. in Film Directing from Columbia University School of the Arts, going on to associate produce the TNT docuseries American Race, and UPM for Scripted Programming at BET Networks. She most recently produced the feature film Jinn, which premiered at BFI and SXSW 2018, winning Special Jury Recognition for writing and receiving distribution through MGM/Orion Classics. Her upcoming films include Hosea and Scenes From Our Marriage.
Justin Zweifach — Director of Photography
Justin was born and raised in New York City and studied film at Wesleyan University. Zweifach continues to collaborate with emerging directors such as Nick Singer on February and Other Months. He recently lensed Mavis Staples' new music video and Jowan Corbin's Cutoff and Assholes . Zweifach was the Director of Photography on Breaking Night, which is now being featured on VH1 Classics as the official video for Manfred Mann's Blinded By the Light.
Contact
For inquiries, please contact fiscalsponsorship@filmindependent.org.