Scenes From Our Marriage

The heart may forgive, but the mind can't forget...
Project type: Narrative Feature
Project status: Development
Director/Writer/Executive Producer: Yolonda Ross
Producers: Adaptive Studios and NightFox Entertainment
Producer: Sasha Solodukhina
Director of Photography: Justin Zweifach

Email: [email protected]

Help independent filmmakers tell their stories.
Make a donation to Scenes From Our Marriage today.
Film Independent's Fiscal Sponsorship program opens the door to nonprofit funding for independent filmmakers and media artists. Donate today and help bring Scenes From Our Marriage to life.
Logline
Co-stars Ela' (Clarke Peters) and Legbani (Yolonda Ross) burn up the stage in a new racially fueled Broadway play. But when trust is violated, fact and fiction become blurred as the couple wrestles with what it means to love and succeed as black artists in show business.
Synopsis
We drop in on Legbani and Ela' during a candid at home celebrity interview on the eve of the Tony Awards. The more established, Ela' takes the lead, though it's Legbani who's nominated for the Tony. We learn about their new racially fueled Broadway play and how they fell in love during rehearsals. Legbani goes on to win the Tony. She and Ela' marry. Legbani is ushered to a new level of notoriety after her win with a variety of media outlets ask her thoughts on everything from race to her favorite quotes. We follow the couple as they proceed on a non-stop routine of interviews before work, commanding the stage at night, and unwinding with fellow cast members into the wee hours until Legbani and Ela' collapse into their quiet time in bed each evening. After the play's grand finale, the newlyweds throw a party to celebrate. Unexpectedly, Legbani's trust is broken when she catches Ela' in a compromising position with her castmate, Melania. The couple attempts to get their life back on track with disastrous public outbursts. The pain deepens as Legbani forgives Ela', but is unable to forget.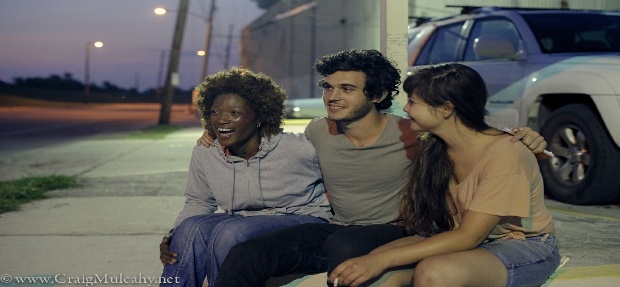 Meet the Filmmakers
Yolonda Ross — Writer/Director/Executive Producer
Yolonda is a two-time Film Independent Spirit Award nominee and Gotham Award winner for her leading roles in HBO'S Stranger Inside and John Sayles's Go For Sisters. Her previous work includes 24, Antwone Fisher, Whitney David Mamet's The Unit and Phil Spector, along with HBO'S Treme, where she portrayed filmmaker Dana Lyndsey. It was this part and her numerous times working with new filmmakers in the Sundance Film Labs that made Ross decide to make her own directorial debut with her short film, Breaking Night. Her short went on to become the music video for the famed classic rock song, Blinded By the Light. She's a member of NY's Labyrinth Theater Company, and recurs on How to Get Away With Murder and Baz Luhrmann's Netflix series The Get Down. Yolonda is a series regular on the critically acclaimed Showtime series, THE CHI, executive produced by Lena Waithe, Common, and Elwood Reid. She can next be seen in the Carol Morley thriller Out of the Blue. Scenes From Our Marriage will be her feature debut.
Jamie Gordon and Courtney Potts — Producers
Jamie and Courtney founded Fugitive Films in 2005 after running the development department of GreeneStreet Films in New York City. While at GreeneStreet, their projects included Oscar-nominated, In the Bedroom and critically acclaimed Pinero . Fugitive executive produced several PBS programs, including the award-winning documentary Half the Sky: Turning Oppression Into Opportunity and the multipart series A Path Apart. Humor Me is their latest film in theaters.
Sasha Soludukhina — Producer
Sasha studied film at Wesleyan University. She currently lives in New Orleans where she has produced a number of features, shorts, and music videos including Nick Singer's Other Months, Ben Cannon's feature documentary, Big Bad Art and Yolonda Ross' Breaking Night. Most recently she wrapped on All Styles and American Rhapsody. She plays a large part in the indie film industry in New Orleans as the International Crowdfunding Coordinator and New Orleans Chapter Leader for the collective Film Fatales. Sasha is currently in pre-production for the feature film Wellwood.
Justin Zweifach — Director of Photography
Justin was born and raised in New York City and studied film at Wesleyan University. Zweifach continues to collaborate with emerging directors such as Nick Singer on February and Other Months. He recently lensed Mavis Staples' new music video and Jowan Corbin's Cutoff and Assholes . Zweifach was the Director of Photography on Breaking Night, which is now being featured on VH1 Classics as the official video for Manfred Mann's Blinded By the Light.
Contact
For inquiries, please contact [email protected].