Sinjar

When ISIS destroys their lives, three women fight back...
Project type: Fiction Feature
Project status: Production
Director/Writer/Producer: Anna M. Bofarull
Producer: Azadeh Khatibi
Producer: Marian Matachana
Cinematographer: Lara Vilanova
Editor: Diana Toucedo

Email: eye.azadeh@gmail.com

Help independent filmmakers tell their stories.
Make a donation to Sinjar today.
Film Independent's Fiscal Sponsorship program opens the door to nonprofit funding for independent filmmakers and media artists. Donate today and help bring Sinjar to life.

Logline
Three women whose lives are shattered by ISIS travel intertwined journeys on two continents to find their shared destiny in fighting back.
Synopsis
Sinjar, Iraq, 2014. As ISIS soldiers invade the city on a genocidal campaign against Kurdish-speaking Yazidis, HADIA and her children, including her teenage daughter ARJIN, are captured, separated and sold into slavery by European-born ISIS soldier MARC. Meanwhile, in Barcelona, Marc's mother CARLOTA comes out of her ignorance of reality to face her caring son's sudden disappearance and joining Islamic State.
As Carlota struggles to unravel the mystery surrounding Marc's disappearance, Hadia faces an ever-increasing mother's nightmare that puts each of her children at stake and takes her to the brink of desperation, and Arjin–now a soldier–is challenged to reach into the depths of her being for strength to face death and the enemy that destroyed her family.
How far will Arjin, Hadia and Carlota go for the ones they love?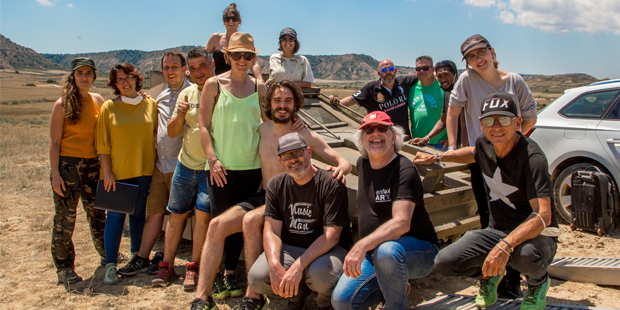 Meet the Filmmakers
Anna M. Bofarull — Director/Writer/Producer
Anna M. Bofarull studied Humanities (Universitat Pompeu Fabra), Film Directing at CECC (Barcelona) and Cinema studies (Université Sorbonne Nouvelle) with an Advanced Technical Degree in Image (EMAV) in Barcelona and Paris. She is Berlinale Talents, Sources 2 and Torino Film Lab, FEST Training Ground, EWA Mentoring and Reykjavik Talent Laboratory alumni. In 2007 she established her production company, KaBoGa, focusing on creative fiction features and documentaries. Her feature documentaries FOOTNOTES (2009) and HAMMADA (2010) were awarded and screened at festivals worldwide, including Montréal, Sao Paulo, Thessaloniki, Reykjavik, Dubai and Las Palmas. Her narrative feature SONATA FOR CELLO (2015) screened and was awarded over 20 festivals worldwide, including Montréal, Málaga, Philippines, Valladolid, Milano, Gijón and London. Her second narrative feature, BARCELONA 1714, was released in theaters. SINJAR is her third narrative feature, selected by Cannes' L'Atélier de Cinéfondation in 2019, and advanced to the second round of Sundance Creative Producing Lab. Anna is also working on her next feature documentary project, FAKE LIES, and her first TV series, NO PASARÁN! Anna's fearless dedication, tireless work ethic and creative vision push beyond creative and geographic boundaries. These characteristics make her the perfect directorial conduit for SINJAR's truthful and brave storytelling.
Azadeh Khatibi — Producer
Azadeh was a Regent's Scholar at UCLA and graduated Phi Beta Kappa with Highest Honors. She studied medicine at UCSF and received her MPH and MS at UC Berkeley. Her acting credits include MAN, MOMENT MACHINE; 60 SECONDS OF DISTANCE and THE TRUTH IS HARD TO FIND, directed by Darren Aronofsky. She was a producer and voiced two characters in the feature WINDOW HORSES starring Sandra Oh and Ellen Page, which was shortlisted for Academy Award nomination, and also helped produce the documentary feature FINDING FARIDEH, Iran's submission to the 2020 Academy Awards for Best International Feature Film. She is producing and starring in the feature AREZOU with Academy Award-nominee Shohreh Aghdashloo. She was a writing finalist in the Women in Film PSA program, and made it to the second round of the Sundance Institute Feature Film Creative Producing Lab in 2019 and 2020. She is a fellowship-trained ophthalmologist and published author and researcher. Azadeh is committed to bringing to life SINJAR and its themes of overcoming the extremes of human terror and trauma in the setting of socio-political indecency and human rights violations, and finding strength in pain to grow and achieve beyond the bounds of one's imagined capabilities.
Marian Matachana — Producer
Marian Matachana studied Law and Psychology and has a degree in Clinical Psychology. She worked as a university professor and school counselor before her passion for cinema led her to found "Marian Matachana" talent agency. A member of KaBoGa Art & Films, she produced SONATA FOR CELLO, which screened and was awarded over 20 festivals worldwide, including Montréal, Málaga, Philippines, Valladolid, Milano, Gijón and London, and BARCELONA 1714, which was released in theatres. She was selected for L'Atelier Cinéfondation at Cannes Film Festival in 2019. She is developing the television series NO PASARAN!, which was one of the 10 projects selected in the Pitch Copro Series in Conecta Fiction 2019. With La Vinadella, she has produced the short films of writer/director Edu Moyano: LA PRIMERA NOCHE and CRETINOS, which earned more than 30 awards at international festivals. Matachana is a member of the Spanish Film Academy and the European Film Academy.
Lara Vilanova — Cinematographer
Graduating from ESCAC in 2009, Lara was awarded the Kodak award for Best Director of Photography at the Encounters Film Festival for NAHEMI. In 2011, she was invited to attend the Berlinale Talent Campus and the Locarno Summer Academy. She is currently director of photography and colorist and works for prestigious companies such as The Chimney and Discovery Channel. One of her recent documentary projects, TRINTA LUMES, premiered at Berlinale. Lara has been nominated for Best Cinematography at Camerimage and Fenix Awards and was awarded Best Cinematography at Cinespaña Toulouse. Her other projects include the documentary FRANCESCA AND THE LOVE, the short film VIRGINITY (Albert Mestres, 2017) and art videos AMERICA IS BIGGER (Albert Pla), WE ARE ALL STRANGE (Isaki Lacuesta) and FOOTBALL (Cesc Gelabert and Isaki Lacuesta). As a colorist, Lara has participated at 20-S (Lluís Arcarazo, 2018), 1-0 (Lluís Arcarazo, 2017), MISS DALÍ (Ventura Pons, 2017), BEAUTY AND THE DOGS (Kaouther Ben Hania, 2017, premiered at Cannes Film Festival 2017–Un Certain Regard section), ESPANYA AMONG TWO TRENCHES, CIVIL WAR IN COLOR (Francesc Escribano, 2016), SONATA FOR CELLO (Anna M. Bofarull, 2015), BAREFOOT ON RED EARTH (Oriol Ferrer, 2013 ) and the television program SALVADOS (Jordi Évole, 2016).
Diana Toucedo — Editor
Diana holds a Bachelor's Degree in Cinema and video editing (ESCAC) and has a master's in Contemporary Cinema Theory (Universitat Pompeu Fabra). Her edited feature films include JÚLIA IST (awarded at Málaga Film Festival 2017), ALL NIGHT LONG (San Sebastian 2010), O QUINTO EVANXEO DE GASPAR HAUSER (Fipresci Award at Rotterdam 2013), A COMMON ENEMY (nominated to the Social Impact Media Awards), BUGARACH and SONATA FOR CELLO and the short film THE DISINHERITED (Best Short Film Award, La Semaine de la Critique at Cannes 2017 & Goya Award). Recently, she has edited the 2019 IDFA best feature film IN A WHISPER. She is also editor of TV series' HIERRO and PATRIA and is currently working for HBO and Netflix. Her first feature film as director, TRINTA LUMES, premiered at Berlinale 2018. She combines her profession with teaching at different universities and is the head of Documentary / Non-fiction at ESCAC.
Contact
For inquiries, please contact fiscalsponsorship@filmindependent.org.