The Canote Twins

Genetically-matched musical mastery and irresistibly joyful spirits!
Project type: Documentary Feature
Project status: Post-Production
Director/Producer/Videographer/Editor: Larry Edelman
Associate Editor: Casey Edelman
Videographer: Mark Herlinger
Story Consultant: Joe Herrmann
Photographic and Graphic Specialists: Hilary Hart, Tom Collicott, John Gallagher

Website: thecanotetwins.com

Help independent filmmakers tell their stories.
Make a donation to The Canote Twins today.
Film Independent's Fiscal Sponsorship program opens the door to nonprofit funding for independent filmmakers and media artists. Donate today and help bring The Canote Twins to life.
Logline
An intimate look into the astonishing bond, joyful spirits, and genetically-matched musical mastery of the Canote Twins.
Synopsis
This is the story of identical twins Greg and Jere Canote, who have been sharing their genetically-matched musical gifts for most of their 70-plus years. They carry on the tradition of seminal brother singing duets such as the Blue Sky Boys, the Delmore Brothers, and the Everly Brothers. Their tight vocal harmonies and perfectly blended instrumentation take it up a notch because they're not only brothers, but identical twins. Their repertoire spans Americana, including rare fiddle tunes, early country songs, quirky novelty pieces, and swing classics, all interpreted through their good humor and positive worldview. They've delighted audiences for more than a half-century at festivals and workshops, in recordings, and on radio and television.
But their exhilarating music is only one part of the story. Greg and Jere have another unique feature – they have irresistibly joyful spirits. Anyone close enough to be caught up in this vortex of joy, is likely to end up feeling happier and more optimistic about themselves and the world. This film is a chronicle of their lives. Stories and insights are illustrated through a rich archive of photos, video clips, and audio recordings from days gone by. Their astonishing bond. Early musical influences. Inspirations for their happiness. Cross-country adventures with Sandy Bradley and taking to the radio airwaves as the affable sidekicks on Sandy Bradley's Potluck. Legendary antics like the Spoonoplians, and their pick-passing stunt. Greg's colossal collection of vintage plastic toys. Jere building banjos that combine traditional aesthetics with crazily creative designs. Greg painting in his studio, shaping line and color for a special glimpse into his subconscious mind.
Of course, there is lots of music. And when the film ends, it's likely you'll feel a little bit happier and with renewed optimism. And can't we all use more of that?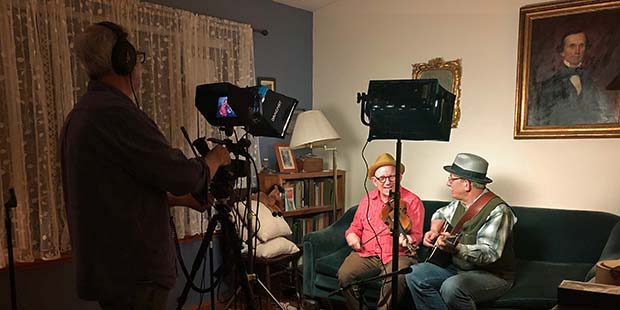 Meet the Filmmakers
Larry Edelman – Director/Producer/Videographer/Editor
Larry honed his skills over 40 years of producing, directing, and editing both short and feature-length documentaries. One thread of his work has focused on the fields of early childhood and disabilities. He has produced hundreds of short documentaries that illustrate recommended practices in providing services to families who have children with disabilities and developmental delays. Larry is also a musician, and his love of traditional music and dance has inspired his work in documentaries. During the 1980s, during a Fellowship in Folk Arts from the Pennsylvania Council on the Arts, he produced the highly praised documentary, Dance to the Music and Listen to the Calls. After moving to Colorado and learning music of the southwest, he was inspired to produce a documentary about one of his inspirations, Eva Nuanez: Memories of My Musical Life. In 2019, Larry's critically acclaimed feature-length documentary, Dance All Night – The Highwoods Stringband Story, was an official selection of several film festivals. Larry Edelman is the founder and Executive Producer at Piggysnout Productions and is all the better for knowing Greg and Jere for more than 40 years. Larry is proud to be a member of Film Independent and affiliated as a sponsored project.
Casey Edelman – Associate Editor
Casey brings a wealth of creativity and sharp skills to the film. At AXS TV, she served as an Associate Producer on several television series, including Rock & Roll Road Trip with Sammy Hagar, TrunkFest, and Paul Shaffer Plus One. Casey also edited episodes of the series, A Year In Music. She currently works as a Producer at The Integer Group in Los Angeles. Casey has been an indispensable member of the Piggysnout Productions team since 2016 and has fond memories of Greg and Jere since she can remember.
Mark Herlinger – Videographer
Mark is an independent video producer specializing in training, informational, marketing, and documentary productions. While working as a producer at a public television station, he won two Regional Emmys. He holds degrees in radio-TV-film from the University of Michigan and journalism from the University of Colorado, where he currently serves as a part time instructor.
Joe Herrmann – Story Consultant
A singer and multi-instrumentalist, Joe co-founded the celebrated Critton Hollow String Band with his wife, Sam in 1975. He has toured throughout the U.S. and internationally and recorded seven acclaimed albums. Joe brings his keen musical ear and soulful sense of story to the film. Joe was a key Editorial Advisor on Dance All Night – The Highwoods Stringband Story.
Hilary Hart – Photographic and Graphic Specialist
Hilary Hart's amazing digital imaging skills were earned over a long career in graphic design and imaging software development. Her technical contributions to the world of color imaging has touched everyone who has ever clicked "print." She adores the Canote twins and for a few glorious years performed with them under the pseudonym, Blanche Boquet.
Tom Collicott – Photographic and Graphic Specialist
In addition to being a graduate of the Canote's Stringband Class, Tom Collicott has worked as a commercial photographer and more recently a web designer. Tom has photographed Jere and Greg, and worked on their CD package designs and websites from the first day the twins were reluctantly pulled into the 21st Century Internet world. Thanks to the Canotes, Tom plays guitar and banjo with The Atlas Stringband, RedDog and $4 Shoe.
John Gallagher – Photographic and Graphic Specialist
As a seasoned photographer, John Gallagher's 40-year career has given him a wide range of know-how; from inside a nuclear reactor to the Washington State Penitentiary, he's photographed it all. His rich experiences include running a portrait studio, photographing commercial and industrial settings, working in-house with a Fortune 100 company, and tons of freelance work.
Contact
For inquiries, please contact fiscalsponsorship@filmindependent.org.