Ugly Pretty

Nothing happens in a small town... until it does.
Film Independent's Fiscal Sponsorship program opens the door to nonprofit funding for independent filmmakers and media artists. Donate today and help bring Ugly Pretty to life.
Logline
A fish-out-of-water in "Small Town," Pennsylvania finds herself in over her head when she has an affair with a local married man and becomes an accessory to a murder. In the end she risks it all to save the lives of two innocent children. Nothing ever happens in a small town… until it does.
Synopsis
A young woman returns home to the family farm after being estranged for more than ten years. She is charged with the task of aiding her dying mother who suffers from Alzheimer's. Amber's good intentions are thwarted by disillusionment. Evading failed dreams of the Hollywood limelight she yearns for a simple family lifestyle.
Amber can't shake the bad behavior that landed her in the tough spot she so abruptly fled. The small town rumor mill dredges up painful scars a' la #metoo. This homecoming is destined for a wild upheaval.
A fiery affair unfolds between the newcomer and a local married man. Lust and obsession engulf the pair. Secrets can't stay silent forever.
When a horrible accident occurs, Bill bullies his lover into bonding in a cover-up. Amber must find the strength to rise up, put the needs of others before herself and become a real hero.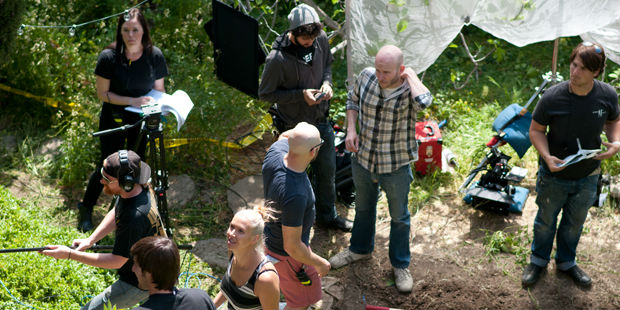 Meet the Filmmakers
Hollis Sherman-Pepe — Director/Producer/Writer
Hollis Sherman-Pepe is the owner of Farmer's Daughter Productions, and has been a film industry professional for eleven years. Her first writer/producer project was the short film, Valediction (2012) which won nine awards including Best New Filmmaker at Philadelphia Independent Film Fest and Best Picture at L.A. International Underground Film Festival. This snowballed her career as a writer, director, producer and she has since gone on to create more award winning short films (Best Picture – 2018 L.A. Under 5 Feedback Film Festevial; Best Experimental Film – 2018 California Women's Film Festival, et al.) as well as direct web series content.
Hollis received a BFA in Theater Arts at The University of the Arts. Her acting career brought her to Los Angeles where she continued her education for the past ten years in screen-acting. She also has years of experience working on set as a 2nd AD, production assistant, and carpenter.
Ugly Pretty will be her debut feature film. After it's completion Hollis intends to shoot her poignant feature length screenplay Right-Hand Man about a young gay boy escaping a bad situation with his hapless but scrappy mother. She is also co-writing a television pilot.
ShaunPaul Costello — Producer
ShaunPaul Costello is known for making waves in the Pennsylvania film scene, having produced 36 short films in the past three years for Playhouse West. Ugly Pretty will be Costello's third feature film and most ambitious budget. He is also currently acting in the principle role of The Glass Menagerie as well as producing a documentary series, The Cost of War.
Jason Brewer — Cinematographer
Jason Brewer is a graduate of Brooks Institute with a BFA in cinematography. Brewer has had a multitude of cinematography nominations and has been shooting with Farmer's Daughter Productions since 2013, collaborating on five projects. He has worked with Don Cheadle, Oliver Hudson, Leon Russom, Nicki Minaj, and Ray Romano to name a few. His 2018 release Midnighters currently rates 86% on Rotten Tomatoes. Please enjoy watching this link to Jason's Cinematography Reel .
Damien Nemire-Pepe — Visual Effects and Titles
Nemire-Pepe is a VFX and motion graphics artist with 15 years of experience. Some of his clients include, Toyota, Snapchat, Carvana, The Famous Group, and Trailer Park. Damien's most recent film with Farmer's Daughter Productions won him Best VFX – 2018 Mindfield Film Festival as well as Best Special Effects – 2017 Baretower Forge World Film Competition.
Joey Paul and Jake Brichta — Audio Team
Joey Paul and Jake are graduates of Full Sail University and have brought their music production education to the film world. The Sound Bros have been working professionally for seven years and have recorded, mixed, and scored numerous projects with Farmer's Daughter Productions. Joey Paul won Best Score 2018 – Mindfield Film Fest for his work on FDP's film To Quiet My Mind.
Contact
For inquiries, please contact fiscalsponsorship@filmindependent.org.