Walk With Me

After a diagnosis of Alzheimer's disease, life is not over.
Project type: Nonfiction Feature
Project status: Production
Co-Director/Producer: Heidi Levitt
Cinematographer: Lisa Rinzler
Producer: Vanessa Perez
Producer/Lead Subject: Charlie Hess
Executive Producer: Alex Gibney

Email: heidela@mac.com
Website: walkwithmedoc.com
Facebook: facebook.com/walkwithmedoc

Help independent filmmakers tell their stories.
Make a donation to Walk With Me today.
Film Independent's Fiscal Sponsorship program opens the door to nonprofit funding for independent filmmakers and media artists. Donate today and help bring Walk With Me to life.
Logline
Walk With Me will follow my husband Charlie Hess's journey over the next three years living with early onset Alzheimer's disease. We will see him as the father, the creative, the husband, the patient, and his authentic self, as he navigates life with a disease most people are afraid to talk about. Together we will dispel the stigma and shame that comes with this diagnosis.
Synopsis
In April 2019, my husband Charlie was diagnosed with early onset Alzheimer's disease. He was 57 years old. His passion for his work as a graphic designer matched his joie de vivre and love of Los Angeles displayed on walkingnla.com. He never thought the "fogginess" he felt last April would become Alzheimer's disease. And unfortunately, because Alzheimer's has no cure, the options approved by the FDA are limited to a few drugs that may slow the progression of the disease- if they work at all.
As hard as it was to live with this diagnosis, it felt worse to hide it, so I convinced my husband to make this film with me. Through the film making, we will show that our personal story is universal. We will focus on living with dementia (Alzheimer's being the most common form of disease), rather than showing the end stages more often portrayed in the media. Watching us navigate a vulnerable journey, we hope to dispel the stigma and shame so often associated with dementia which afflicts fifty million people worldwide.
The film will follow Charlie's journey over the next three years. We will film twice a year, six months apart . Time is a character, and filming with this intention and pace will give the film its impact. Charlie is the main subject, but we are casting others he will meet and talk with. Women, represent 2/3 of the Alzheimer's population and we intend to make our film inclusive, global and diverse.
Together we will meet leading doctors, investigate drug trials, travel abroad and adapt to a future neither of us can control. This is not the film I want to make, but it is the film I have to make, for Charlie, and for everyone who knows someone affected by dementia.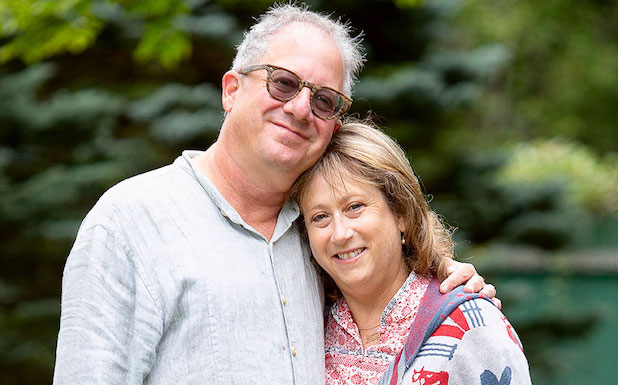 Meet the Filmmakers
Heidi Levitt – Producer/Co-Director
Heidi is a first time documentary film director, but she has a long history in the industry and has won four Artios Awards for her work casting feature films, and theatre She has cast a broad array of films from the Academy Award-winning Best Picture, The Artist, directed by Michel Hazanavicius, to films for directors including Oliver Stone, Wayne Wang, Sally Potter, Wim Wenders, Diego Luna, Mark Ruffalo and Mark Pellington. Other notable films cast include JFK, Nixon, Natural Born Killers, The Rock, and The Joy Luck Club.
She has collaborated with the directors she casts for as a producer and is grateful for their support on Walk With Me. In 2019 she executive produced and cast Wayne Wang's film Coming Home Again, which premiered at the Toronto International Film Festival and will be released in late 2020 by Outsider Pictures. She also cast and co-produced Sally Potter's film, The Roads Not Taken, currently playing on Hulu and starring Javier Bardem, Elle Fanning, Laura Linney and Salma Hayek.
Heidi is a member of AMPAS and The Casting Society of America. She is a graduate of Barnard College and The American Film Institute, where she is now an adjunct professor.
Lisa Rinzler – Cinematographer
Lisa Rinzler is an award-winning cinematographer who has shot feature films, documentaries, and commercials. Recent projects include Oscar-winning Learning to Skateboard in a War Zone (If You're a Girl), Sundance Audience Award winner The Infiltrators and Pope Francis: A Man of His Word.
She is also known for her moody lighting and dynamic camerawork on films such as Menace II Society, Dead Presidents, Pollock and The Soul of a Man. With over 30 years of experience, Ms. Rinzler has worked with notable directors such as Wim Wenders, Steve Buscemi and Martin Scorsese.
Ms. Rinzler received two Independent Spirit Awards for Best Cinematography, a Primetime Emmy Award for Outstanding Cinematography, among others. She was a subject of two documentaries, Women Behind The Camera and Visions of Light.
Ms. Rinzler studied painting at PRATT Institute before transferring to NYU to study film.
Vanessa Perez – Producer
Perez began her career in Talent Management at ICM. After leaving ICM, her goal was to create multicultural content that resonates globally: she found this at Canana Films (Pablo Cruz, Diego Luna and Gael Garcia Bernal). Perez was the executive in charge of production on Miss Bala, directed by Gerardo Naranjo, which made waves at Cannes, where it featured in Un Certain Regard. Perez Executive Produced Paraiso, which premiered at the Toronto International Film Festival in 2014, Come Out and Play, a TIFF Midnight Premiere. Perez, Associate Produced, Cesar Chavez, starring Michael Peña, America Ferrera, and Rosario Dawson, and Executive Produced the docu-series Back Home for Fusion Network, a joint venture between ABC and Univison. Perez' projects have been supported by TIFF, SFFILM, WIF, Sundance and Film Independent.
Charlie Hess – Producer/Lead Subject
Charlie Hess is an award winning graphic designer and photo editor. He was the creative director of the iconic Los Angeles city magazine, Buzz Magazine, and the creative director of Code Magazine, the first high fashion magazine for men of color. In 1998 he launched chessdesign.com, a design studio focused on art direction for non-profits and magazines. He became the creative director of UCLA's flagship alumni magazine for over twenty years and art directed many other institutional magazines. He volunteers with the Los Angeles non-profit BigSunay.org, designing logos, leading events and. currently takes photos for the organization. Charlie's work as an illustrator has been published in the LA Times, Utne Reader and Mother Jones. He is active with The Society of Publication Designers and on the Los Angeles board of American Institute of Graphic Arts, AIGA.
Charlie is a graduate of Columbia University and attended Art Center College of Design where he guest lectures in the photo program. His diagnosis has not deterred him from continuing to document the city he loves. Check out his project walkingnla.com and follow him @chessdesign
Alex Gibney – Executive Producer
Director Alex Gibney, called "the most important documentarian of our time" by Esquire Magazine, has a signature cinematic style. His work has been the recipient of an Academy Award, multiple Emmy Awards, a Grammy Award, several Peabody Awards, the DuPont-Columbia Award, The Independent Spirit Award and The Writers Guild Awards. In 2013, Alex was honored with the International Documentary Association's (IDA) Career Achievement Award, in 2015 the inaugural Christopher Hitchens Prize, and the Robert J. Flaherty Award in 2019.
Some of Gibney's notable films include the triple Emmy and Peabody award-winning Going Clear: Scientology and the Prison of Belief, the most-watched non-music HBO documentary; the Academy Award winning Taxi to The Dark Side, the Oscar nominated Enron The Smartest Guys in the Room, the Emmy Award-winning Mea Maxima Culpa; The Armstrong Lie, We Steal Secrets: The Story Of Wikileaks. The Peabody award-winning Zero Days, No Stone Unturned was nominated for the WGA Award for Best Documentary Screenplay and an Emmy award for Outstanding Investigative Documentary. His film The Inventor: Out for Blood in Silicon Valley won the WGA Award for Best Documentary Screenplay. Most recently, his film Citizen K premiered at the76th Venice Film Festival. and was released theatrically in 2019.
Contact
For inquiries, please contact fiscalsponsorship@filmindependent.org.