No Escape

Can you ever win against your parents?
Project type: Fiction Short
Project status: Post Production
Writer/Director/Producer/Lead: Leena Kurishingal
Producer: Timothy Farrell
Executive Producer/Editor: John H. Rogers III
Executive Producer: Marissa Jo Cerar
Cinematographer: Daniel Izui

Email: filmnoescape@gmail.com
Instagram: @no.escape.film

Help independent filmmakers tell their stories.
Make a donation to No Escape today.
Film Independent's Fiscal Sponsorship program opens the door to nonprofit funding for independent filmmakers and media artists. Donate today and help bring No Escape to life.

Logline
When her perfect romantic getaway in the woods is ruined by the appearance of the ominous 'Indian Mother', Nisha must fight the obstacles of her immigrant past, in hopes of ever having an American future.
Synopsis
Nisha and Jim brave the spookiness of the woods and harrowing storm to finally enjoy the highlight of their new relationship – a weekend away together in an awesome cabin. But one omen after the next makes Nisha worry something weird this way comes…
Between trying to get it on with Jim and intense paranoia, Nisha discovers her worst nightmare has followed her into the wilderness (complete with whacking ladle and sensible shoes). The couple tries to evade this cultural specter. In the end, Nisha must face her fate all – well, not quite alone.
Growing up in the US as a child of immigrants, there is a dual life one creates that generally involves slinking around like an FBI agent, revealing no more than is absolutely necessary to overly strict parents. It takes a toll, especially since it often continues into adulthood. Fast forward to a constant battle of cultures where you just want to make both you and your family happy. Thus this film, featuring a woman's inner fears regarding obligation and possibly turning into her own hounding mother. Independence, adulthood, and cultural differences are pointedly explored while asking, 'Can you ever really win against your parents?'
This project is an expansion of a staged sketch celebrating India's Independence Day 2019 and exploring the concept of what it means to be Indian, in all its varied history and embodiments.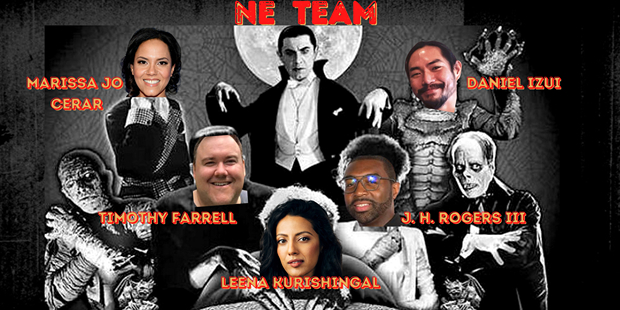 Meet the Filmmakers
Leena Kurishingal – Writer/Director/Producer/Lead
Leena is a SAG-AFTRA performer of 17 years with a film degree from Columbia College Chicago in her back pocket. She crossed into writing thanks to a diversity scholarship from the Upright Citizens Brigade LA, where she studied improv, sketch, and characters. This led to collaboration with the all WOC sketch group, Soul Sista Comedy. She also wrote, directed, and produced a one-hour sketch variety show pondering Indian identity for stage called India & You: And Me. And Everybody. Leena focuses on imperfect female characters, learning to thrive as such, and integrating Indians into the American cultural fabric. She has since received the UCLA Phyllis Gebauer Scholarship for TV Writing, pitched short form content for Bite-Size Horror under FOX Digital, and become a WAVE Grant recipient for emerging female directors.
Timothy Farrell – Producer
Timothy is a DGA member and producer who champions independent cinema. A graduate of Columbia College Chicago, he is primarily based in the Midwest and has collaborated on Independent Spirit/John Cassavetes award-winner Give Me Liberty (Cannes Directors Fortnight), Sundance-premiering Native Son, Blackout for Human Rights' Be The Movement, Mélanie Laurent's Galveston, Stephen Cone's Princess Cyd, as well as mainstream hits like Netflix's Emily In Paris. Tim most recently co-produced on Alex Heller's mental health awareness dramedy The Year Between, premiering at Tribeca Film Fest and co-starring Steve Buscemi and J. Smith Cameron.
John H. Rogers III – Executive Producer/Editor
J. H. Rogers III is an Emmy nominated producer and award-winning filmmaker that studied at Columbia College Chicago. His education in film began his high school junior year, when he took introductory film courses and has continued through to the Screenwriter's Group in Chicago, under the tutelage of Dan Decker. As a screenwriter, John has written several screenplays in the past 20 years covering most every genre including action, horror, thrillers, and dramas. In 2014, John was nominated for an Emmy Award in the category of Outstanding Achievement For Documentary Programs for his award-winning documentary, Mound Bayou: Jewel Of The Delta. John produces and edits under his Chicago based production company, The Saxon Parlor.
Marissa Jo Cerar – Executive Producer
Marissa Jo Cerar is a NAACP Image Award and Humanitas Prize winning writer-producer. With a passion for socially conscious storytelling, she started as a writer and producer on hit series such as Netflix's 13 Reasons Why, Freeform's The Fosters, Fox's Shots Fired, and Hulu's The Handmaid's Tale (for which she shares nominations for the Emmys and the Writers Guild Awards for Outstanding Drama Series). She has since created and acted as showrunner for ABC's Women of the Movement. In addition to her award-winning script, the series has been honored as Best Limited Series by the African American Film Critics Association and The Gracie Awards. Marissa Jo's new series Black Cake is on Hulu, where she served as creator, showrunner and executive producer, alongside Kapital Entertainment and Oprah Winfrey's Harpo Films.
Daniel Izui – Cinematographer
Daniel has spent over a decade working as a cinematographer and still photographer on the West Coast and in the Midwest. He has created work for beloved companies like The Onion and Questar Entertainment. His most recent accomplishments include being DP on the upcoming Cheri Oteri project series Zen Room and second unit DP on the feature film Good Guy With A Gun, which continues to win awards on the festival circuit for Best Feature (Edinburgh Film Fest Int'l, Luleå Int'l, Goverla Cinema Lovers) and Best Cinematography (LACA, Seattle Film Fest nom.). Dan has also lent his expertise to many corporate clients including Comcast, Boost Mobile, Dewars, and Pizza Hut.
Contact
For inquiries, please contact fiscalsponsorship@filmindependent.org.