30 of the Best Spirit Award Winning Indie Films Ever—Part 1: On Sex, Love and Romance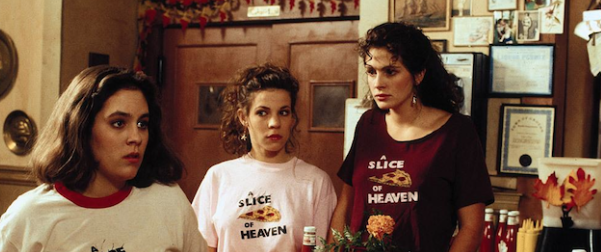 With 2015 right around the corner, so is the 30th anniversary of the Film Independent Spirit Awards. (February 21: mark your calendars!) Now that this year's nominees have been announced, we've decided to celebrate the past 30 years of cinematic greatness by showcasing winners from decades past, including where each can be watched, so you can discover—or rediscover—indie classics. Because we love movies so much, we're kicking off the six-part series with five of our favorite Spirit Award winning films that explore sex, love and romance.
Mystic Pizza (1989) Best First Feature
Director: Donald Petrie
Stars: Julia Roberts, Annabeth Gish, Lili Taylor
Where You Can Watch It: DVD, VOD (Walmart/Amazon)
Donald Petrie's first feature, a "romantic comedy with the works," introduced us to Kat, Daisy and JoJo—three feisty, complicated waitresses who serve up the best pizza in the small town of Mystic, Connecticut. The young women are forever bonded by experiencing major life-changing challenges with the men in their lives. As they love and learn, laugh and cry, the audience does as well—all along wishing we could have a slice of that pizza! The film features a hilarious breakthrough performance by Julia Roberts, who received a Spirit Award nomination for Best Female Lead and went on to be cast in Pretty Woman, which catapulted her to super-stardom.
Sex, Lies & Videotape (1990) Best Feature, Best Director, Best Female Lead, Best Supporting Female
Director: Steven Soderbergh
Stars: Andie MacDowell, Laura San Giacomo, James Spader, Peter Gallagher
Where You Can Watch It: DVD
The debut feature from Steven Soderbergh, who has since become an eminent voice in indie filmmaking, stars a riveting Andie MacDowell (Best Female Lead) as a sexually repressed woman whose husband is having an affair with her sister, played by (Best Supporting Female) Laura San Giacomo. The complexities of love, sex, marriage and fidelity are explored both through Soderbergh's screenplay and James Spader's character, who films intimate interviews with women. Made on a modest budget, Soderbergh's first feature introduces his unique point of view and filmmaking aesthetic, relying on powerful performances that prove dialogue can be compelling action. Then again, the sex scenes are pretty action-packed as well.
Y Tu Mama Tambien (2003) Best Foreign Film
Director: Alfonso Cuarón
Stars: Gael García Bernal, Diego Luna, Maribel Verdu
Where You Can Watch It: DVD, VOD (Netflix/Amazon)
Long before Alfonso Cuarón was accepting a Best Director Oscar for his big-budget outer-space epic Gravity, he delivered this sexually charged coming-of-age drama. The filmmaker's home-town of Mexico City is the backdrop, as we embark on a road-trip with two best friends who are restless after graduating high school and are faced with the next phase of their lives. The duo (portrayed by Gael Garcia Bernal and Diego Luna in their respective breakthrough performances) hit the road with Luisa, a beautiful woman both are trying to impress, who is about a decade older and in need of a distraction from her philandering husband. Cuarón's film seduces audiences with the heat generated by the three leads, and could definitely be considered one hell of a great "bromance" movie.
Far From Heaven (2003) Best Cinematography, Best Director, Best Feature, Best Female Lead, Best Supporting Male
Director: Todd Haynes
Stars: Julianne Moore, Dennis Quad, Dennis Haysbert
Where You Can Watch It: DVD, VOD (Walmart/Amazon)
Set in the '50s, when tensions surrounding race and homosexuality were at their highest, Todd Haynes' compelling drama explores these taboo topics with heartfelt emotion and sweeping, colorful cinematography. Julianne Moore, delivering an unforgettable performance that won her Best Female Lead, plays a housewife who is sideswiped after witnessing her husband (Dennis Quaid, who won Best Supporting Male) kissing another man. As her seemingly perfect marriage and world begin to disintegrate, she finds solace in a controversial friendship with an African-American gardener.  The complexities of sexual preference, interracial romance and the boundaries of love all collide in Haynes' beautifully moving film.
Brokeback Mountain (2006) Best Director, Best Feature
Director: Ang Lee
Stars: Heath Ledger, Jake Gyllenhaal, Anne Hathaway, Michelle Williams
Where You Can Watch It: DVD, VOD (Netflix/Walmart/Amazon)
Ang Lee's heartbreakingly raw, emotionally intense drama was one of the first mainstream films to feature two leading Hollywood actors starring in a gay romance, executed with conviction, avoiding stereotypes and censorship. Jake Gyllenhaal and the late Heath Ledger shine in their roles as two closeted cowboys who fall in love A groundbreaking film in the history of LGBT cinema, it's a timeless love story, which also happens to have some of the steamiest sex scenes in Spirit Award history!
Blue is the Warmest Color (2014) Best International Film
Director:  Abdellatif Kechiche
Stars:  Léa Seydoux, Adèle Exarchopoulos
Where You Can Watch It: DVD, VOD (Netflix/Amazon)
Blue is the Warmest Color takes sex, love and romance to great heights, with its unabashed, fearless cast and director delivering an honest coming-of-age story. Featuring a career-defining performance from Adele Exarchopoulos as a teenager discovering her sexuality and falling in love for the first time, Blue is executed with such realism that it feels like a documentary.
Chris Lombardi / Film Independent Blogger