Top Screenwriters Get Real at Directors Close-Up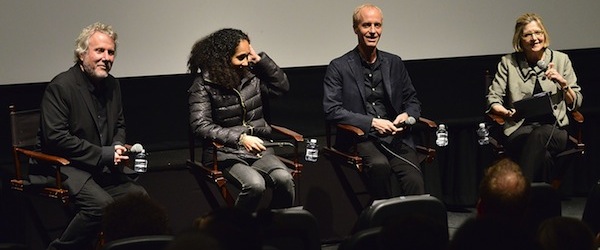 The advice that Dan Gilroy, writer and director of Nightcrawler, has for aspiring screenwriters is to "look at it like becoming a doctor. It takes ten years to really learn how."
Gilroy was on the panel for last night's Directors Close-Up, which focused this week on screenwriting. Joining him at the Landmark Theatre were Big Eyes co-writer Larry Karaszewski and Beyond the Lights writer-director Gina Prince Bythewood, and moderator Robin Swicord (screenwriter, Memoirs of a Geisha, The Curious Case of Benjamin Button).
"Screenwriting is deceptively hard," Gilroy said. "It's an extraordinarily difficult, compressed, formalized way of writing." Karaszewski's advice was rather cheerier: "Write a movie that you want to see," he said, "don't write a movie that you think you can sell." Prince-Bythewood agreed, "Be passionate about what you're writing. Only you can tell specific stories… And also, you have to be passionate about it, because you're going to get a thousand 'No's.'"
Karaszewski and his longtime writing partner Scott Alexander had originally planned to direct Big Eyes themselves, but over ten years, the project secured financing and casting repeatedly, only for it all to fall apart every time. The film tells the story of Margaret Keane, whose paintings of big-eyed children became hugely popular in the 1960s—but her husband, Walter, claimed the credit for them. "Big movie stars always say they want to play a bad guy," Karaszewski said. "They want to do that, but somehow be redeemed at the end. Walter Keane gets worse and worse"—and they couldn't find someone willing to play him.
The writers eventually asked their producer Tim Burton, who had previously directed their script for Ed Wood, if he wanted to take the helm. "We recognized that if Tim came in, things could kind of happen quickly," Karaszewski recalled. "Within a week we had Amy [Adams] and Harvey Weinstein, and we were shooting two months later." While the writers had wanted to direct the film themselves, "after spending ten years working on it, we got a sense of victory out of it," Karaszewski said. "Scott and I wanted it off our plate."
"A script is not enough most of the time," Swicord lamented. "A movie gets made for a lot of reasons, but it's not because the script is right." Karaszewski and Alexander's script had been right for ten years, but it took star power to get Big Eyes made. Prince-Bythewood, too, encountered difficulties getting greenlit for her romantic drama Beyond the Lights, about a pop starlet finding her own voice and breaking free of her hypersexual image and inauthentic life.
"I thought it was going to be an easy sell," she said. "It was a contemporary movie; it was a music film." But studios were only interested in major pop stars for the lead, and many of them asked her to cast a white actor as the love interest, who was written as African-American. "It's a reality in Hollywood that it's tough to get films with people of color in the leads," she said, "especially as this was a love story and a drama, not a romantic comedy." Prince-Bythewood doesn't believe in picking her battles carefully, but rather chooses them all: "When it comes to your vision, every battle is worth fighting for and winning," she said. "At the end of the day, you have to look up at the screen and believe in everything that's up there."
"For me, to do a movie, I have to be passionate about it," Prince-Bythewood said. "And for me to be passionate it has to be personal. Even though it started as an idea for a love story and a music film, [I thought,] 'what do I want to put within that?'" The mother of two young sons, she is disturbed by the hypersexualization of the music industry. "This is what boys and girls are aspiring to," she said. "I wanted to change the conversation." The film also addresses suicide, an issue that is important to Prince-Bythewood, and its protagonist is a young woman struggling to find her self-worth, which she called "a through-line in my work."
"I love hearing you speak," Gilroy said after Prince-Bythewood had finished. "I think [that] is a great way to approach a film—that you feel passionate about the ideas in it." Gilroy's Nightcrawler follows a videojournalist speeding around Los Angeles at night, trying to get the best, bloodiest shots of crime scenes for the local TV news. While Gilroy said that he thinks it's a mistake to make a message film, Nightcrawler definitely expresses his own worldview. "I have a very grim, dark view of the world," he admitted. "I think we're going to hell in a handcart pretty damn fast."
Swicord repeatedly asked Gilroy how he felt personally connected to his sociopathic protagonist, Lou: "You can say this," she coaxed, "we're among friends." Gilroy, a longtime screenwriter but first-time director, told her he had never written an antihero before. "I kept trying to plug a traditional hero into the movie," he recalled, "and when I sat down and plugged in an antihero, it [worked] within a couple of days." An antihero, he learned, "holds a mirror up to everyone around them; I will make you bend to what I'm doing. It becomes a very effective tool to expose the gray area of morality." Gilroy also insisted that the narrative traditions of good conquering evil and characters having an arc are fallacies in real life, and so refused to include such optimism in his film.
When asked how to determine when to compromise, especially in the face of idiotic studio notes, Karaszewski suggested employing a Jedi mind trick approach: "If they've got a problem but we know that they're totally wrong about it, you don't ignore it, you say, 'you're right, that's not working, but that's not the problem. The problem is on page 30—we haven't set that thing up enough."
Gilroy was slightly more aggressive. "I'm much more of the mindset of, I'm going to convince you why my note is better," he said. "I'm going to, like Lou, just overwhelm you with thoughts and ideas until I beat you." Triumphant, Swicord exclaimed, "I knew there was a connection!"
Mary Sollosi / Film Independent Blogger