A Wonderful Home for Filmmakers: Our Recap of the 2022 Film Independent Spirit Awards
A sure sign that life is gradually returning to pre-pandemic norms is the return of the big white tent adjacent to the Santa Monica Pier on a sunny Sunday afternoon, where filmmakers gather to shower a paean of praise on the best and brightest in this year's independent cinema. The least Hollywood of all award shows — the 37th Film Independent Spirit Awards — got underway on March 6, amidst a late winter chill (57 degrees on the beach, high surf and wind advisory!).
Best First Screenplay nominee for Pig, writer-producer Vanessa Block — who would go on to win the category, but more on that later — shared the sentiment on stage. "We're all trying to be stylish, and I think we're walking out of here with hypothermia," she said, looking glamorous in a strappy flowy dress. "Is anybody else freezing cold? I'm so cold! Oh my God, please turn up the heat."
But before we get to the main event, the pre-awards cocktail reception was hopping with multiple Bulleit Frontier Whiskey bars and Stella Artois stations. The very popular non-alcoholic spirits Seedlip bar came with a Garnish Wall, where guests enjoyed experimenting with a variety of fresh herbs, spices and edible flowers to adorn their aromatic and delicious cocktails!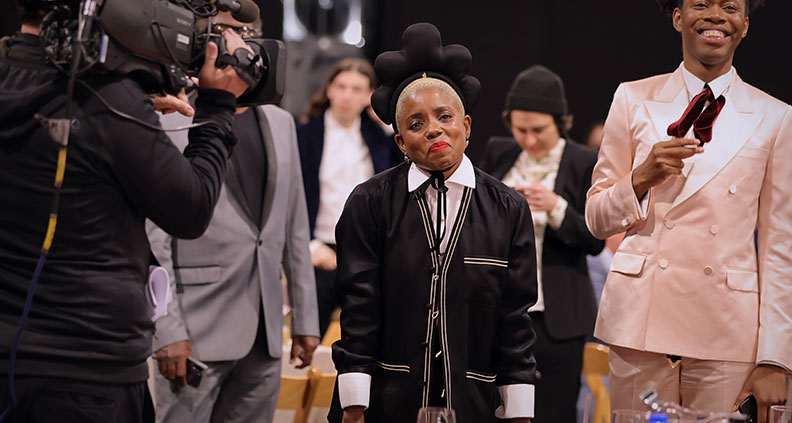 The blue carpet standouts included Best New Scripted Series nominee for Blindspotting, Daveed Diggs, who sported a pastel rainbow suit and dress shirt combo by Moschino; Jennifer Beals (The Book of Boba Fett, The L Word, Flashdance) in a blue and yellow ensemble as a show of support for Ukraine; and Lily James—in the Hulu miniseries Pam & Tommy — who graced the event in a muted pink bralette with billowing puff sleeves.
Broadcasted live on IFC and live-streamed on AMC+, the ceremony kicked off when host and married comedy duo Nick Offerman and Megan Mullally hit the ground running by "taking aim" at the nominee who would walk away with the most wins. The couple was hoping they would be the biggest power couple in the room for once, until they saw "the motherfucking GyllenSars," as the camera pans to The Lost Daughter writer-director Maggie Gyllenhaal — nominated for three Spirit awards — and husband Peter Sarsgaard. "Come on, indie stars and A-listers? Pick a lane, you greedy bastards!" joked Offerman.
Continuing with the Spirit Awards' mission to elevate the works of often marginalized talent, Mullally celebrated the fact that four of the five best director nominees are women this year: the only male nominee in this category is Mike Mills, for the black-and-white road trip drama C'mon C'mon (also scoring nods for Best Feature and Best Screenplay).
Introducing the Best International Film nominee from Japan, Drive My Car, Mullally explains that the drama is "about shame, loss and infidelity between a director, a writer and an actor in Japanese theater." Then, poking fun at those embedded in the creative arts, she adds: "It shows you that no matter what language you speak, theater people are A LOT."
Offerman thinks that the best thing about an award show on the beach is: "If you don't win, just walk right into the ocean. It's right there." Mullally further mocks the focus on winning statuettes at these events and marking the line between quality independent cinema and mainstream commercial fare. "Winning is for losers. Winning is for big budget Hollywood trash… Fuck yeah, real artists are all about pain and loss."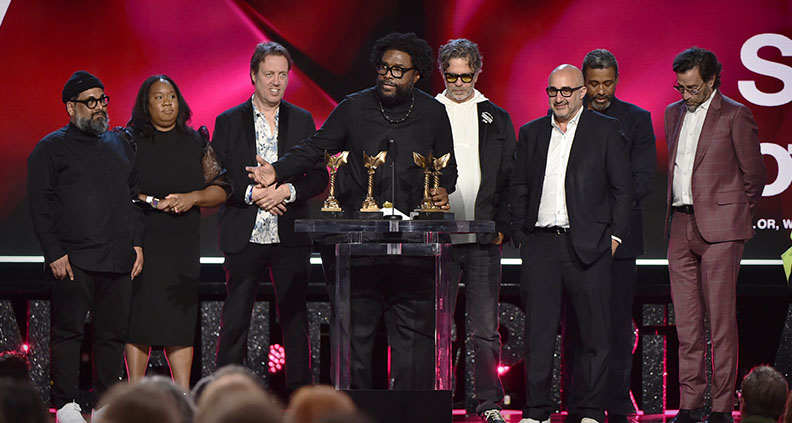 The hosts also acknowledged the ongoing war in Ukraine and hope for a quick and peaceful resolution, specifically "Fuck off and go home, Putin," as Mullally puts it. She then invited the audience to greet the Russian leader with a one-fingered "Spirit Awards salute" to show solidarity with the Ukrainian people.
The first prize of the afternoon — Best Supporting Male — went to CODA's Troy Kotsur, who thanked the community of Gloucester, MA for supporting the film and joked that a deaf fisherman from Gloucester definitely couldn't afford a beer in Santa Monica. He also called out two of the Apple TV+ drama's producers – Patrick Wachsberger and Philippe Rousselet – for putting their faith in this project and "planting that seed that blossomed at Sundance and flowered into an apple tree, and this apple began to roll into Hollywood."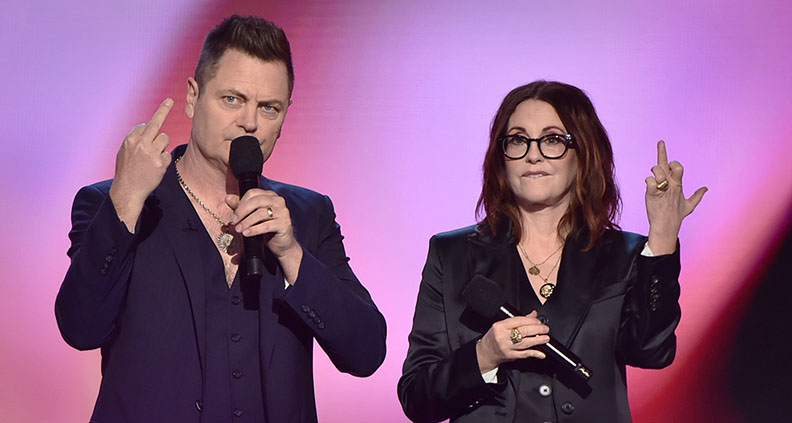 Aussie nominee for The White Lotus Murray Bartlett and Euphoria's Sydney Sweeney presented the John Cassavetes Award — eligible for films with a budget under $500,000 – to the female-driven dramedy Shiva Baby, which was produced for just $200,000. After Canadian Jewish writer-director Emma Seligman paid tribute to two members of the team who are sadly no longer with us — actress Sondra James and executive producer Elliott Wahle — she shared her gratitude to the SXSW film festival for breathing life into her 2018 short film. "Thank you for giving us the platform four years ago."
Scoring the Best First Feature prize for their Oregon-set revenge thriller Pig, writer-director Michael Sarnoski and writer Vanessa Block thanked NEON and producing partner Dimitra Tsingou for believing in them when no one else did. Block highlighted the importance of championing smaller films to amplify once-disenfranchised voices in the arts: "Being given this platform and opportunity to tell our stories and challenge audiences is so critically important."
Winning Best Screenplay for her directorial debut, writer-director Maggie Gyllenhaal elaborated on one of the singular elements of her slow-burn psychological drama. "My film is in an unusual language, it's the language of the minds of women, but my film is not just for women, it's for everyone." Based on Italian author Elena Ferrante's short novel, the film explores one of the most enduring taboos in any society across all cultures — that the ideals of motherhood and maternal instincts may not come naturally to some. "There can be a real pleasure in learning and seeing something new even if it doesn't look the way you expect it to, or the way that you wish it would," Gyllenhaal adds.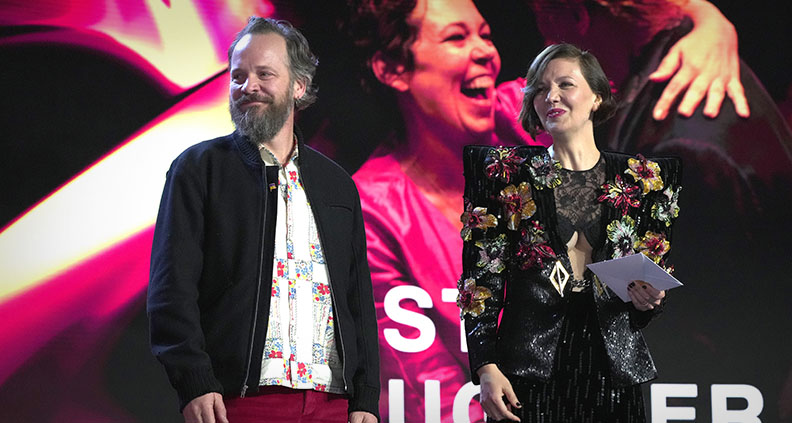 Fran Kranz—who was also nominated for Best First Screenplay — accepted the Robert Altman Award for his directorial debut Mass. In the harrowing drama, the parents of one of the victims and those of the shooter come together for a lengthy discussion six years after a school shooting. The 2018 Parkland school shooting inspired him to bring new attention on the pain and grief felt around this country and the need to heal. "I wanted to present a new way of looking at, seeing and talking to one another and how we might find grace in the process. All I can ask is for the audience to ask themselves what truth, reconciliation and forgiveness look like in their own lives."
Backstage, Mass co-star Jason Isaacs challenges the misconception that the film is only about school shootings, gun control, pain and trauma. To his mind, it is ultimately about the power and necessity of forgiveness, "and the painful obligation to relieve ourselves from hatred and baggage in a very divided country and world." He finds it very moving when audiences leave the movie in tears of grace, hope and optimism, believing in the possibility of human connection.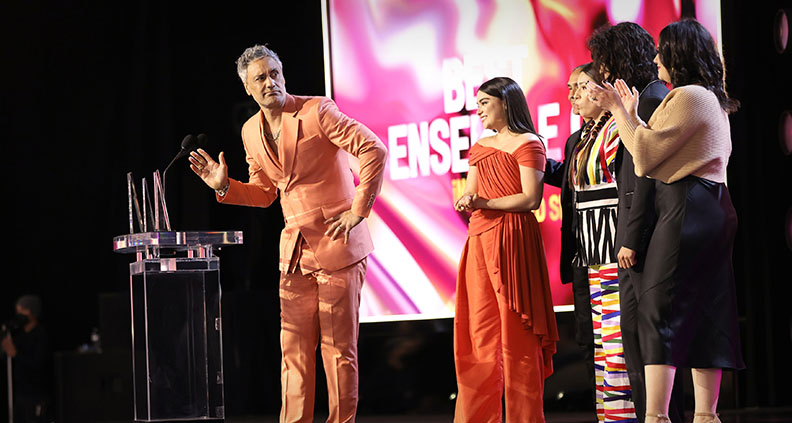 The Best New Scripted Series statue went to FX comedy Reservation Dogs, which features all indigenous writers and directors. EP and co-creator Sterlin Harjo created the show with New Zealand director Taika Waititi because he couldn't find anything "funny on TV that had natives in it" and wanted to show the world how funny they can be. Backstage, Harjo also added that he is even more excited about indigenous-focused shows that will be coming out in the future, especially now that they have blazed a trail.
In a pretty animated and hilarious bit, Waititi highlighted the fact that he was there to present the Best Ensemble Cast in a New Scripted Series prize to the actors he handpicked with his buddy Harjo for their show. "I'm literally giving an award to myself," he deadpans. "This is what we're doing now, just giving awards to ourselves. And you wonder why they all hate us."
Best Male Lead went to Simon Rex — who first found fame as an MTV VJ – for his work in Sean Baker's drama about a washed-up porn star in Red Rocket. "You took a shot on me when I could not get a callback for a Geico commercial," he thanked his director. The film was made for under $1 million in three weeks with a 10-person crew during the first phase of COVID-19. With almost no permits, he recalls running from the police and some neighbors, even running down the street buck naked at one point. "If this doesn't embody the spirit of an independent film, I don't know what does." Backstage, he shared the serendipitous way in which the project came about. "It was just one of those happy accidents. There was no plan, which is my life's philosophy – no plan is the best plan."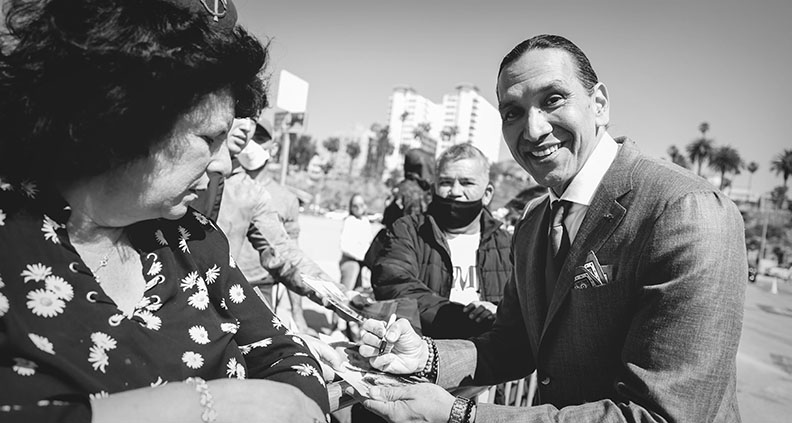 Last year's winner for Nomadland, Chloe Zhao presented this year's Best Director prize to Gyllenhaal. After thanking her "fucking astonishing DP" Hélène Louvart and editor Affonso Gonçalves, who is nominated this year for A Ciara, Gyllenhaal also paid special tribute to the financiers of her film. "Listen, nobody ever makes their first movie as an independent filmmaker and comes out loving their financiers."
When The Lost Daughter also went on to win Best Feature at the end of the show, producer Osnat Handelsman Keren was especially grateful to all the parents – especially the mothers – who have shared with the team that they "felt they were seeing their own experiences on the screen and that it's OK to not always be perfect in everything." After praising the film's cast and crew, fellow producer Talia Kleinhendler gave special thanks to Netflix for being "such a wonderful home for filmmakers." Finally, Gyllenhaal capped off the show with a rousing cheer for "Women in Film!"
Relive or catch up with our favorite #SpiritAwards moments on YouTube and stay tuned to the blog for additional Spirit Awards recaps and exclusive content throughout the next week.
The Film Independent Spirit Awards are supported by Premier Sponsor IFC and FIJI Water, the Official Water. To join Film Independent and vote on the Spirit Awards, please visit filmindependent.org/join
Film Independent promotes unique independent voices by helping filmmakers create and advance new work. To support our work with a donation, please click here.
Keep up with Film Independent…
(Header: Best Female Lead winner Taylour Paige)