ICYMI: Creating 'The Flight Attendant's Mind Palace with Set Decorator Jessica Petruccelli
Our two-part interview with The Flight Attendant set decorator Jessica Petruccelli originally ran in last November following the completion of the show's first season. With Season Two now out on HBO Max, we thought appropriate to return our seat to an upright position and revisit.
***
Nabbing nine nominations at the fast-approaching 2021 Emmy Awards, HBO Max's contemporary noir The Flight Attendant has emerged as a frontrunner in several major categories. Adapted from the 2018 novel by Chris Bohjalian, the fast-paced murder mystery follows alcoholic cross-continental flight attendant Cassie Bowden (Kaley Cuoco, The Big Bang Theory), who has a one-night stand with handsome rich stranger, Alex Sokolov (Michiel Huisman, Game of Thrones), after a red-eye to Bangkok.
The next morning, Cassie wakes up next to a very dead, very bloody Alex, whose throat has been slashed. Still inebriated from the night(s) before, Cassie must get to the bottom of this by sifting through her hazy recollections–some of which veer into full-blown hallucinations of conversations with a still-alive Alex–with the FBI and Thai authorities hot on her trail. Returning to New York, she seeks refuge with best friend and lawyer Ani (Zosia Mamet).
The series owes much of its visually alluring suspense and complexity to the team of Production Designer Sara K. White, Art Director Christine Foley and Set Decorator Jessica Petruccelli–all of whom share an Emmy nomination for their work on this project. An Emmy winner for Netflix dramedy Russian Doll, Petruccelli's credits also include Comedy Central's sitcom Broad City and Showtime's extramarital drama The Affair.
Here's what Foley told us about the meticulous work that went into creating the "indulgent" set of The Flight Attendant's Bangkok hotel suite, which served as an emotional anchor of the narrative as the mystery unravels.
JESSICA PETRUCCELLI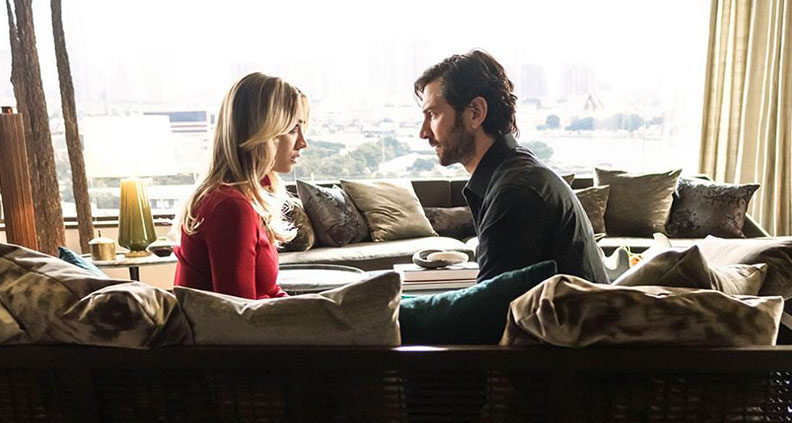 How did you get into set decoration?
Petruccelli: Life sort of takes a funny path. I went to Emerson College in Boston with a totally different trajectory in mind–I had auditioned for musical theater but didn't get in. [Laughs] So I picked the TV program and found myself getting into the niche of production design on various student films. My parents' house was there at the time, so since I was familiar with the area I had an easier time knowing where to get pieces of furniture and props. After Emerson, I got the job as an art director at the Onion News Network working on 15-minute segment videos–the early version of what we now think of as web video. That is how I started working in the art department.
Congratulations on the Emmy nomination for The Flight Attendant!
Petruccelli: Thank you! I'm really excited about it.
How much prep time did your team have for the show before you got on set?
Petruccelli: The designer and the art director started earlier and fleshed out some things before I came on board. I had about seven weeks of prep before we started shooting, but prep on this series was broken up in a way that worked really well for us. Since we shot in several locations–New York, Bangkok and Rome–it gave us a few pockets of time in-between locations. We first shot for a week or two and then went to Bangkok, so we had another four weeks of prep. In the end, I think we came out to 10-12 weeks in all.
In this business, it's so rare to actually have more time to work with!
Petruccelli: Yeah, that was really nice. We were able to focus on one set at a time. With the pockets of time in between locations, we had time to fine-tune our focus for the next set, rather than having to think about all of it at the beginning.
Alex's hotel suite in Bangkok is first seen as a happy place the night he and Cassie get together, but after that the room takes on a different role, haunting her for the rest of the show.
Petruccelli: Sara had conceptualized that suite: instead of having a regular squared-off room, she designed it to be more of a hexagonal shape. The variety of angles–which the audience may not notice at first–gave the cinematographer many more options, with the help of lighting and set dressing, when it came to revealing or hiding certain parts of the room for different scenes. It was a way to either conceal or reveal some of what Cassie remembers about that night, versus some of the fantastical things that happen in her mind.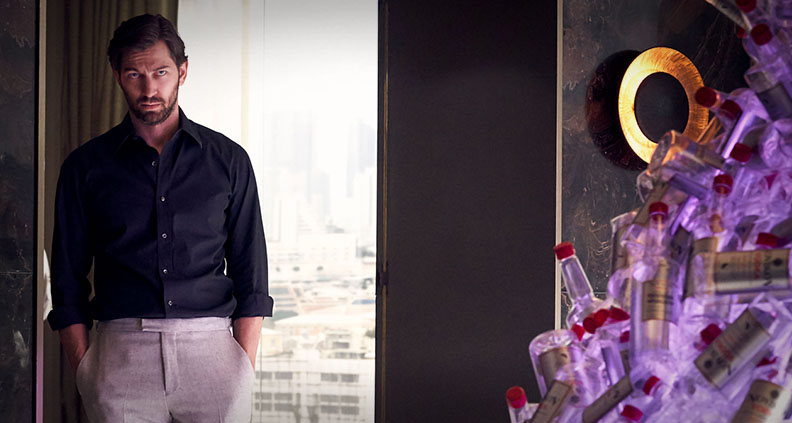 What did you have to do to highlight Cassie's hallucinations/disorientation vs. that actual night in reality? I think Sara called this Cassie's "mind palace."
Petruccelli: For the Bangkok hotel suite, to differentiate between reality and when it became more of a fantastical space in Cassie's mind, we worked with the lighting team and special effects. To create these fantastical moments, we amped up set dressing, whether it was piles and mountains of shredded paper for one scene or another one where we had a tower of the mini vodka bottles that were illuminated. This is different from what we would do for the flashback scenes when Cassie relives those moments to create a stark reality of what actually happened. It was really fun to play around with the fantastical and surreal elements, which helped clue the audience in to those moments that Cassie made up in her mind.
On that hotel suite set, we see a lot of sleek surfaces and mirrors everywhere you turn. How was that used to heighten Cassie's emotional scaffolding?
Petruccelli: Sara thought a lot about the use of glass, mirrors and other reflective surfaces in that suite to emphasize emotions with the amplification of set dressing. In that suite, you have this rain glass in the middle, floor-to-ceiling windows that look out to the Bangkok skyline, as well as walls made of glossy stone. So that's another element that was also mirroring this idea of how sometimes she would remember the night as being foggy and there are things she couldn't quite see, but at other times things would become clearer in her head. So that was another really fun device that Sara and I worked with to intensify Cassie's sense of confusion, fear and panic.
We also had this moving panel with pivots and hinges in the middle of the room that was used to partition the room without having a solid wall, so that we can change up the room to reveal new spaces for other scenes. Those were our main tools. There are some scenes in the bathroom when she sees her own reflection almost becoming an infinite view of herself. We tried to keep that as a through line with different pieces in the suite.
Since the catalyst event takes place in Bangkok, how did your team design the motifs and style elements to reflect Thai culture and décor?
Petruccelli: We did a lot of research and Sara went to Bangkok on a tech scout trip and took a lot of research images. We wanted to incorporate a lot of the materials that are indigenous to Thailand–teak wood, raw silk, carved wood screens with lotus and some gilded elements that evoke the temple rooftops of the region. For the furniture, we wanted a rich and luscious look, so for example, the chairs had curvaceous shapes. These were the elements we wanted to incorporate into the hotel suite to give it a sense of place. And because it was meant to be a very luxurious setting, we wanted it to feel seductive, with the textiles feeling very lush.
For the conclusion of our chat with Petrucelli–including the now famous see-through shower in Ani's Brooklyn loft–check out Part Two of our interview. Both seasons of The Flight Attendant are currently available to stream on HBO Max.
Film Independent promotes unique independent voices, providing a wide variety of resources to help filmmakers create and advance new work. Become a Member of Film Independent here.
Follow Film Independent…