ICYMI: Talking to 'The Flight Attendant' Set Decorator Jessica Petruccelli (Part Two)
Our two-part interview with The Flight Attendant set decorator Jessica Petruccelli originally ran in last November following the completion of the show's first season. With Season Two now out on HBO Max, we thought appropriate to return our seat to an upright position and revisit.
***
In Part One of our two-part conversation with Emmy-nominated The Flight Attendant set decorator Jessica Petruccelli, she discussed how set dressing transformed the show's pivotal Bangkok Hotel Suite set to distinguish between protagonist Cassie's (Kailey Cuoco) hallucinations vs. reality, along with the production design team's use of reflective surfaces to intensify the character's emotional scaffolding.
Today, we continue with what the see-through shower in Ani's loft really means, as well as the significance of that giant rabbit sculpture in Alex's office.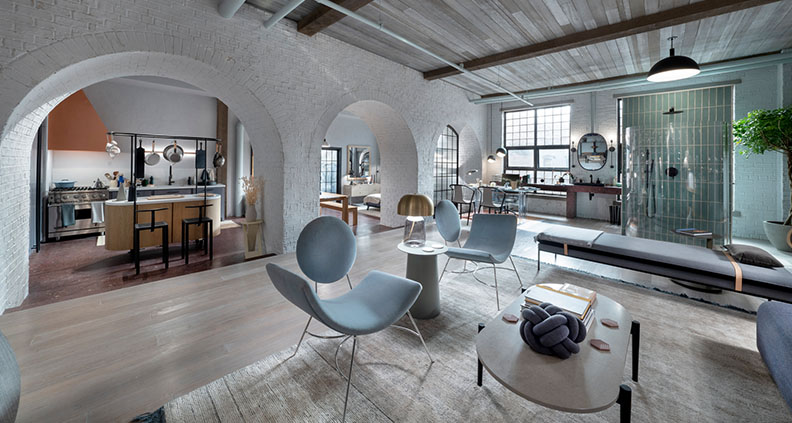 The other set piece that everyone talks about on the show is Ani's loft in Brooklyn. How does the bold and minimalist décor amplify that character's aggressive personality? 
Petruccelli: Ani is this high-powered lawyer and very aggressive and determined. So that's the vibe we went with for her apartment. Sara had a pretty specific idea of what she envisioned for this space. The see-through shower in the middle of the living room was written in the script, which definitely tells you a lot about this character. I think it was meant to be shocking and bold, in terms of reversing the expectation of what would normally be a shower. It shows that she's not afraid of exposing her private life to the public–she has no qualms about putting all her cards on the table. So, we really embraced that. We went for bold shapes and a look that you don't normally see for a Brooklyn loft. It was really fun playing around with some of the see-through objects [like one of the dining tables] and not having any rules about walls. They created these beautiful archways throughout the loft so that it's almost like little picture frames to bookend specific moments/scenes and separate the living room from the dining room and the bedroom. The shower was kind of a centerpiece that we built from–so her bedroom only has a textured glass wall.
When Cassie tries to track down Miranda (Michelle Gomez) at Alex's office, there's a couple of beats with that rabbit sculpture, which in the end breaks. How does that moment tie in to the theme?
Petruccelli: It's related to the bunnies you see in the flashback scenes to her [Cassie's] childhood. This was actually one of Sara's ideas that Christine's team of scenic artists created–they do all the painting and sculpture work. They made a few of the rabbit sculptures out of a type of foam that makes it look like stone or marble. No actual pieces of art were harmed in the making of this series. [laughs]
What was involved in creating Alex's apartment?
Petruccelli: We had to complete that set really quickly. Alex comes from old money–you see that in an earlier episode where Cassie attends the wake at his parents' house. But Alex is his own man, and so for his loft–which was a terrific space we got in Tribeca–we mixed it up with some contemporary pieces. The idea was to keep with the darker color palette so the colors and textures are similar to what we had in the Bangkok hotel suite. Up until that point, the way we see Alex has always been through Cassie's mind's eye; he lives in her mind in that hotel suite. So, we wanted to have some connection between the suite and his actual home. We had a mix of antiques and contemporary furnishings. It's really fun to bring the two together.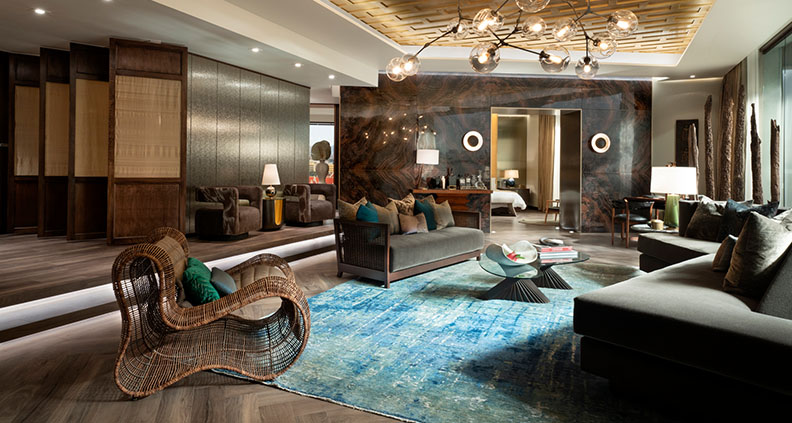 What was your favorite set on this show?  
Petruccelli: It was such a pleasure to work on that hotel suite, because as a set decorator we often create these worlds that the audience might only see for two seconds on screen. So it's very gratifying to be able to create a set that is not only seen throughout the season, but it also evolves as the characters do. As the story unravels, we see different corners of that hotel suite to reveal more about what happened that night. Another one that I really enjoyed was one of the dream sets. We had to create a dive bar set in a later episode–due to COVID, we had to build it rather than go to a real bar. It was fun to work on a space that contains so many layers of life–papers, stickers and all sorts of things that reflect what has happened at that bar through the years. 
Was that done so the production team could have more control over all the COVID-19 precautions?
Petruccelli: Exactly. We wanted to have better air filtration systems and because you don't need to have a ceiling on a built set, we could make it bigger so people could have more space. We were done shooting more than half of the show when COVID-19 shut down production. Once we went back to work, we had to build a few more sets than originally planned.
So much of the set for this show looks really extravagant. Can you talk a little bit about staying within budget?
Petruccelli: It's certainly part of the job. I'd say it's 60% to 70% design, and the other parts include logistics and budgets. We strategize at the beginning about the sets that we're going to see the most and those that are absolutely required by the script. If a lush set is needed because the character is very rich, then we allocate more of the budget to that part, and for other scenes, we try to get away with spending a little less. After a while, you get pretty good at mapping things out and recognizing what some of the sets would cost. But there are also some scenes where the audience might assume it was done on location but it was built on a soundstage. For example, for the rooftop chase sequence with Cassie and Miranda, we had to bring in these 210 feet by 10 feet A/C units and piping, and add 5,000 square feet of flooring on one side of the roof. But when you watch it, it just looks like a normal rooftop in Brooklyn.
How big was the production design team on this show?
Petruccelli: There's Sara, Christine, myself and we all have our own teams. I had a really great team with two assistants–a decorator and a shopper–and then we have the leadman who installs stuff and do some of the lifting and moving of all the furniture. It's a great team and such a collaborative process. This was a very fast-paced job with several big sets. So, I really tip my hat to them: being able to pull this off was a real testament to the hard work of the whole team.
The Flight Attendant Seasons One and Two are currently available to stream on HBO Max. Read Part One of this interview here.
Film Independent promotes unique independent voices, providing a wide variety of resources to help filmmakers create and advance new work. Become a Member of Film Independent here.
Follow Film Independent…