Narrative Feature
Director: Randall Miller
Producers: Jody Savin, Randall Miller, Todd Harris, Marc Lhormer, Brenda Lhormer
Budget: $5 million
Financing: Private Equity
Production: August–September 2007
Shooting Format: 35mm
Screening Format: 35mm
World Premiere: 2008 Sundance Film Festival
Awards: Golden Space Needle Award for Best Actor at Seattle International Film Festival; Best Ensemble Maui Film Festival, Heineken Red Star Award for Randall Miller.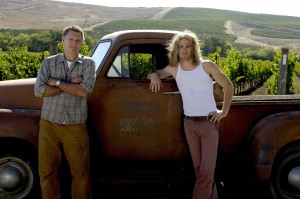 Development and Financing
Jody Savin and Randall Miller were given a screenplay by Marc and Brenda Lhormer, the founders of the Sonoma Valley Film Festival.  The Lhormers had met Randall and Jody when the filmmakers' feature Marilyn Hotchkiss' Ballroom Dancing & Charm School was the opening night film at the Sonoma festival two years prior.  The script was based on various events surrounding a seminal moment in the history of wine that has come to be known as Judgment of Paris.
Randall and Jody were intrigued by the historical event, but did not spark to the story told in the script.  So they traveled up to Sonoma to meet with the Lhormers and some of the folks who had been involved in the actual events.  Meeting Jim and Bo Barrett of Chateau Montelena clinched it for them.  Jody and Randall quickly realized it was the Barretts story they wanted to tell.
The communities of the Napa Valley were very supportive of the film right from the outset.  Alexander Payne's Sideways had been a great PR boost to California wine and the Central Coast wineries in particular, and the wine communities up north hoped that Bottle Shock would do the same for their region.
Jody and Randall agreed to take on the project and they started by writing the story they wanted to tell.  They wrote the part of Spurrier specifically for Alan Rickman, with whom they'd worked on their previous feature, Nobel Son, and they designed Jim Barrett's character with another actor from that film in mind:  Bill Pullman.  The rest of the cast fell into place after that.
While Jody and Randall were completing their draft of the script, the fundraising effort began. Along with the Lhormers and independent producer, J. Todd Harris, they pitched to wine buffs with power point presentations outlining their cast, and their track record (with two independent features recently under their belt).  Pitching sessions were held in Sonoma and Napa, as well as New York and San Diego.
Investors in Bottle Shock were offered a 110% return on their investment; after that profit is shared 50/50 between investors and talent.  Everyone worked for union minimums—basically a favored nations pay structure.
Bottle Shock shot for 30 days from Aug '07 – Sep '07.  It was an ensemble shoot with most actors working no more than two weeks, though clever scheduling made it seem as if they each had far more screen time that their schedule suggested.
The Sonoma location was a draw to the actors and key crew.  But finding accommodations for everyone in peak season was an enormous challenge that required a lot of creativity and flexibility.
Festival Preparation and Strategy
The filmmakers wrapped production in September 2007, got an extension from Sundance, submitted in November, and were accepted by Thanksgiving.  They were still mixing the film in January.
In preparing for Sundance, Jody and Randall met with Freestyle Releasing's Susan Jackson, who was handling the release for their previous movie, Nobel Son.  The filmmakers agreed that if they didn't get a big sale at Sundance from Fox Searchlight or Focus, they'd go with Freestyle.  Susan was also instrumental in later setting up foreign sales deals with Odd Lot International as well as Netflix and Fox Home Entertainment.
The filmmakers brought on CAA to rep the film at Sundance, but ultimately they were not happy with the offers from distributors.  The highest offers was for $1 million, but required the filmmakers to put up matching funds for P&A.  One offer had no upfront, but a bigger slice of the back end.
The Bottle Shock team also hired Nadine Jolson of Jolson Creative to handle publicity.  She'd handled some publicity during production.  Jolson got the film some great press exposure, including interviews, but Randall and Jody both feel, in retrospect that festival publicity doesn't serve its purpose unless the theatrical release of the film is already in place going into the festival and scheduled for immediately following the festival.
Sale and Release
Bottle Shock did not sell at Sundance and in March 2008 the filmmakers decided to self distribute in collaboration with Freestyle Releasing. Freestyle charges 2% of the net box office, plus an upfront fee.
Freestyle has field offices all over the country and great relationships with theaters.  They handled all the booking, and they got Bottle Shock into decent theaters nationwide. The revenue split in most cases was between 58:42 and 55:45.  From the filmmakers' 42–45% share, Freestyle took its 2% fee.  The plan was to open in about 50 theaters in the first week, and roll out from there.
Dennis O'Connor was brought on to handle publicity for the release and he secured TV and newspaper coverage.  They also bought targeted pop-up ads online, and created a 15-minute infomercial that played on TV late at night.  The infomercial included giveaways and a chance to win tickets to the premiere in Napa.
The filmmakers met with Freestyle and Dennis O'Connor to decide the strategy for the release.  They picked the weekend of August 8, the same weekend as the opening ceremony for the Beijing Olympics.  O'Connor felt strongly then (and still feels now) that the ceremony would not impinge on the audience for the movie in any significant way.  In retrospect, the filmmakers question the date as the opening ceremonies of the Olympics seemed to draw record numbers of viewers from the movie's target demographic.
The filmmakers raised an additional $million from a combination of a bank loan, and equity to cover P&A costs. They treated the film as a high-profile release, spending money on newspaper, TV, radio and billboards.  They got to know the person responsible for booking "Tall Walls" – sides of tall buildings that are draped with movie advertising – and he agreed on a deferred fee. Randall designed the giant posters at home on Photoshop.  The found they  could often book a billboard at the last minute at a very cut rate when the booked rental for that space fell apart.
Bottle Shock premiered in Napa and New York, then opened in 47 theaters in about ten markets, expanding from there.  By the fourth week, the film was playing on 400 screens.  There are between 500 and 600 art-house theaters across the country and Bottle Shock eventually played in most of them.  The best figures were at the Landmark Theater in West L.A.—even the wine bar at the venue saw an increase in business while Bottle Shock screened there.
The film played in theaters for 11 weeks.  Final box office gross was a little over $4 million.
DVD, Pay TV and Foreign
Randall and Jody had met with Fox Home Entertainment at Sundance to discuss a possible theatrical deal.  Fox Home Entertainment picks up about 15 movies each year for DVD release, mainly films with a wide theatrical release (several hundred screens).  Fox Home Entertainment eventually signed a royalty deal with the filmmakers for the DVD release—the LLC that owns the film receives 40% of gross DVD sales.
The filmmakers also struck a separate deal with Netflix for exclusive rental rights for a fixed period, including bonus bumps if the film rentals reach certain figures.
The first pay television deal was struck with Showtime.
Foreign Sales are being handled by Odd Lot Films.  Odd Lot has sold Bottle Shock in many territories worldwide, though ironically, the film has not sold in France.
Advice from the Filmmaker
Don't be afraid to take on your own release.  If you can make a movie, you can certainly do your own distribution.  Or perhaps I should say:  If you are crazy enough to make an independent movie, you are surely crazy enough to release it yourself.  There is a lot to learn, but it is do-able.  And if you know distribution you will find yourself being a more educated filmmaker.
This Case Study was originally published in the 2009 Filmmaker Forum handout.