BURN is a feature documentary about Detroit, told through the eyes of Detroit firefighters, who are charged with the thankless task of saving a city that many have written off as dead. Directed and produced by Tom Putnam and Brenna Sanchez, the film premiered at the 2012 Tribeca Film Festival.
Through Film Independent, BURN is also participating in the Sundance Institute's Artist Services, a program that provides Institute artists with exclusive opportunities for creative self-distribution, marketing and financing solutions for their work. This year Sundance invited a number of other film-arts organizations to include selected films that they have supported in the program. BURN is one of five Film Independent supported films to be in Artist Services.
Tom and Brenna talked in depth with Film Independent to provide the following detailed case study on how they got BURN made and into theaters.
Documentary Feature
Directors: Tom Putnam, Brenna Sanchez
Producers: Tom Putnam, Brenna Sanchez
Budget: Undisclosed
Financing: Grants, Donations, Crowdfunding, In-kind donations
Production: Dec 2010 – Jan 2012 (Sizzle 2009, Post-Production April 2011-April 2012, Self-distribution July 2012-present)
Shooting Format: HD (Canon 5D & 7D, Contour Helmet cameras)
Screening Format: HD Cam (Tribeca), Blu-ray, DCP
World Premiere: 2012 Tribeca Film Festival
Awards: 2012 Tribeca Film Festival – Winner, Audience Award
Website: www.detroitfirefilm.org
Official Synopsis
BURN is a feature documentary about Detroit, told through the eyes of Detroit firefighters, who are charged with the thankless task of saving a city that many have written off as dead.
Firefighters have an up-close view of the best and worst in any city. This is especially true for Detroit. Detroit is a picture of the future of American industrial cities in a post-industrial age: One foot in a prosperous past, with an uncertain next act, struggling to survive in a changing economy.
Since 1950, racial tensions and vanishing industry have cut Detroit's population in half from 1.8 million, making it a housing market horror story and leaving behind 80,000 abandoned homes. And in Detroit, social problems manifest themselves in one way – FIRE.
The result is a dying city with one of the highest arson rates in the world. Los Angeles, a city of 4 million people, sees 11 structure fires per day. Compare that to Detroit, which has 713,000 residents and 30 structure fires a day. BURN follows the crew of Engine Company 50 — one of the busiest firehouses in America. Located on Detroit's blighted east side, E50 stands at ground zero of the city's problems. Every day, these firefighters face injury, disablement, and death. But they come back, day after day, resolved to make a difference. They're certainly not here for the money — their starting salary is $30,000 and they haven't seen a raise in 10 years.
BURN tells the story of these exceptional individuals who, despite the challenges and dysfunction, believe in their city and are attempting to make a difference every day.
Development & Financing
Over the Christmas holiday of 2008, filmmaker Tom Putnam heard a news story about Detroit firefighter Walter Harris, who had been killed fighting a blaze in an abadoned building. Putnam was curious why Harris risked his life entering an abandoned building, so he called his friend Brenna Sanchez in Detroit and asked her to dig a little deeper into the story. Sanchez went immediately to a local fire station and met with firefighters, and after hearing their stories for an hour, she called Putnam back. This was more than just a story about urban decay or simply putting out fires: Detroit had 80,000 abandoned buildings and the highest fire-rate in the country, while the firefighters themselves were some of the worst paid in the country, working with poor resources and fiscal support.
With so many interesting story strands, the filmmakers envisioned an ambitious documentary television series similar in scope to HBO's The Wire that focused not only on the Detroit firefighters, but also residents and local elected government officials and bureaucrats.
In early 2009 Putnam and Sanchez approached public funder ITVS (a division of PBS) and pitched their concept for BURN the series. ITVS was taken with the idea and they put up the initial funds that allowed the filmmakers to go to Detroit and shoot for five days for, in their words, a "Research & Development" mission.
The only reservation ITVS had was that the filmmakers would not have enough fires to shoot to give them sufficient coverage for the project. This proved to be unfounded; in just two days out with the firefighters, the crew was called to 21 structure fires. To ensure they captured the fires and firefighting in the most dramatic way possible, the filmmakers had several camera operators working simultaneously, including someone riding in the fire truck and another following from a secondary vehicle. Putnam had experience in shooting action sports and he hired camera operators whom he knew could capture the firefighting sequences with the same action sensibility. They even managed to shoot the intensity of the blazes from inside the building by affixing small cameras to select firefighters' helmets to capture the ultimate POV shots.
From this initial five-day shoot, Putnam and Sanchez cut together a nine-minute sizzle reel and took it to ITVS… who passed. While they loved the reel, ITVS felt there wasn't a market for a series or even a documentary on firefighters. Unfazed, the filmmakers took the reel to other funders, all of whom said the same thing—there's no audience out there for a firefighter film or series.
Putnam and Sanchez were convinced they had a viable project that would appeal to fans of series such as Deadliest Catch and Ice Road Truckers, and they didn't give up. They were vindicated when they posted the sizzle reel online in July 2010 and saw it rack up hundreds of thousands of views on YouTube and Vimeo, with many viewers posting comments asking how they could support the project.
Putnam and Sanchez used the response from the sizzle reel as a form of market research, and based on comments they decided to scale back the project into a feature documentary in which one fire station crew would be the primary characters—with the filmmakers treating their subjects as if they were soldiers going into battle.
Putnam and Sanchez created a website (www.detroitfirefilm.org) to promote the project to fans and solicit donations, no matter how small.
Throughout the year, a steady stream of small donations to the project were enough to fund trips to Detroit so the filmmakers could meet with city officials and lay the groundwork for the eventual shoot. They also received a $25K unrestricted grant from Cinereach in September 2010.
Dealing with city bureaucracy proved to be a long and challenging process for the filmmakers. Many city officials had been down this road before and didn't want to see the urban decay of the city depicted and sensationalized in another film, and despite the filmmakers' insistence that this was predominantly a film about the heroic work of the city's firefighters, they were often met with skepticism. The constant revolving door of city employees just added to the challenges—many times a sympathetic and supportive city official would leave his or her position and the filmmakers would be back to square one. But it was Sanchez's passion and love for her hometown that ultimately won over the city officials.
Through a series of connections Putnam and Sanchez were introduced to General Motors and towards the end of 2010 the auto giant donated a significant figure towards BURN (about 40% of the budget). GM was attracted to a project that highlighted the resilience of Detroit and the strong work ethic of its people. It was the break the filmmakers had been waiting for and it enabled them to start production. Over the year they had also raised nearly $300K in in-kind donations (laptops and edit stations for post, helmet-mounted cameras, lenses, audio, specialty equipment to shoot in or close to fires, and more).
Production
BURN shot on-and-off for 13 months from December 2010 to January 2012. The filmmakers shot over 1000 hours of footage. With such an unpredictable subject matter, not surprisingly Putnam and Sanchez witnessed (and filmed) many characters and dramatic moments over the course of that year, be they political changes within Detroit, personal losses or a tragic accident that left one of their main subjects paralyzed for life.
Putnam retained his two action sports DPs from the initial shoot and they hired an additional cameraman. No firefighting scene was shot with fewer than two cameras—and many times they had the additional footage from the helmet cameras worn by the firefighters themselves. The filmmakers also licensed footage for one crucial scene from a "fire buff." Fire buffs are amateur cameramen who use their vacation time to travel to Detroit to chase and film Detroit firefighters, much like celebrity paparazzi.
Festival Preparation and Strategy
Around April 2011, Putnam and Sanchez brought on an editor to start sorting the hours of footage they'd already shot. The feedback they received about what scenes and shots worked, and what didn't, helped them modify their approach to filming subsequent events and fires as production continued. In the summer of 2011, the filmmakers participated in the Los Angeles Film Festival's Fast Track program, to raise finishing funds for BURN. While no funding came out of Fast Track, the filmmakers found the experience rewarding as it helped them refine their pitch to buyers.
In the fall of 2011 they submitted a rough cut to Sundance but didn't get in. In hindsight, they weren't surprised—they knew that the cut they'd sent was far from complete. With a few more months to fine cut BURN, they submitted to Tribeca and were accepted.
As Putnam and Sanchez rushed to complete the film, they treated Tribeca as the place where they would sell the film and see it launched into the world. Denis Leary had come on board as executive producer, and his presence helped boost awareness of BURN among the hundreds of Tribeca titles. Add to that the New Yorkers' love and deep respect for firefighters in general, and all the signs were pointing to a very successful festival launch. When tickets went on sale, all three screenings sold out in three minutes.
The filmmakers hired both a US and an international sales company (for a standard percentage) and enlisted publicists David Magdael and Kim Dixon to work on the Tribeca campaign.
As anticipated, BURN proved to be a big hit with the Tribeca audiences. As some of the firefighters from the film had been flown in from Detroit for the premiere, their presence in NYC gave the film even more attention and every screening ended with an emotional standing ovation; people came up to them in the street to congratulate the filmmakers and firefighters; strangers in bars offered drinks. Putnam and Sanchez could not have asked for a better response.
None of this reaction translated into sales. Despite winning the Audience Award at Tribeca, the filmmakers' sales companies received only a couple of low-ball offers, in the mid five-figure range. As the months dragged on, it became clear that the sales teams simply weren't that enthusiastic about BURN; they continued to pitch it to buyers as a documentary, not the action film the filmmakers had felt they'd made. When they were told that the best they could hope for was a DVD release and a small TV deal, the filmmakers decided to part ways with their sales teams.
The Release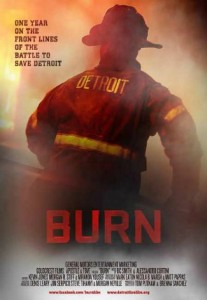 With no serious buyers, and no more festival dates scheduled, Putnam and Sanchez decided to self-release BURN. In the same way they'd tested the waters by posting the sizzle reel online, they decided to arrange a handful of screenings as a trial run, before beginning a serious multi-city release.
Putnam and Sanchez chose a firefighters' convention in Philadelphia and rented a 400-seat theater walking distance from the convention, booking four screenings in two days. They made t-shirts, posters and outtakes DVDs (Too Hot for BURN, featuring 80 minutes of footage that didn't make it into the film), and flew in some of the Detroit firefighters for the event. They billed the screening as an exclusive event, not a regular movie screening, and charged $20 per ticket. Once again the response was more than they could have hoped for: every screening sold out, all the merchandise sold out, and even the theater bar sold out of drinks.
Encouraged by their success, Putnam and Sanchez decided on a 25-city release throughout the northeast in the fall of 2012. One of the film's supporters, firefighting equipment company MSA, agreed to come on board to sponsor the release—in return for exposure and access to its customer base at each of the screenings.
Still hopeful that BURN might one day be picked up by a distributor for a theatrical release, the filmmakers billed these as special industry screenings; they didn't hire a publicist and instead promoted the events through outreach to local fire departments and via the BURN Facebook page. Partner MSA helped the filmmakers choose venues by targeting cities with large fire departments, particularly in locations where MSA's market share was greatest. MSA agreed to pay for travel, including flying the firefighters from Detroit, while Putnam and Sanchez would book the theaters themselves and handle ticket sales—using ticketing company Brown Paper Tickets.
The filmmakers four-walled most venues (paying a rental fee to the theater, and keeping all ticket revenues) often choosing to screen on Mondays or Tuesdays when rental fees were cheaper. Most of these four-walling fees ranged from $400 to $700; in larger cities, such as Chicago, the fees were closer to $2000.
The 25-city tour was a huge success—BURN sold out theaters on Mondays and Tuesdays at venues that were lucky to see 20 people show up on a regular Monday night. Total gross for the tour was $375K, bringing the film into profit.
But the filmmakers found it hard to keep up promotion with such a small team working out of their LA office. They partnered with Richard Abramowitz's company Area 23a, which took over some the theatrical booking. Fulfillment house Whiplash was brought on to handle the merchandising (DVDs, t-shirts, posters).
Area 23a was able to book BURN into the AMC movie chain in select cities for week-long runs. These screenings ended up producing some of the highest per-screen averages in the weeks they played and Putnam and Sanchez realized that the film was crossing over to a mainstream audience.
However, the AMC dates were not four-walled—instead the filmmakers were splitting revenues with the theatre, usually netting around 35% of ticket sales, far less than they'd been making when four-walling single nights. Add to that the booker's cut, and Putnam and Sanchez decided that, where at all possible, they would four-wall and charge $20 for their own special screenings.
In the spring of 2013 they announced a goal to play in 100 cities across the country. By this time, BURN had built up a momentum to the point where visitors to the BURN website could request a local screening of the film directly, and would have to prove their commitment by answering a short questionnaire. When local union leaders and fire departments were enthusiastically supporting the film locally, it resulted in sold-out screenings and requests to return to the city for repeat screenings. Iowa in particular has been a very successful market for BURN. Not only did local firefighters want to see people like themselves on the big screen, they understood the advocacy effect the film had on local officials and civilians, stressing the importance a well-funded fire department is to its community. By May 2013, the filmmakers had surpassed their 100-city goal, and BURN had played in more than 170 cities.
Not surprisingly, the filmmakers have received hundreds (if not thousands) of emails asking when BURN would be released on DVD. Putnam and Sanchez were deliberately holding out on the DVD release until their successful run in theaters was over. Billing the screenings as events with merchandise for sale, some of the film's subjects appearing in person, and local fire fighters (both full-time and volunteers) turning out with the fire trucks did indeed make these screening more than just another night at the movies. People often drove for hours to get to a screening and told the filmmakers afterwards how worthwhile the experience was.
Advice from the Filmmakers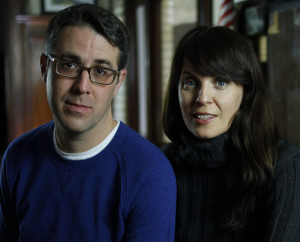 Brenna Sanchez: "Don't believe someone else can do it better than you can. And certainly don't wait for them to do it. Be nimble."
Tom Putnam: "I think with the way that the marketplace is now, you should plan as a part of your budgeting, you should plan on releasing the movie yourself. And look at it as a happy accident if somebody picks it up with a deal that makes sense for you."
If you have further questions about BURN or self distribution, please feel free to contact Tom Putnam & Brenna Sanchez at detroitfirefilm@gmail.com or 818-774-0365.
Posted May 30, 2013