Documentary Feature
Director: Natalia Almada
Producer: Natalia Almada & Daniela Alatorre
Budget: $400,000 (approx)
Financing: Grants
Production: Archival footage and contemporary footage edited between 2005 and 2009
Shooting Format: archival footage transferred to HD; Super 16mm; Digital Video
Screening Format: HD
World Premiere: 2009 Sundance Film Festival
Awards and Nominations: Won – Directing Award (Sundance Film Festival); Audience Award at Cine Las Americas, Special mention SANFIC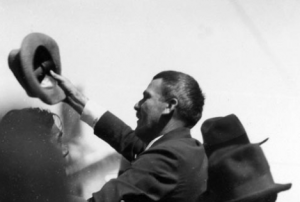 Development and Financing
Natalia Almada's grandmother made six hours of audio recordings in 1978 about her father, General Plutarco Elías Calles (1), who became president of Mexico in 1924.  The recordings were given to Natalia in 2002, and she started writing proposals to turn the recordings into a film.
Throughout the editing and shooting process, she applied for numerous grants and organizations for funding, including multiple attempts with ITVS, beginning in 2002.  The first funds came from Creative Capital – an arts funded organization, which contributed approximately $40K throughout the life of the film.  The last money received was from ITVS contributing approximately $140,000 towards the film.  She also received additional grants from the Sundance Documentary Institute, New York State Council on the Arts, Latino Public Broadcasting, the Jerome Foundation, and Gugghenheim Fellowship.
Production Highlights
Natalia began transcribing the audio recordings right away in 2002, but put the project on hold to make her film, Al Otro Lado (2) about drug trafficking and immigration.  She came back to El General in 2005 and went back and forth between editing the recordings with archival footage and shooting contemporary footage of Mexico on 16mm and DV.
Natalia and her producer Daniela Alatorre were invited to the Sundance Editing Lab and Composers' Lab in the summer of 2009 where they received extensive feedback on the rough cut of the film. Sundance accepted El General into the U.S. Documentary Competition. Natalia completed the film in January just in time for the festival.
Festival Preparation and Strategy
Natalia and Daniela decided to not hire a producers rep or publicist for Sundance, in part because of the high costs, and also because they had foundations supporting and promoting the film at the festival.
ITVS and POV publicists helped Natalia navigate press while at Sundance, and Creative Capital put out a promotional piece.  "The film is on the experimental side, it's not traditional, and it's also in Spanish," says Natalia.  "Yes, it would be great to be considered for a big theatrical release, but this type of film doesn't really have potential for a big theatrical release."
Natalia says that the Sundance Film Festival was an opportunity for publicity, to create awareness for the film, and start a good festival run in order to get invited to other festivals around the country and world.  Her ultimate plan was to have all of this help the distributor get the film into university libraries and additional educational screenings.  In the best-case scenario, it would secure a small art house release.
Sale and Release
Prior to Sundance, El General was slated for broadcast on PBS' program POV.
While El General has a film licensing agreement with PBS because of funding from LPB and ITVS, Natalia was not guaranteed broadcast on POV, and rather, was selected by that program.
In addition, the non-profit organization, Women Make Movies (3), offered to buy the film before Sundance, but at the advice of her peers, Natalia decided to go to Sundance with "something at stake" by not having a distributor yet in place.  Early on in the development process, the organization provided fiscal sponsorship, allowing Natalia to solicit tax-deductible donations for the film.
"I wish I would have said yes to Women Make Movies before Sundance so I could have had their support during the festival," says Natalia.  "Some distributors were offering very small advances in the mid four to high five figures, but in the end I decided to stay with Women Make Movies for many reasons."  The sale was solidified just a couple of months after Sundance.
Women Make Movies also owns the USA and Canadian DVD rights.  There was a small theatrical release in Mexico in 2010, strategically planned around the 200th anniversary of Mexico's independence, and the 100th anniversary of the Mexican Revolution.
Natalia's foreign sales agent, Louise Rosen picked up Natalia's last film and tried to pre-sell El General during production.  She is currently representing foreign territories.
Advice from the Filmmaker
"There's a feeling from a filmmaker's stand point that you premiere your film and you're supposed to have this big offer and it's supposed to go large in 6 months," says Natalia.  "But the most important things that happened for me on my last film Al Otro Lado happened in the second year of the film's life.  Maybe because they're timely, or have a bigger profile, but some films have a slower, longer run.  I remember thinking that if my film didn't go to Sundance, that it was a failure.  But it took time and then it did well.  We had a week long run at MOMA in the 2nd year and for me, that's as good as it gets.  We had our broadcast in the second year as well."
She added,  "You have to know your film and clearly know what it is that you want for your film.  Filmmakers need to be more thoughtful about the idea that there's no one way that a film can reach success.