Case Study: Under the Hood of Two Recent Episodic Success Stories
For up-and-coming visual storytellers there's a lot to be said for episodic content (aka web series)—either narrative or nonfiction, limited or ongoing. And much to your advantage as a filmmaker, online distribution has made it far easier to tell refreshing new stories, ones tailored to the specific strengths of each platform. With the evolving state of the industry, it'd be smart of you to consider telling your story through the episodic form. But don't take our word for it.
On April 28 at the 2019 Film Independent Forum, attendees heard firsthand from the creators of two very successful, very different episodic series: Quarter Life Poetry's husband-and-wife creators Samantha Jayne and Arturo Perez, Jr., and It's Not About Jimmy Keene, from writer/director Caleb Jaffe. The panel also included Keene executive producers—and fellow marrieds—Jim Frohna and Diana Kunce. Their short Eve played at Sundance in 2018. The panel was moderated by Empire Co-Executive Producer Wendy Calhoun.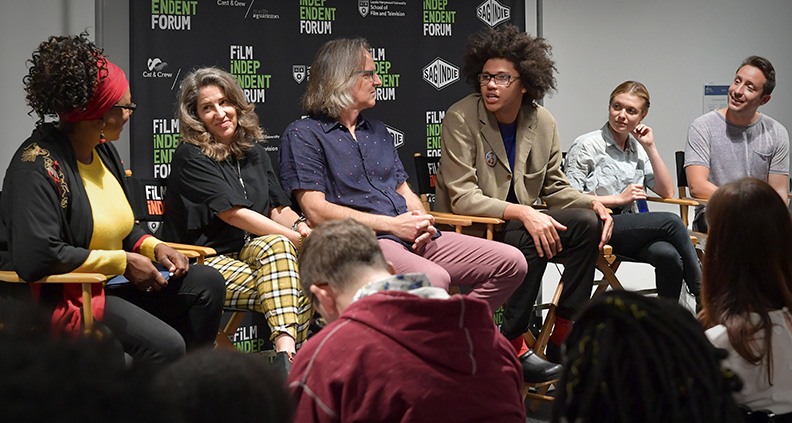 Calhoun asked the filmmakers how they each created these digital series on tiny budgets, building online communities and tapping into those communities to get their projects both made and seen; Quarter Life and Jimmy Keene both made their way into the 2019 Sundance Film Festival, in the Indie Episodic category.
So how did Quarter Life Poetry begin? "It started as an Instagram account," Jayne said. "I used to work as an art director at an advertising agency in New York—it was a whole different life [and] I very much had a quarter life crisis."
"We've all wanted to move from one city to another at some point. That's what will solve all of our problems, right?" Jayne said, facetiously. After relocating to San Francisco, she "started an Instagram: little jokes, four-line poems about how I was feeling in my 20s," adding: "I was doing it for my own catharsis, but a lot of other young women were kind of feeling the same way." She said that at the time no one was really talking about surviving the dreaded quarter life crisis.
"So the Instagram became a book," said Jayne. And what followed were four promo videos for the book. "Those ended up hitting a pulse online." Then, the Quarter Life creators thought, "'Oh, we should develop this for a new series.'"
Jaffe's series It's Not About Jimmy Keene had its inception after he left school, wanting to make a pilot. "I've known [series co-stars] Jim and Diana since I was 16. They've been mentors since I was a teenager." Why a pilot? Simple: Jaffe says he fancied the idea of chapters. "[At the time], it was just Chapter One of a story that would span a period of time, following the election and kids coming-of-age during #BlackLivesMatter, surrealism, hallucination, the ghost of a dead black teen and dealing with family stuff," Jaffe said. Sounds pretty cool, huh?
Frohna and Kunce were first acquainted with Jaffe's "patient, mature" filmmaking style at a student film festival thanks to their daughter, Jaffe's close friend. "Most of the short films that came out were two-minute videos of kids skateboarding outside," Frohna said. "Then out comes this 20-minute, very patient, cinematic, mature, beautiful film about a young woman who finds a lost dog," noting that "[it] felt almost like a Jim Jarmusch movie."
Frohna continued: "When he [Jaffe] shared the script with us, there was so much pain here about what is happening in the world—a perspective and a voice that hasn't been heard exactly in this way." He described the experience of working alongside Jaffe to produce the series a "privilege, thrill and challenge."
After pitching Quarter Life around town, Arturo and Samantha Perez "very organically" landed at FX to house their nine-episode series. "At first [the show] didn't have any subjective-reality, spoken-word element to it at all," Jayne said, being a straight traditional show about a young woman in the midst of a quarter-life crisis. "But what I really wanted to do was show a female protagonist that I hadn't seen before. Someone introverted, like me," she said.
She continued: "There are so many strong independent women protagonists out there bustling through the hills of San Francisco… I've always been surrounded by other young women that are very thoughtful, wanting to do well in their jobs [and being] kind of careful." Adding that with such self-conscious characters, "it was difficult to really break open the character and make that person active."
But then, out of the blue, Jayne decided she wanted to write a rap song about having social anxiety at a party—"a dramatic retelling of a night gone awry," she said. "It just fully broke open this character in this subjective reality kind of fantastical way, and we were like—this is Quarter Life Poetry," she said.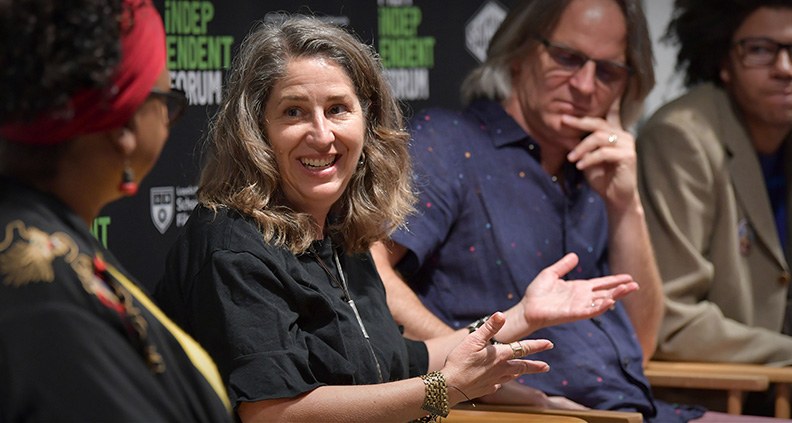 Jaffe spoke to writing dialogue: "I tried to write dialogue where [the characters] are talking about rap, but really, they're talking about community," he said. Kunce added: "that lived-in feeling comes from the writing, but also comes from really spending time in editing," saying that there were upwards of 70 cuts of Jimmy Keene, which took a year-and-a-half to edit.
Regarding community, Perez said: "Our whole crew consisted of our friends. We had very, very little money. But FX gave us 100% creative control." Each episode—or poem—has a distinct look and feeling. Frohna complimented Jaffe and his ability to foster community. "Part of it is Caleb's openness and big-heartedness. His charm brought people to the project."
The 2019 Film Independent Forum took place April 26-28, 2019 at the new LMU Playa Vista campus in the heart of Silicon Beach—click here to see what else happened, and don't forget to come back next year!
The 2019 Film Independent Forum was supported by Premier Sponsors SAGindie, Cast & Crew and University Partner Loyola Marymount University School of Film and Television.
Get More Involved…