Zooming In on the Filmmakers Headed to the 2020 Directors Close-Up
Much like the intricate culinary mesa of beans and cheese making up that dodgy-looking dipping spread that no one at the office Xmas potluck can quite bring themselves to sample, awards season is a once-a-year phenomenon that can be engaged with on a variety of different levels. Sure, you can simply settle in as an observer, using the various awards body nominee lists—such as our own Film Independent Spirit Awards—to inform your year-end watch list. Or, you can surround yourself with sample ballots and take a deep dive into the extended world of awards season prognostication and punditry.
And for those of us with a sincere interest in, y'know, the actual craft behind the year's best movies, the race to cap off 2019 has provided cineastes with a virtual goldmine of opportunities to engage with awards-caliber filmmakers IRL—particularly in LA—through endless special screenings, conversations and panel discussions; chief among them, Film Independent's star-studded Directors Close-Up series, which returns January 15-February 12.
Celebrating its 18th year, the Directors Close-Up consists of five weekly panel discussions about the art, craft and collaboration of visual storytelling featuring the folks behind the biggest and most celebrated films of the year.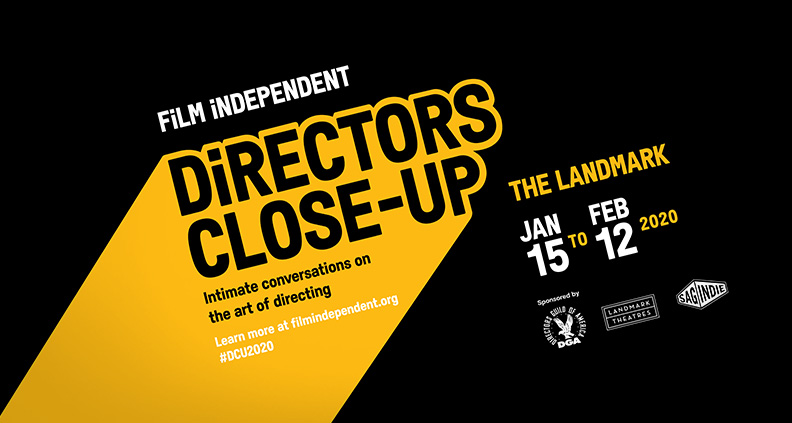 Series passes are on sale now—and you don't want miss out. Single-night tickets will be available soon. Be sure to check in with our website and social channels regularly for more information, including additional panelists and topics.
In the meantime, what filmmakers can you look forward to hearing from at this year's special anniversary edition of DCU? Keep reading and click here for more information on how to check out all of this year's fun.
NOAH BAUMBACH
Why We're Excited: Starting with his 2005 breakthrough The Squid and the Whale and continuing with 2017's The Meyerwitz Stories, New York based indie auteur Noah Baumbach had already carved out a unique brand as America's foremost bard of marital dissolution even before this year's critically acclaimed Marriage Story—arguably Baumbach's biggest success yet—hit theaters (and marquee streaming platforms) earlier this month. Nominated for Spirit Awards for Best Feature and Best Screenplay, and already crowned the winner of the Robert Altman Award for ensemble cast, the keenly observed and surprisingly funny divorce drama is set to continue making waves throughout awards season.
CHINONYE CHUKWU
Why We're Excited: Even within a nation that certainly doesn't lack for social controversies, the debate around capital punishment is fraught and ongoing. But far from being a dense, inaccessible polemic, writer/director Chinonye Chukwu's soon-to-be-released Clemency (winner of the Grand Jury Prize at this year's Sundance) is instead a thoughtful character study—focusing on the daily challenges and internal struggles of a conflicted prison warden (Alfre Woodard) attempting to carry out her duties. Nominated for Spirit Awards for Best Feature, Best Screenplay and Best Female Lead for Woodard, the movie represents a career breakthrough for Chukwu, whose previous feature alaskaLand debuted on the festival circuit in 2012.
ALMA HAR'EL
Why We're Excited: Famously, Shia LaBeouf began writing the script for what would become Honey Boy as part of his therapy while in court-ordered rehab. The deeply autobiographical film finds LaBeouf playing a thinly veiled version of his own troubled father, delving headfirst into their deeply complicated father-son relationship. It was no ordinary film project—one which similarly required the touch of an extraordinary filmmaker: Alma Har'el, whose nonfiction feature Bombay Beach had been nominated for a Spirit Award in 2012. Har'el's narrative debut, Honey Boy earned Spirit Awards nods for Best Director, Best Cinematography and two separate nominations (for LaBeouf and costar Noah Jupe) for Best Supporting Male.
JULIUS ONAH
Why We're Excited: A complicated portrait of overlapping issues of race, sexual abuse, paranoia, refugee protection and myriad other complex issues, director Julius Onah's provocative third feature is a tale of miscommunication snowballing into a slow-motion catastrophe which tests the limits of familial and institutional support. The film premiered at Sundance earlier this year, where indie upstart Neon swiftly acquired it for theatrical distribution. Costarring previous Film Independent Spirit Award nominees Naomi Watts and Tim Roth, the film is currently nominated for Best Director, Best Male Lead and Best Supporting Female.
LORENE SCAFARIA
Why We're Excited: It's can't be too shabby when your latest feature—the true-life tale of a group of industrious, recession-era New York exotic dancers systematically fleecing their Wall Street clientele out of hundreds of thousands of dollars—is being compared to such canonical crime films as Martin Scorsese's Casino. Such is the case with filmmaker Lorene Scafaria's Hustlers, which also has the added benefit of providing a plumb comeback role for everyone's favorite long-graduated fly girl, Jennifer Lopez. Aside from just being one of 2019's most refreshing box office hits, Hustlers has also racked up Spirit Awards nods for Best Director, Best Cinematography and Best Supporting Female.
LULU WANG
Why We're Excited: Yet another deeply autobiographical tale spanning literal generations, Lulu Wang's breakthrough sophomore feature is currently in the running for two Spirit Awards: for Best Feature and Best Supporting Female, for Zhao Shuzhen. Wang, as you may have read is a proud Film Independent Fellow, having participated in our Project Involve program in 2014. In an unusual true-life tale first recounted on a 2016 episode of radio's This American Life, The Farewell represents a tricky mix of pathos and humor—a delicate tonal balance which Wang deftly pulls off in no small part thanks to her avatar, Awkwafina, here showing off her dramatic acting bona fides.
All Directors Close-Up panels will take place at The Landmark (10850 W Pico Blvd) on Wednesday evenings at 7:30 pm, beginning January 15, each followed by a post-panel reception.' The 2020 Directors Close-Up is sponsored by the Directors Guild of America, Landmark Theatres and SAGIndie. The official photographer is Getty Images. Additional support provided by BRICKTOWN.
Stay tuned to our events page for information regarding single night tickets, which will be available soon. Visit Film Independent's website and click here to subscribe to our YouTube channel.
More Film Independent…
(Header: Marriage Story)