CASE STUDY: WHITE ON RICE
Narrative Feature
Writer/Director: Dave Boyle
Producers: Duane Andersen, Dominic Fratto, Dave Boyle
Budget: Under $850K
Financing: Private Equity
Production: 30 days/Salt Lake City/Summer 2007
Shooting Format: Super 16mm
Screening Format: 35mm
World Premiere: San Francisco International Asian American Film Festival
Awards: Los Angeles Asian-Pacific Film Festival – Special Jury Award, San Diego Asian Film Festival – Audience Award; etc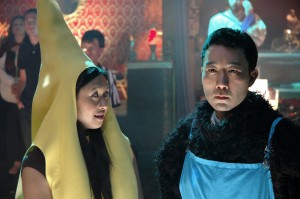 Development and Financing
Filmmaker Dave Boyle's first film Big Dreams Little Tokyo was a wry comedy based on his experiences living as a fish out of water among the Japanese community in Australia.  During the casting of the film, he met Hiroshi Watanabe, and while the actor wasn't really right for the part he auditioned for in that film (he was eventually cast in a small supporting role), Boyle liked him a lot, and knew he wanted to work with him in the future.
Big Dreams Little Tokyo had a successful festival run, and while he and his project were still hot, Boyle and his producing partner Duane Andersen, planned a follow-up.
Boyle had written semi-autobiographical "speculative" tale of a hapless 40-yr old man who'd never achieved anything in his life, living in his sister's basement, but dreaming (fantasizing) of the successes that lay ahead for him. Boyle felt Hiroshi Watanabe would be perfect for the role, and he re-wrote the script to give it the appropriate Asian American perspective.
Boyle and Andersen reached out to many of the investors who'd backed Big Dreams Little Tokyo to see if they'd be interested in investing in their second film together, White on Rice; their investors were very happy with the success of Boyle's first film, and were eager to sign on to the next project.
The filmmakers raised the money from 15 or so investors, whose equity stakes ranged from $10K to $200K; the majority of the film's budget came from three investors.  In addition, Boyle and Andersen brought on two more producers to help raise the financing: Michael Lerman (currently of the Film Sales Company and Artistic Director of the Philadelphia Film Festival), whom the filmmakers had met at the Big Dreams premiere at AFI Fest; and Dominic Fratto, whom they'd met through their publicist on Big Dreams, Kim Dixon of Dominion 3.
Investors signed a standard agreement: they receive a 110% return on their investments, and, once investments are recouped, a 50:50 share of profits with the filmmakers.
White on Rice shot for 30 days in Salt Lake City.  It was a non-union shoot with many crew members flying in from NY and LA to work on the film.
Festival Preparation and Strategy
After White on Rice wrapped, Boyle and Andersen stayed on in Salt Lake City to edit the film, aiming to have it ready for the Sundance deadline in September 2008.
White and Rice was not accepted by Sundance, and Boyle, Lerman and Andersen looked at other big festivals but they eventually settled on the smaller San Francisco International Asian American Film Festival (SFIAAFF).  This niche festival is highly respected among the Asian film community, and the programmers offered White on Rice a prime slot: the opening night gala in the San Jose portion of the festival, in addition to a great venue and timeslot for a screening in SF.  The filmmakers accepted; it made sense to them to open in front of an Asian American audience, instead of getting lost at bigger festivals such as SXSW or Tribeca.
In preparing for SFIAAFF, Boyle and Andersen didn't feel that SFIAFF was a sufficient buyer's market to justify hiring a publicist but decided to work with the festivals publicists instead. Boyle and Andersen didn't hire a producer's rep either; after the financial meltdown, the indie world was shifting too, and the filmmakers felt it was unlikely a big sale wasn't on the cards for White on Rice.
White on Rice had a great premiere at the SFIAAFF.  It was a sold out screening at the Sundance Kabuki theater, with lines of people around the block hoping to snag a stand-by ticket. The reception was equally positive when the film opened the San Jose leg of the festival. It got great coverage in the Asian-American press and key bloggers who monitor the depiction of Asians in the media, such as Angry Asian Man, helped start positive buzz on the film.
As a result of its successful debut at SFIAFF, White on Rice was invited to play at many Asian American film festivals around the country, Austin, San Diego, Toronto, New York and Los Angeles as well as at many non-Asian festivals including Cleveland International Film Festival, Newport Film Festival, Hawaii International Film Festival, and Osaka Asian Film Festival, Sao Paolo Film Festival,.
Release
Because of shifts in independent film distribution trends it was decided very early on to explore non-traditional distribution methods. Boyle and Andersen's previous experience with the distribution of Big Dreams Little Tokyo taught them that a quirky comedy with non-Caucasian actors, that was partially in a foreign language, was a hard sell and that it was unlikely that a distributor would show up that they would trust enough to succeed. Though multiple distributors made offers to release the film, none seemed to offer more than they felt they could do themselves.
In May of 2009, during the Los Angeles Asian Pacific Film Festival, Boyle sent a screener to Dylan Marchetti of Variance Films. Marchetti had previously overseen the successful release of Journey from the Fall during his tenure at Imaginasian Pictures, and had most recently been at ThinkFilm before starting his own company. Marchetti had set up Variance as a full service distribution and consulting company to bridge the gap between DIY distribution and traditional theatrical models.  At the same time, Boyle met Nguyen "Wyn" Tran—who was the sales agent for Journey, and thus had a great working relationship with Marchetti. Both of them loved the movie and decided to come onboard. Tran became the producer's rep for the film (although his contribution to the release went well beyond a the traditional sales role) and Marchetti became the theatrical distributor and booker. Variance Films and Tran split a small upfront fee for their work on the release, which ended up being a full-time job for 5-6 months.  Tran managed "on the ground" promotional work including appearances at college campuses and guerilla-style "stunt" tactics.  Under the terms of the deal, the filmmakers collected 100% of the box office return from theaters since Variance and Tran had collected fees upfront.
The team moved fast, and while White on Rice was still touring the festival circuit, Variance opened the film on September 11, 2009 in Los Angeles (at the Sunset 5), and in Orange County at the Edwards Irvine Spectrum 21.  The filmmakers reached out to one of their original investors, who agreed to put up approximately $40K for the release. The filmmakers struck four 35m prints, and then expanded the film to other cities: Salt Lake City, San Diego, San Francisco, San Jose, Hawaii, Denver, Atlanta, and New York.
Michael Lerman and Tran also reached out to mPRm publicist Alice Zou to manage the national and LA based publicity campaign.  For review-only and smaller outreach in some other markets, the filmmakers also engaged Karen Larsen (San Francisco) and Emma Griffiths (New York) for subsequent stops on the tour.
Whenever possible, Tran and Boyle took star Hiroshi Watanabe on the road to participate in Q&A sessions, local publicity and appearances at college campuses.  Watanabe's participation in the release was a huge asset.  He eventually was able to do in-theater promotional appearances in LA, Orange County, San Diego, San Francsico/San Jose and Utah.  He also appeared at the Hawaii International Film Festival one week before the movie debuted on Hawaii screens.
Unlike most independent films, the film opened in New York lastly, in a double bill with Tze Chun's 2009 Sundance feature Children of Invention.  This DIWO (Do It With Others) style release came at the invitation of Marchetti who managed the booking and collections for the one-week showing.  The two films split the cost of hiring a publicist (Emma Griffiths) and pitched in for joint posters and postcards. With this approach the total cost for the New York release for the White on Rice team was $3,500.
The best results were in cities where White on Rice opened a couple of weeks after its debut at the local film festival.  They used the festival screening to promote the forthcoming release in that city—it was a very successful model.  For example, White on Rice opened in Hawaii four weeks after its debut at the Hawaii International Film Festival, and played for five weeks, more than twice as long as it played in Los Angeles.
Total box office was around $75K.  The filmmakers had hoped to gross a little more than this, but they were still happy with the release, as they'd received some great reviews that they planned to use to promote the DVD release.
Tran licensed the digital rights with Gravitas Ventures (both VOD and digital downloads on iTunes and Amazon).   Gravitas in turn licensed the VOD rights to Warner Bros, who put the movie on Cable VOD in 60 million homes and also managed the iTunes and other streaming rights to the film.  The filmmakers have a deal for around 75% of the gross.
The DVD was self-distributed through order fulfillment service IndieBlitz.  IndieBlitz also offers retail DVD distribution through their partnership with eOne entertainment.  The self-distributed DVDs are sold online for a small per-transaction fee.  The retail DVDs were licensed with the majority of the wholesale price going back to the filmmakers.  The film was released on retail DVD on October 12, 2010.
The filmmakers have started receiving checks from DVD, and expect to get the first sales reports from Warner Bros and Gravitas at the end of the year.
Advice from the Filmmakers
Dave Boyle: "Overall, I think it's important to work with people at every stage who are passionate about and will fight for the film.  That's why I had such a good experience with Variance and Nguyen Tran—they never stopped pushing the movie forward and fighting to get better venues.
"When we started this project, the economy was still on the ups and we hoped our budget would be recoupable through foreign sales and perhaps a small domestic deal.  Midway through the whole process is when the bottom dropped out on the indie film market.  Still, it was a great experience to learn how the distribution world works.
"I think it's probably a good idea to plan your films from the beginning with a plan for self-distribution in place.  Along with that, plan your budget according to what you think you'll be able to recoup using only your own self-marketing efforts.  And hey, if someone decides to buy your movie and distribute it themselves, you can always junk your plan.
"This summer I directed a new film called Surrogate Valentine, with the same exact promotional pipeline in place.  The total budget?  $25,000.  It's hard to work at a budget that low, but that's the level I feel comfortable at to guarantee significant profitability."
Duane Andersen: "Make movies with a distribution model in place. No one is going to love your film more than you, and no one is going to work any harder to see it succeed than you are willing to do. Traditional distribution companies only survive by taking as much of your share of your gross as they can. We believe very strongly in maintaining control of the release, the marketing and the image. That way, even if something doesn't work, at least we have no one to blame but ourselves.
"Studio owned indie label execs lamented a couple of years back that the sky was falling on independent film distribution. This, however, doesn't mean that independent film isn't alive and well, or that there is no longer an audience for it. All it means is that there is no longer a middle man. That's good news for filmmakers."