"Casting is everything"—Love Is Strange Director Ira Sachs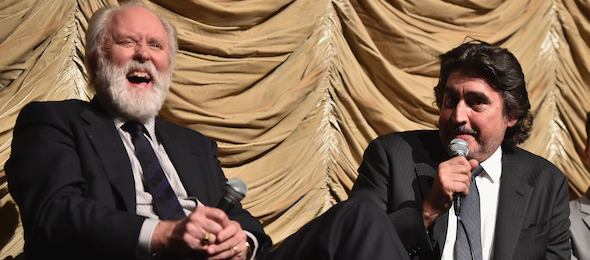 Attendees of the first Gala screening of the 2014 Los Angeles Film Festival were treated to one of the season's anticipated releases: Ira Sachs' Love Is Strange starring John Lithgow and Alfred Molina. The lauded film depicts the intricacies of the marriage between characters Ben and George, played by Lithgow and Molina.
To kick off the night, Festival Artistic Director David Ansen welcomed Sachs on stage by saying he remembered watching Sachs' first film The Delta nearly 20 years ago at Sundance and knowing that he was witnessing the work of a promising director. Calling Love Is Strange his best film yet, Ansen insisted Sachs is one of those rare directors that keep getting stronger with every movie he makes.
In a quick introduction Sachs thanked Ansen and countered with a similar reminiscence, saying it was Ansen who had written about The Delta for Newsweek and it was the one time, Sachs said, that he had made it to the pages of the American weekly magazine.
Lithgow, Molina and fellow cast member Cheyenne Jackson joined Sachs and Ansen on stage for the Q&A that followed. "This really was a film about the seasons of life and the different perspectives on love," Sachs started out by saying. The film doesn't just feature Lithgow and Molina as a couple in their 60s and 70s, he said, but they are also surrounded by couples at different stages of their life—from adolescence to the middle-aged couple portrayed by Marisa Tomei and Darren E. Burrows as Kate and Elliot.
Ansen praised the chemistry between Molina and Lithgow and prompted the actors to discuss how they had developed their relationship for the movie. They had met in passing over the years, Lithgow commented, specifically remembering a mutual friend they had lost to cancer several years ago, spending a day in a hospital ward with her, where Lithgow became aware of the warmth and generosity of Molina as a person "Everybody loves Alfred," Lithgow commented, "and he has more friends than anybody I know." He praised the script as well, written by Sachs and Mauricio Zacharias, saying they were both able to step into a great piece of writing and calling his performance "the most effortless acting" he had ever done.
Molina had kind words for the atmosphere created on set by Sachs, the crew and the cast. "One of the great lubricants," Molina said, stopping himself mid-sentence to jokingly consider his choice of words, "was laughter and the simple joy of being there created the most wonderful atmosphere."
Sachs revealed that on set actors don't rehearse before beginning to shoot and that even if "92 percent of the movie was scripted" there were still times when he chose to capture the accidents and unexpected moments. "There were times when Ira just never said cut," Lithgow joked. "Fred and I just kept staring at each other and Ira put it all in the movie!"
Influenced by what he called mid-career Woody Allen–Hannah and Her Sisters, Husbands and Wives–Sachs wanted to tell an ensemble story about New York. His purpose was to fill the world he created with the right people ("casting is everything") and telling the stories of the people that he knew and the diversity of their perspectives.
Diana Buendia / Festival Blogger