Randall Park, Maya Erskine and Steven Yeun Lead 'When Harry Met Sally' Live Read
When Harry Met Sally isn't just the film that launched one million "I'll have what she's having" jokes between the years of 1989 and 1994. More recently, the iconic Nora-Ephron-penned. Rob-Reiner-directed romantic comedy provided the backdrop for outgoing Film Independent Presents curator Elvis Mitchell's final night at the helm of Fi's signature screening series (which continues under the purview of new Film Independent Artistic Director Jacqueline Lyanga.) The event? June 23's sold out Live Read of the When Harry Met Sally screenplay, onstage at the Wallis Annenberg Center for the Performing Arts in Beverly Hills.
The uproarious evening was also significant for its all-Asian cast, marshaled together by guest director Randall Park, hot off his own stab at rom-com immortality opposite Ali Wong in the buzzy Netflix hit Always Be My Maybe. Casting himself in a series of bit speaking parts, Park ceded the role of Billy Crystal's "Harry" to Burning lead—and longtime Walking Dead zombie-fleer—Steven Yeun, with Meg Ryan's "Sally" rebooted with signature adorkable charm by PEN15 star (and burgeoning Fi Presents regular) Maya Erskine.
Liza Lapira and Jimmy O. Yang played, respectively, Marie and Jess, the titular couple's individual relationship consiglieris, who themselves become a couple over the course of the film. Finally, Jae Suh Park—of the late, lamented Netflix comedy Friends from College (not to mention Park's IRL wife)—rounded out the cast by filling a variety of smaller female roles, including the handling of inarguably When Harry Met Sally's most famous single line.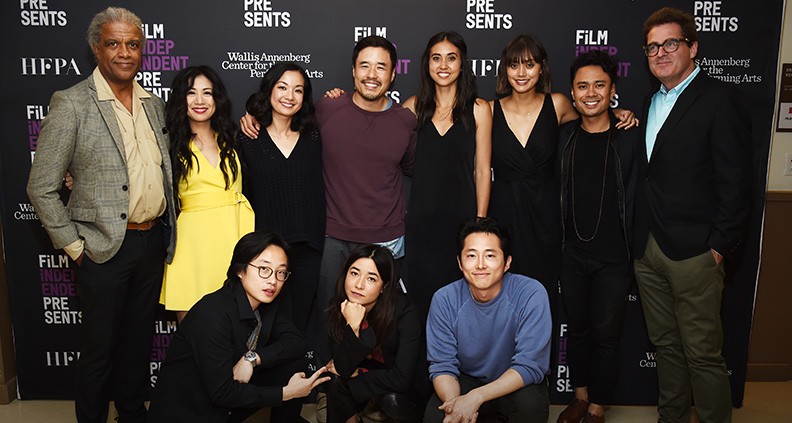 The evening began on an appropriate note—literally—as sibling singing duo Meg & Dia Frampton performed a lovely acoustic rendition of "It Had to be You," from the When Harry Met Sally soundtrack. The cast then entered the stage, one by one, toting drinks ranging from heavy white wine pours to half-depleted bottles of whiskey—an indication of the evening's relaxed vibe, befitting the warm, autumnal mood of Reiner's original film.
From there, the long saga of New Yorkers Harry Burns and Sally Albright's relationship unfolded accorded to the tightly-calibrated beats and witty bon mots of Ephron's Academy Award nominated screenplay; a difficult text to improve on, to be sure, though director Park did manage to throw in a few effective original touches which meshed with the spirit of Reiner's film seamlessly.
Then, of course, there was the famous deli scene (set, as per the original stage direction, at the Carnegie Deli, rather than Katz's.) The moment Mitchell read the word "deli" in the slug-line a ripple of giddy anticipation worked its way through the crowd. Erskine paused to steel herself with a comically elongated pull from her whiskey bottle, eliciting even more laughter, before proceeding with the scene. A few pages later, by the time the Plus One star was fully in the convulsions of demonstrating her fake orgasm skills, the Wallis administrators checking emails in the office suite two floors above were surely wondering just what sort of "performance" they had signed up for.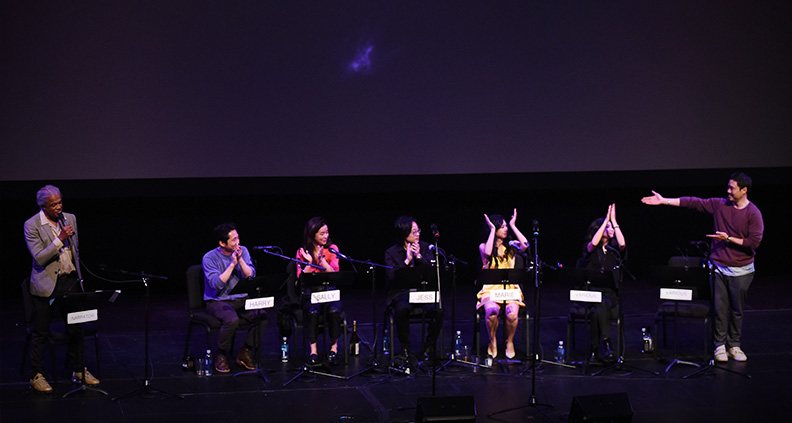 As Yeun and Erskine's characters continued their journey from irritated acquaintances to tentative pals, platonic BFFs, lovers, estranged exes and back again, big laughs continued to come from unexpended places, such as Park's knowingly overwrought bow—complete with lengthy applause break—taken following the delivery of two inconsequential lines from a wedding caterer.
At the end of the evening, Meg & Dia Frampton returned for another song, as Mitchell praised the evening as "my favorite Live Read ever" before exiting the stage to an enthusiastic and appreciative round of applause. And as the crowd filtered out to enjoy the post-performance reception in the Wallis Annenberg's well-appointed outdoor space, at least 10,000 more "I'll have what she's having" bits were no doubt swiftly added to the global tally. Romance!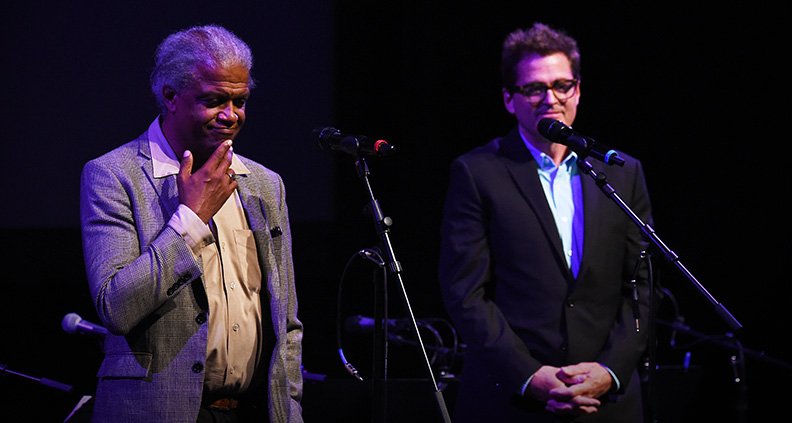 Coming Up at Film Independent Presents…