Coffee Talks: Spike Lee Protégés on Exploring Police Brutality in Their Sci-Fi Debut
So what does an up-and-coming filmmaking duo talk about over hot drinks during quarantine? Well, if you watched our April 23 Coffee Talks conversation with friends and collaborators Fredrica Bailey and Stefon Bristol—the team behind the Film Independent Spirit Award-winning time-travel comedy-drama-adventure See You Yesterday (now streaming on Netflix)—you'd already know.
Taking us from their (then) short's inception at NYU's Tisch School of the Arts all the way through to its bigger-budget, Spike Lee-produced feature version, Bristol (the film's director and cowriter) and Bailey (its screenwriter) spoke to the fruitful process of bringing their project—which presciently delves into issues of police brutality against African Americans—to Netflix, the awards stage and beyond.
Watch the full Coffee Talk recording below and keep reading for all the highlights!
Separating himself from some of his art house peers, Bristol said: "I came into the school [NYU] wanting to be an action-adventure filmmaker… I knew in my mind I wanted to have black kids and a sci-fi element." This impulse, he says, came to be See You Yesterday, Bristol's NYU thesis short.
"I was going through something personal. So to help me cope, I was watching Back to the Future on repeat," he continued. "I just put two ideas together: young teen goes back in time to stop his grandfather from killing his best friend through drunk driving." However, in the summer of 2014 Eric Garner was tragically murdered by a New York City police offer. In remembering past victims killed by police violence, Bristol says, "A scene of police brutality bled into my script" despite having initially written a completely different story.
After an NYU professor looked at Bristol's rough draft and encouraged him to either take out the scene or, as he says, "'Let that be the story, especially with what's happening in our climate today, in the United States.'" So he went in that direction, creating a sci-fi short that reflects the issues of the present, which would again be tapped into later to make a feature length version of the film.
But! Two weeks before production, the plug had to be pulled on the project. Says Bristol, "Having the production fail [ended up being] great. Now I could focus more on the writing, because the writing needed a lot of work. But I needed help. I knew I couldn't do it on my own." Keeping the faith in his project, Bristol went to the NYU Graduate Writing department and asked the chair if any current students might be a good match to help him successfully complete and execute the film.
"[The chair] gave me a short list, and Fredrica was on that list." He added, "I read everyone's script and interviewed everybody, thoroughly. Fredrica was the only black woman on the list. And along with that, she was the best writer out of everyone."
What did Bailey bring to the project? "It was [about] beefing up the characters, but making sure that everything gelled together. Because remember: when you're talking about time travel then you're talking about a lot of cause and effect," she says. The challenge, according to Bailey, was also making sure that everything made sense logically, but also that the time travel aspect didn't tower over the issue of police brutality, which was important for both collaborators.
With action-adventure not being the biggest genre of interest at NYU, meeting someone in Bailey's wheelhouse was a pleasant surprise. She says that before meeting Stefon, she had thought, "If only I could meet someone that gets me, maybe I could form a life-long partnership the way a lot of actors and directors do. And I had no idea that Stefon was around the corner. I'm glad he came around, because little does he know that I was wishing for someone like him," she said.
Bristol, who worked for Lee before and during film school, received the Spike Lee grant to shoot his short, with Lee later signing on to be his producer. Of the whirlwind experience, Bristol says, "Once he [Lee] saw the cut, he was like 'You need to do some reshoots and you need to do some color, and make sure the music is tight.'" Bristol enthusiastically adding, "He [Lee] said 'Send me your budget, I'll give you the rest.'"
So how did they get from Lee offering to produce the short to production and a Netflix deal? On shooting, Bristol says, "We got notes from Spike a couple times working on the script. So it did take about a year and more than a few rewrites before we felt comfortable and ready to take it out."
He continues: "By Christmas of 2017, once production [for Lee's BlacKkKlansmen] was over, Lee said I got you a deal with Netflix." Bristol expressed that he wasn't trying to make Back to the Future or Jurassic Park, instead wanting to make a film about "Young black kids in the hood, who are much different than we've ever seen before, and that takes a personal story, very quiet, very controlled and very contained," he said.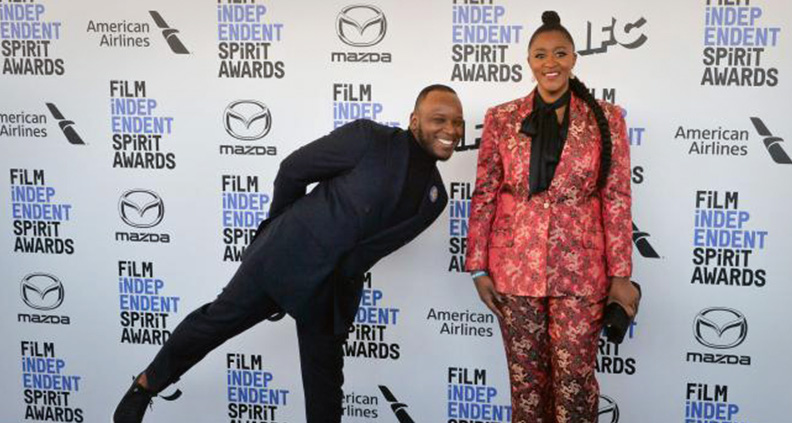 In preparing for making a Netflix film, Bristol admitted that he was initially a bit cocky… until getting on set, saying: "You have an astronomical amount of money for your first feature film—which is unheard of. You have executives, a whole team, and a lot of people relying on you because you're supposed to know your vision and you have to prove yourself." He added that that in making the short, he didn't care what anybody thought, just wanting to tell his story correctly.
As Bristol says, "Filmmaking is a really humbling experience and I was extremely humbled by it because it really takes a jab at your ego, so many times."
As for Bailey, thanks to Bristol, she was able to be on set everyday, which isn't always a writers' experience. Bailey says, "There were a couple of times where we had to step in and add a little more dialogue for characters." Going from being in graduate school to a Netflix set, rewriting dialogue, Bailey thought, "That was a really good muscle for me to work," having the experience of watching the project unfold before your eyes.
Film Independent Artist Development promotes unique independent voices by helping filmmakers create and advance new work. More Film Independent Events here. See You Yesterday is currently streaming on Netflix.
To become a Member of Film Independent, just click here. New Members who join this week will receive $5 off the cost to join or renew. To support us with a donation, click here.
More Film Independent…