Congrats to the Winners of the 2014 LA Film Fest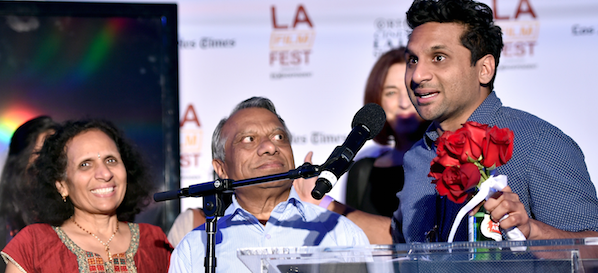 That's a wrap! It's hard to believe the 20th anniversary Los Angeles Film Festival is already behind us. Not long before Clint Eastwood would walk the red carpet prior to yesterday's closing night screening of the film legend's latest directorial  work Jersey Boys, we took the time to honor the next generation of stand-out filmmakers at the Festival awards ceremony.
Festival Artistic Director David Ansen, along with Film Independent Associate Director of Programming Doug Jones, opened the ceremony with thanks and praise for all of the Festival staff and volunteers' hard work.  They then introduced special guest Jersey Boys star Vincent Piazza to announce the winners.
And the winners are…
Narrative Award (for best narrative feature) Man From Reno, directed by Dave Boyle
Documentary Award (for best documentary feature) Stray Dog, directed by Debra Granik
LA Muse Award Los Angeles, directed by Damian John Harper
Best Performance in the Narrative Competition The ensemble cast of Recommended by Enrique, directed by Rania Attieh and Daniel Garcia
Audience Award for Best Narrative Feature The Young Kieslowski, directed by Kerem Sanga
Audience Award for Best Documentary Feature Meet the Patels, directed by Geeta V. Patel and Ravi V. Patel
Audience Award for Best International Feature Someone You Love, directed by Pernille Fischer Christensen
Award for Best Narrative Short Film The Runaway, directed by Jean-Bernard Marlin. France.
Award for Best Documentary Short Film The Queen, directed by Manuel Abramovich. Argentina.
Award for Best Animated/Experimental Short Film Butter Lamp, directed by Hu Wei
Audience Award for Best Short Film The Gunfighter, directed by Eric Kissack
Audience Award for Best Music Video Turn Down for What: Lil' John and DJ Snake, directed by The Daniels 
Chris Lombardi / Festival Blogger