Darren Aronofsky Explains 'Mother!' and Buñuel's Influence
On November 9 Film Independent at LACMA screened the 1962 Luis Buñuel classic The Exterminating Angel, followed by an insightful 40-minute conversation between Film Independent at LACMA curator Elvis Mitchell and acclaimed filmmaker Darren Aronofsky (an avowed Luis Buñuel superfan) in which Aronofsky discussed the surrealist 1962 masterpiece, his career and Buñuel's influence on Mother!—Aronofsky's own darkly provocative satirical allegory, released earlier this year.
Notorious for his own explorations of tragedy, obsession and insanity in such films as Pi (1998), Requiem for a Dream (2000), The Fountain (2006) and Black Swan (2010), Aronofsky—a multiple Film Independent Spirit Award winner (Best First Feature for Pi, Best Feature for The Wrestler and Best Director for Black Swan)—is himself no stranger to controversy. He began the Q&A by addressing a question about the frailty of women in his films.
Aronofsky said that all of the characters in his movies are frail. "In a certain way, they all have good things and bad things about them. They're all complicated," he said. "That's what we all are." Mitchell asked about the recurring theme of sanity in Aronofsky's work. The director spoke on a personal note, recalling his experiences growing up with a mentally unstable uncle. "I've seen the psych wards first hand," he said. "I guess there was a certain fear of my own that that could happen to me."
Also persisting in the director's work is the notion of characters worrying about what others think of them. "She [Jennifer Lawrence's character in Mother!] is definitely pre-judged by everyone. That, to me, worked perfect with the allegory of what the movie was," he said. "The big realization that I had was how much we take for granted our home. We don't think about all these resources, where [those resources] are coming from, how much there is of it."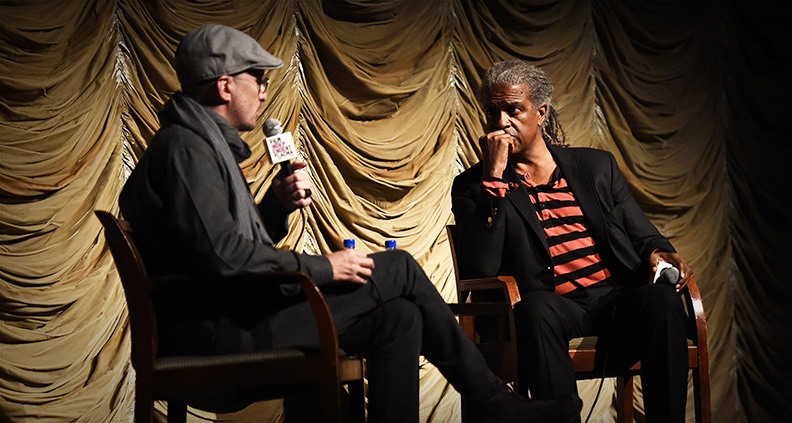 Mitchell then asked about the first screening of Pi, Aronofsky's 1998 directorial debut. The first real screening, he said, was primarily for distributers, held at the Sundance Resort. "It was a disaster," Aronofsky recalled. "The film broke three times. Literally within the first 12 minutes of the film they had to restart it three times." However, the next regular festival screening at Park City's Eccles Theater proved more successful, with Aronofsky calling it "an amazing moment for a filmmaker."
Finally, the conversation arrived at the controversial Mother!—a despairing parable touching on Biblical and environmental allegory, about a couple (Javier Bardem and Jennifer Lawrence) whose idyllic, isolated domesticity is increasingly encroached upon by unwelcome house guests. "The film came from a place of rage," he said, "Mother! was just really about screaming for help."
"There's nothing more exciting than seeing an audience react to a film," said Aronofsky. "When that passion comes and I get really excited, there's nothing like it."
Aronofsky mentioned that Mother! was a return to his practice as a student filmmaker of exploring symbols—"a return to symbolism" he called it. Nevertheless he acknowledged that, "certain people would have a hard time, because they're not used to seeing a character that's a little heightened."
Fortunately, the actors knew exactly what they're getting themselves into. "I'm looking for actors that are hungry," he said. "I'm always looking for the actors that want to cry, that really want to go there."
"What I'm most proud of in the film is that you've never seen Jennifer [Lawrence] like this," said Aronofsky, noting that the actress always appears strong onscreen. Whereas the intent with Mother! was the opposite.
Aronofsky spoke highly of the other actors in the film, saying that for Javier Bardem, "It has got to be real for him." Michelle Pfeiffer wasn't someone Aronofsky first considered for the role. But "I had an incredible collaboration with her, she was so much fun to work with," he said. Of the difficult laundry room scene, he said: "That's a hard thing to act over and over again. That was one of the subtleties she pulled off in the part."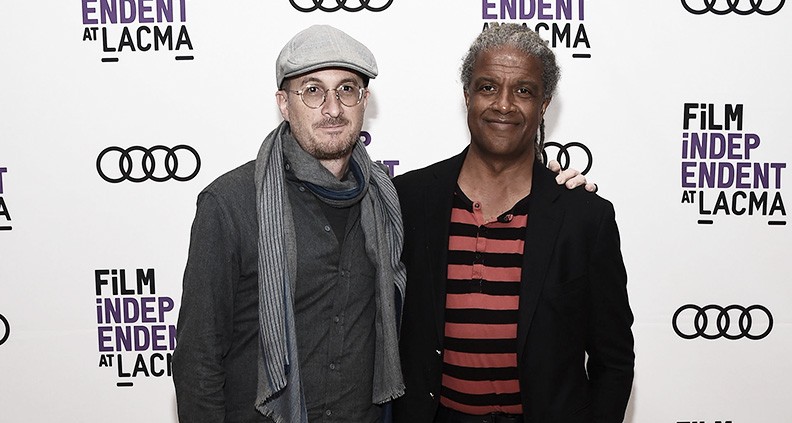 The idea with Mother! was to test the Lawrence character's limits, with increasing numbers of characters barging in, judging her and taking advantage. Javier Bardem's character is "Incredibly loving, but at the same time, he's an asshole," Aronofsky said.
The idea of being trapped indoors was crucial to the piece. "That's very frustrating to people, but that was the whole idea of the movie: She was the house, there was no escape." Aronofsky had forest fires, hurricanes and floods in mind when starting this project. He was trying to figure out "How it's really hard to understand what the largest forest fire in the history of Canada means, or the largest fire here in LA, but we all remember the guest who spilled red wine on the carpet." Mitchell chimed in: "Or the guy who just wouldn't go home."
Mitchell asked about the experience of basically making an independent film for a studio. Aronofsky responded that the film was made for the right price. "The studio was always involved, but we asked it was a negative pick-up so we didn't have to deal with all of their notes. But actually creatively they were helpful," he said.
Aronofsky spoke to the underlying humor of the piece. "I always knew it was going to be funny, how rude people were." He said that in England audiences were laughing hysterically. "And I said that's right, it's supposed to be funny, even though it's cruel."
Tension is at the core of Mother!, which began in the writing process. "I would do a scene and take it as far as I could until the tension started to dissipate, and then I would do a twist," he said. "And I kind of threw every genre I knew at it and sort of sailed from scene to scene and [it] escalated."
Said the director: "It's like, what's it like for Mother Earth to have all these guests that are just taking and taking." And this line of thinking is how Mother! came to the big screen.
Mother! will be released on DVD/Blu-ray and will be available for streaming beginning December 19.
To see what's coming up at Film Independent at LACMA, click here. And learn how to become a Member of Film Independent by clicking here. Not a Member of Film Independent yet? Become one today.