Detail Oriented: Acoustic Perfection with Sound Designer Jacob Ribicoff
Movies are a mosaic of moving parts. But we don't always see which parts, or who's moving them. Each month in Detail Oriented, Su Fang Tham explores some of the more specialized areas—and career paths—related to film production.
***
2018 has been a terrific and busy year for sound designer Jacob Ribicoff, who recently nabbed dual Emmy nods for his work on director Ramin Bahrani's dystopian HBO adaptation of Fahrenheit 451 and for Ken Burns' critically acclaimed multi-part PBS docu-series, The Vietnam War. Ribicoff previously won an Emmy for his work on Burns' 2007 WWII epic The War and has worked on films including Manchester by the Sea, Me and Earl and the Dying Girl, The Light Between Oceans and many, many more.
We recently caught up with Ribicoff to learn some of the nifty details behind weaving the audio landscapes for two very distinct projects, and what it takes to get into—and succeed!—in this surprisingly competitive field. Here's the conversation:
JACOB RIBICOFF, SOUND DESIGNER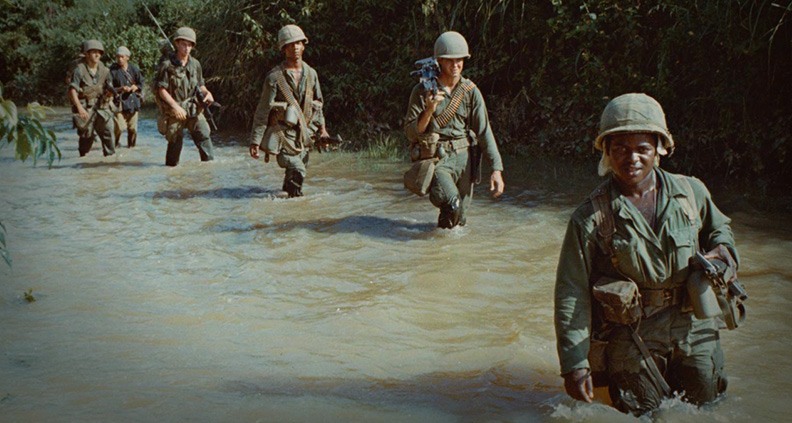 When did you first realize you were interested in sound editing?
Ribicoff: When I was 11-years-old, a friend and I took up a hobby collecting silent comedies—Charlie Chaplin, Buster Keaton, Laurel and Hardy—on Super 8mm film. We'd play them on our projectors and find the best music off vinyl records to play along to them. That's how I discovered that Beethoven's Appassionata Sonata goes perfectly with Charlie Chaplin's The Immigrant. Then, as an English major in college, I took film courses and took to reading all the credits. When I saw "Sound Editor," a bell rang. It seemed like the perfect combination of what I loved: acting, story writing, play adaptation, playing music—and watching movies.
What sort of training did you have and how did you land your first job? 
Ribicoff: My parents were avid moviegoers, so I saw a lot of movies growing up—mostly classics and art films from the '60s and '70s. We made a family pilgrimage to see each new Kubrick film upon release. After college, I was an intern and assistant for Broadway sound designer and music producer Scott Lehrer, in New York City. Then I worked for Tony Schwartz, a sound theorist and a pioneer in sound. I was his audio engineer for two years and edited tons of interviews, mixing analogue on quarter-inch tape. My first post-production audio job was with an independent supervising sound editor-and-mixer. On my first day, unbeknownst to me, he had me working on an Italian softcore porno, dubbing it into English. I guess we all have to start somewhere!
You said you often start a project by digging into a director's motivation for a film. What was this process like with Ramin Bahrani on Fahrenheit 451?
Ribicoff: [Ramin] is so intellectually aware of how sound works to convey emotions and immerse viewers within a location and he articulates that very well. We talked about each book having a soul and coming up with a sound to indicate those souls being extinguished with the burning of the books. If you listen closely, you can hear a high-pitched moan during some of the book burning close-ups. That sound is derived from recordings I have of logs burning and the gas escaping during combustion.
For The Vietnam War, how did you find recorded audio archives to enhance or recreate the emotion, tone and tension of each footage? In particular, how did you come across the reporter with the tape recorder by the embassy? 
Ribicoff: For the reporter by the embassy, that was footage found by the producers and picture editor. It came with sync audio. We always request "extensions" or "whole takes," which in this case means the entirety of the footage beyond what went into the cut, which gives us plenty of additional sonic source material. The intense real-life battle noises captured in the background of this piece of reportage turned out to be a goldmine—the gunfire and military personnel shouting. It's so irreplaceably valuable for its emotional intensity and period characteristics, especially the voices and the specific nature and sound of [the audio's] degradation over the years. Those qualities serve to put the viewer right there like nothing else can. 
What did it take to create the intricate sounds of battle: different kinds of ammunition, choppers/helos, military radio chatter, etc.?
Ribicoff: The five sound designers on this project pooled our libraries—including special effects from Band of Brothers, Casualties of War and Apocalypse Now. We had a three-day recording session of Vietnamese voices, plus a backwoods recording session of firearms being fired presided over by Erik Ewers, one of our picture editors and sound designers. Unfortunately, I missed that one! Erik and I worked on the Tet Offensive segment for more than six weeks to produce a complex battle choreography of firearms—Russian for the North Vietnamese vs. American—radio chatter and combat voices, footstep Foley, bomb explosions and insects and tones to fill the eerie pauses.
What's the sequence that you're most proud of in the film?
Ribicoff: The one that stands out is the opening of Episode Two. Army Veteran John Musgrave describes his experience assigned to a listening post at night in the jungle of Con Thien, South Vietnam in 1967. It's an eerie, frightening account: one man sitting there telling you his story. I set the atmosphere with night insects from Southeast Asia, added the radio squelches, distant echoing explosions and North Vietnamese whispers drawn from a recording session we did of Vietnamese voices. Under all this, I built a pulse—made from helicopter blades and heartbeats—which fluctuates, slowing down and speeding up as the story intensifies. It finally culminates in a transitional sound made from breath, a backwards bell and some other sounds drawn from work I did with Roger Waters in the war section of the concert documentary of The Wall. The score is a haunting cue called "Less Likely" by Trent Reznor and Atticus Ross.
Is there a specific sound designer's work that you especially admire?
Ribicoff: Effective sound design is a singular alchemy that occurs when the marriage of picture and sound comes together in just the right way. One great practitioner of this is Craig Henighan (Stranger Things, Black Swan, Real Steel, Deadpool). I had the good fortune of working with Craig on Noah as a Special Effects Editor. He has an amazingly nuanced way of using low and sub frequency sounds both for power and softness. He's got this visceral, breathy and otherworldly touch that really cuts deep.
When talking to aspiring sound editors, what would you tell them?
Ribicoff: Sonic inspiration flows daily. My once boss and mentor, Tony Schwartz, used to say: "We're not born with ear lids," meaning sound surrounds us and we're immersed in it whether we like it or not. The same thing goes for stories as well. We're subjects in our own movies daily. So what that means is that there's no shortage of inspiration— follow your inspiration, that's a flame, don't let it die. Love the details and the hard work and time it takes to tap into those sounds and stories. And if you are hearing sounds in your head, figure out a way to get them out so that they can be heard by others as well.
Watch Jacob Ribicoff's 2018 red carpet interview with the Television Academy below:
To learn more, check out past Detail Oriented columns on our blog. Not a Member of Film Independent yet? Become one today. Subscribe to our YouTube channel and follow us on Facebook, Twitter and Instagram.
(Header: promo image from The Vietnam War)