Directors Close-Up Recap: Casting 'Moonlight' with Barry Jenkins and Naomie Harris
One movie told in three distinct chapters using a trio of young performers joining forces to portray a single character, linked not by their physical resemblance but by a shared ability to convey the essence of that character's soul. Add to that an ensemble stuffed full of talented but under-recognized acting vets and a critically acclaimed director coming off a seven-year hiatus, and voila! You have the raw ingredients of Moonlight, a chaotic mix that could just as easily have resulted in fiasco, but has instead garnered six Film Independent Spirit Award nominations: Best Feature, Director, Screenplay, Cinematography, Editing and the Robert Altman Award for ensemble cast.
But long before Barry Jenkins' moody self-actualization triptych claimed this year's Robert Altman prize (already awarded) we were already obsessed with the film's unique approach to casting. And film fans got the chance to dig even deeper on February 1 during the first night of Film Independent's 2017 Directors Close-Up series. The panel, called "Moonlight: A Stellar Ensemble Piece" and held at West LA's Landmark Theaters, featured Jenkins, Moonlight casting director Yesi Ramirez and star Naomie Harris in a panel moderated by Boys Don't Cry director Kimberly Peirce.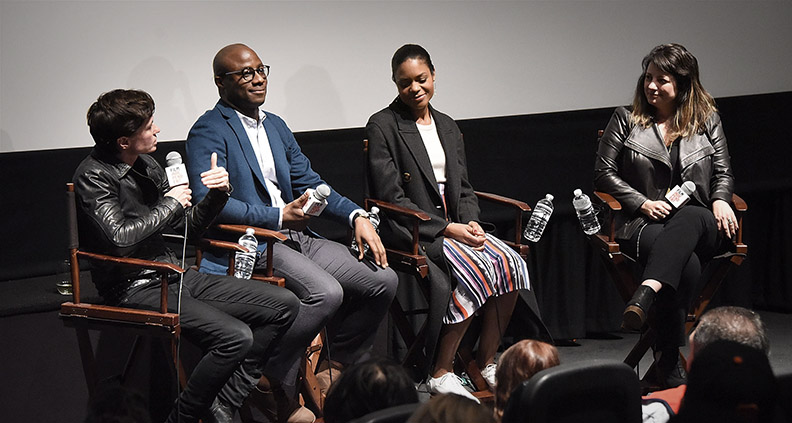 Sheepishly, Jenkins admitted that Harris—whose portrayal of Paula, Moonlight protagonist Chiron's desperate single mother, has earned the native Londoner an Academy Award nomination—was not his first choice for the role. "I didn't think someone with an English accent could be my mom," he said of the part, which like much of the screenplay was rooted in the director's own experience growing up in the Miami housing projects.
But Harris was likewise reluctant to play the crack-addicted Paula. "I've always wanted to portray positive images of women in general and black women in particular," she said. "I actually wanted to play Janelle Monáe's part. That was the part I related to."
Jenkins jumped in. "I don't do positive or negative role models," he said, insisting his goal was to portray stories with authentic characters.
"What I meant was 'non-stereotypical'," clarified Harris. To this, Jenkins theorized that the neglectful, crack-addicted black matriarch was an archetype that loomed far larger in audiences' imaginations than has actually existed onscreen, stating that he could only think of a few tangible examples of such characters.
But at least there was one person on the panel who never had any doubt about the role, or Harris's ability to play it. "I've loved Naomi's work from very early in my career," said Ramirez. "I've admired her since [Brett Ratner's 2004 action comedy] After the Sunset."
Peirce asked Jenkins about the film's unconventional structure, noting that Harris was the only actor to reprise their part across all three chapters (Monáe appearing only in first two—"Little" and "Chiron"). Jenkins said that this was the plan from the start. "For me it was the Lynn Ramsay [Ratcatcher, Morvern Callar] school of filmmaking. A mix of trained and untrained actors," he said.
But finding those untrained actors wasn't easy. Luckily, said Ramirez, "I have a legal background, so I love doing research. I did a ton of research online. We were three weeks from production [without a locked cast]—thank god for Google!" The first critical find was Ashton Sanders, who plays teenage Chiron in the film's middle chapter. "He was giving so much," she said, "especially his eyes."
Jharrel Jerome, then a 16-year-old student at LaGuardia High School student soon followed, playing the teenage version of Chiron's (sort of) BFF "Kevin" opposite Sanders in Chapter Two.
With a chuckle, Jenkins praised Ramirez's ability to read against actors during the auditioning process—an underrated skill that all casting directors should keep in their back pocket. He claimed to still hear Ramirez's voice every time André Holland (who plays Kevin in Chapter Three) asks Trevante Rhodes' grown-up, tough-guy Chiron, "Who is you?" Throwing to the clip in question, the Landmark audience chuckled as Holland delivered the line.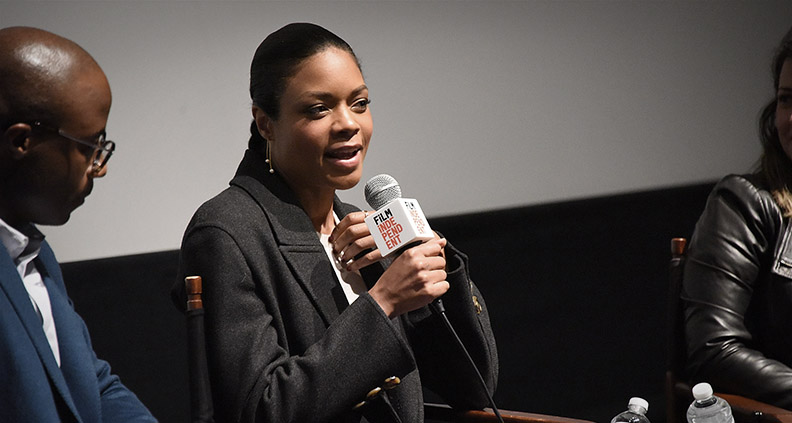 But the biggest challenge the film's cast and crew faced was its shockingly scant production schedule, which meant that luxuries like "rehearsal" and "proper introductions" went right out the window. "Not a single person in this movie met before they did their first scenes [together]," said Jenkins. Showing a clip from Harris's centerpiece bottoming-out scene from the film's second part he noted, remarkably, "Those are [Naomie's] first four hours of work in Moonlight."
Even more impressive, Harris filmed her entire part in three days in-between promotional obligations for the James Bond film Spectre. "The biggest thing I wanted to get across is that the brutality [Paula] puts on her son has more to do with her own self-hatred," she said of her Oscar-nominated performance.
"Making lemonade out of lemons doesn't even begin to describe it," said Ramirez of the truncated production schedule. Added Jenkins, "We tried to build our limitations into the method and making of the film."
Wrapping up, Peirce opened the floor for a brief audience Q&A touching on a variety of topics, from building a sustainable career in the arts to advancements in digital cinematography allowing for more expressive photography of black faces. The evening wrapped, and Jenkins & Co. immediately rushed to a waiting car to be transported to a Moonlight screening in Santa Monica—once more trying to get in as much work as possible in very little time.
To learn more about Film Independent's Directors Close-Up, including how to attend, just click here. For more information about Film Independent, please visit our website or subscribe to our YouTube channel. Learn how to become a Member of Film Independent by clicking here.