Directors Close-Up: Why The Docuseries is King, According to The Nonscripted Series Nominees
A jam-packed Week Three of the 2021 Film Independent Directors Close-Up series wrapped up the day last Wednesday, March 24 with a boisterous panel of filmmakers who all shared an unbridled passion for nonfiction storytelling–that, and being nominated in our inaugural Best New Non-Scripted Or Documentary Series category at the upcoming 36th Film Independent Spirit Awards.
Journalist and NPR media critic Eric Deggans joyfully moderated the discussion, touching on the exciting, changes, opportunities and rewards of long-form nonfiction storytelling, which in the age of COVID has only expanded. (For more Directors Close-Up highlights, check here.)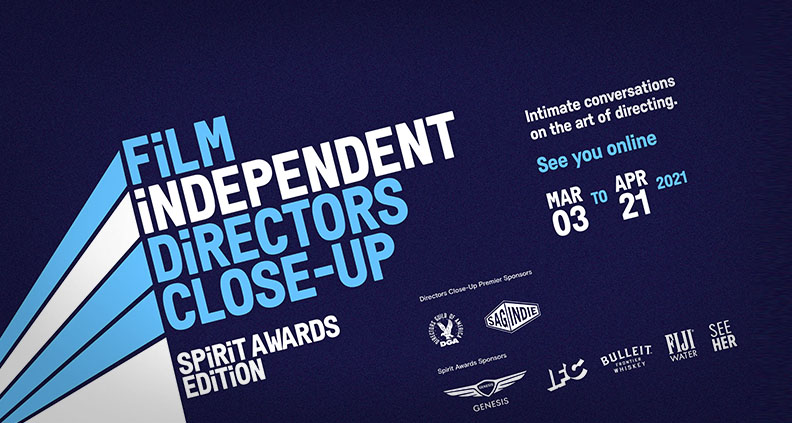 "Is it just me or is the industry expanding in a way that we haven't seen before?" Deggans asked of the panel, which included Spirit Award nominees Maro Chermayeff, Christine Clusiau, Heidi Ewing, Rachel Grady, Steve James, Peter LoGreco, Sam Pollard and Shaul Schwarz. "There's so much good work on so many platforms," he observed.
Director of Atlanta's Missing and Murdered: The Lost Children, Chermayeff not only felt that it's a great time for the docuseries format, but, "It's fun to see colleagues who've been doing feature docs now finding that there's an audience for this expanded approach to storytelling. And now there's an audience that really accepts that."
Ewing (co-director, Love Fraud) continued the thought. "While there are downsides of the streaming revolution, I think for non-fiction it has been a real boon. And I think audiences are just hungry for these stories." Hoop Dreams veteran Steve James (director, City So Real) saw this sea change for docuseries from a financial consideration: "I think part of what has fueled it is that for buyers it's a more economically viable form. They get more bang for their buck."
Although a panelist, Pollard (director/executive producer, Atlanta's Missing and Murdered: The Lost Children) had a question for his fellow filmmakers about the impact of new technology on documentaries.
Schwarz (co-director, Immigration Nation) responded: "All these tools allow for two, three or four person crews to make amazing cinematic quality. I think it makes mainstream (viewers) digest not only the good stories, but it also looks powerful."
Peter LoGreco (executive producer/director, We're Here) shared his insight. "To be able to retain this intimacy and therefore sincerity and authenticity with your subjects and have it feel cinematic is something that just keeps getting better." Though he notes that even with the assist of speedier, cheaper, better-looking equipment, "You have to have a great eye and level of sensitivity."
Deggans then had a question for co-directors Ewing and Grady (Love Fraud), asking how they knew they had a story–an unbelievable, female-driven true crime story about an infamous serial bigamist and con artist–worthy of elevation to a docuseries.
Said Grady, "First of all, we met the bounty hunter, and she's a film character. She helped band the women together. And we were chasing this bad guy across America," which led them to meet so many more additional interesting characters along the way. In a feature, she said, these sorts of tangential characters might not make the cut. "But for a series, they make the cut. It's great to include all those 'B' Characters."
Deggans then asked the documentarians to consider the ethics of their chosen format, "Where's the line between having a situation that you helped pull together versus actually manipulating the situation?"
Citing his unique qualification to talk about this given the high-concept, transformational nature of his docuseries, We're Here's LoGreco said, "We talked about how this offers an opportunity to very openly creating a different way to pressure-test these small-town communities to look at this environment where there's such division going on. It comes down to really getting to know and understand your subjects, so that the situation you're creating bringing people together in a somewhat artificial way is serving the underlying authentic component of what your story is."
Deggans wanted to know how these filmmakers earn trust and negotiate relationships with the important subjects that they need access to in order to make their documentary while maintaining enough distance to authentically tell their story.
James believes in giving agency to his subjects. "I don't give them editorial control, but I seriously want their input. And I take their input seriously and have even made changes based on feedback, but you also have to be willing to say no."
For Schwarz part of the magic is understanding what they want. He says you need to speak their language. "There was a certain way we talked to the ICE agents because we understood what they were up against. If I didn't talk to them that way I wouldn't get that access."
To wrap up, Ewing answered a question from a viewer about how easy is it to sell a docuseries these days, "If you sell them five hours, they'll ask for eight." Boom times, indeed.
This Week: You Never Forget Your First
The Director's Debut. Featuring 2021 Best First Feature nominees Radha Blank (The Forty-Year-Old Version), Heidi Ewing (I Carry You With Me), Darius Marder (Sound of Metal), Edson Oda (Nine Days) and Channing Godfrey Peoples (Miss Juneteenth). This Wednesday, March 24, 5:30pm PT. To watch trailers for our the panelists' projects, click here. Single session tickets also available.
The 2021 Directors Close-Up is sponsored by Premier Sponsors Directors Guild of America (DGA) and SAGindie, Supporting Sponsor Sony Cinema Line and Film Independent Spirit Awards Premier Sponsors Genesis and IFC. Bulleit Frontier Whiskey is the Official Spirit. FIJI Water is the Official Water. Getty Images is the Official Photographer.
We're also honored to be partnering with the Association of National Advertisers' (ANA) SeeHer, the leading global movement for gender equality in media, advertising, marketing and entertainment and AMC Networks to further celebrate and act as a catalyst for accurate and meaningful representation in storytelling.
More Film Independent…