Directors Close-Up Recap: Sean Baker "Phones In" The Year's Most Innovative Indie
Reach into your pocket. Pull out your iPhone (or Android). Look at it. Would you believe that this small, sleek bit of tech contains more raw filmmaking firepower than Orson Welles had at his disposal to make all of Citizen Kane?
It's true—but there's a reason that the availability and dexterity of lightweight, pocket-sized video cameras hasn't necessarily led to an explosion in quality independent filmmaking. Telling great stories still requires the effort of talented storytellers, and talent can't be manufactured.
Such was the case with the gritty, LA-set sex worker comedy Tangerine, famously shot on the iPhone 5s. But there's more to the film than the novelty of its shooting format; Tangerine was the subject of Film Independent's fifth (and final!) night of the 2016 Directors Close-Up series.
The panel brought Tangerine director Sean Baker and co-writer/producer Chris Bergoch to the Landmark theaters in Los Angeles to discuss the film's unlikely path to becoming an art house hit, which included multiple nominations and a historic win at the recent 2016 Film Independent Spirit Awards.
Glenn Kiser, Director of the Dolby Institute, who kicked things off by asking Baker and Bergoch how their collaboration began, moderated the discussion.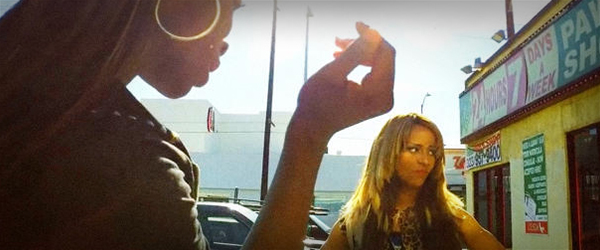 "We met at NYU at the Tisch School of the Arts as undergrads," Baker explained. "We connected on just loving film."
The duo went on to co-create the surreal Fox sitcom Greg the Bunny and its MTV spinoff Warren the Ape, the latter of which featured several stunt-casting appearances by adult film actresses.
It was in talking to these performers that Baker and Bergoch hatched the idea for 2012's Starlet, Baker's unflinching comedic drama about the unlikely friendship between a pornographic actress and her elderly neighbor.
Starlet would go on to win the Robert Altman Award for best ensemble cast at the 2013 Film Independent Spirit Awards, which led to an offer from indie film moguls Jay and Mark Duplass to collaborate on a microbudget feature.
That microbudget feature ended up being Tangerine, the idea for which sprung out of a single location.
"Santa Monica and Highland…that's the idea," said Baker, referring to the infamous intersection where LA's transsexual sex worker population tends to congregate—including the Donut Time coffee shop where much of Tangerine's action takes place. "We [got the] green light just based on the intersection."
"A lot of filmmakers have really interesting notions for films, but 98 percent of them never get there," observed Kiser. "How did you?" he asked.
"We wanted to do a really simple Point A to Point B mission," said Bergoch. Baker added, "We had no idea going in except that we wanted a climactic confrontation at Donut Time."
Begoch explained their strategy for entering the world of trans prostitutes. "One of the first things we wanted to do was find collaborators," he said.
Eventually, the filmmakers met actors Kitana Kiki Rodriguez and Mya Taylor at a local LGBT center. Working together with the transgendered actresses, Baker and Bergoch developed the script—a process Baker said was influenced by the improvisational techniques of British filmmaker Mike Leigh.
"I always encourage improv, but you have to find actors who can do it," said Baker of his leads, stressing that Taylor and Rodriguez were "first time actors"—not, he was careful to point out, amateur actors.
Kiser then threw to a clip of Tangerine's first scene, in which Taylor's Alexandra lets slip that Sin-Dee's (Rodriguez) pimp boyfriend has been cheating on her, setting off an epic, daylong journey to confront him.
"I'm always interested in the first 10 minutes of a film," said Kiser of this deceptively low-key opener, which then explodes into the frenetic cutting and camera work that more typifies the remainder of Tangerine's 90-minute runtime.
"We wanted to throw the audience into this moment," said Baker. "We wanted a traditional title sequence and traditional shot-reverse-shot. I wanted [it to evoke] every classic holiday story, and then [to] abandon the old after the title sequence."
Baker described the influence of trap music in the pacing of the film, and the process of locating tracks from independent producers on the music site Sound Cloud.
After showing another clip, Kiser introduced a "show and tell" segment focusing on Baker's custom iPhone rig. "I wanna see the camera!" he begged.
"You probably own one," joked Baker, pulling out the iPhone, which was augmented during Tangerine's shoot by an internal stabilizer and an anamorphic lens adapter.
During shooting, Baker would hold the camera on an additional stabilizing rig—think of a steadicam crossed with a selfie stick. "That's pretty much it," Baker admitted, almost apologetically.
"Did you have any lights at all?" asked Kiser, marveling at the quality of footage captured by this unassuming setup.
"Our co-DP [Radium Cheung] had a gaffing background," said Baker. "[He] used whatever we had—white sheets and battery operated fills. There was minimal lighting, which is what I love anyway."
In fact, the biggest technical expenditure on the film was capturing quality sound, a key production detail since, as Kiser noted, audiences are conditioned to tolerate a certain amount of visual degradation as an aesthetic choice—but not so with sound.
"We wanted the sound to be very clean and professional," said Baker. "We never recorded with the [iPhone's] onboard mics, except for one or two pickups," though he admitted that when left with no other option, the iPhones audio was acceptable.
"I've actually had great success recording wild dialogue with an iPhone," observed Kiser.
"The battery was the biggest issue, not storage," said Baker of the 5s's capabilities as a feature filmmaking tool. He explained that they originally planned to shoot with three iPhones, but only used two. "One was just too grainy," he said.
The lights then dimmed for two additional clips from Baker's filmography—the tragicomic confrontation in a porn producer's office from Starlet, and the far less humorous inciting incident from Baker's 2008 domestic drama Prince of Broadway.
Remarking on these clips as well as Tangerine, Kiser commented on Baker ability to sensitivity depict stories within outsider subcultures that they themselves do not belong to—be they trans sex workers, porn stars or New York street hustlers.
Baker and Bergoch explained that it all came down to telling "universal stories," regardless of milieu. The filmmakers also stressed the importance of finding key collaborators whose authentic experiences can inform such stories. "Time spent, respect given, voices heard," is how Baker summed up the process.
But whatever approach Baker and Bergoch have in place for creating such vibrant and unique films, it's not just working—it's making history. Just ask Taylor, who took home Best Supporting Female trophy at the February 27 Sprit Awards—the first major acting award ever won by a trans performer.
---
To catch up with the rest of this year's Director's Close-Up series, please click to read recaps here (The End of the Tour), here (Anomalisa), here (Writers panel) or here (Directors panel).
Click here to view additional upcoming Film Independent events. To learn more about Film Independent, please visit our website or subscribe to our YouTube channel. Learn how to become a Member of Film Independent by clicking here.
Matt Warren / Film Independent Digital Content Manager