Diversity Speaks at the 2017 LA Film Festival: Underrepresented Voices Push for Greater Visibility
When you think of the word "diversity" you may think of sprinkling a few women, members of the LGBTQ community and people of color perfunctorily added to spice up America's otherwise overwhelming white/straight/male-oriented entertainment product. But not everyone fits under this hegemonic umbrella. And so, on Saturday June 17, Film Independent held its annual Diversity Speaks series at Culver City's Kirk Douglas Theater—another exciting event at the 2017 LA Film Festival.
The objective? To expand the definition of the word and act as a call to action for Hollywood and the film industry. The four Saturday panels covered issues of representation and acceptance both in front of and behind the camera, regardless of how people choose to define themselves.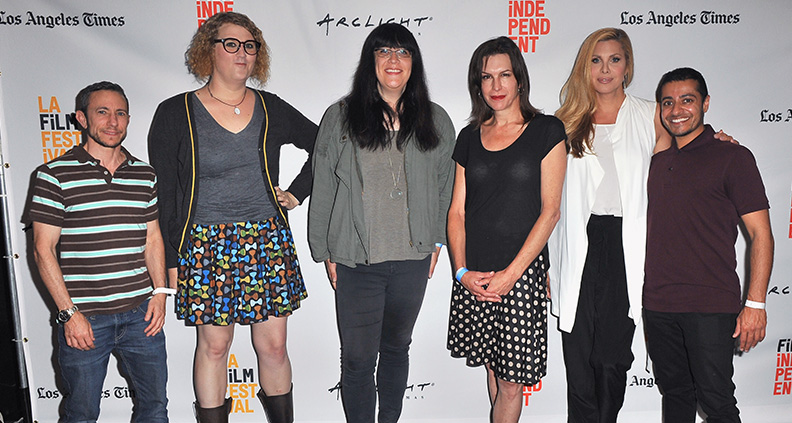 AUTHENTIC TRANS VISIBILITY
In the first panel of the day, Cis in Trans World: Transgender Visibility, trans actor Rachel Crowl (of 2017 LA Muse entry And Then There Was Eve) talked about the importance of trans exposure. "[Cisgender] people dressing up as trans people is like wearing blackface," she said. "We're not going to ask Tom Hanks to play Martin Luther King, right?" She explained how Eve's producers wanted to authentically portray a trans woman, pushing the film's production until they found an authentic trans actor to fill the role.
As trans writer/director/actor Shaan Dasani (Bollywood Invasion) added: "I do see it as problematic when cis men are casted in trans roles," at which point the entire trans panel called out the industry for doing precisely this with The Danish Girl and Dallas Buyers Club. Additional panelists included Candis Cayne (The Magicians) and Mari Walker (Swim).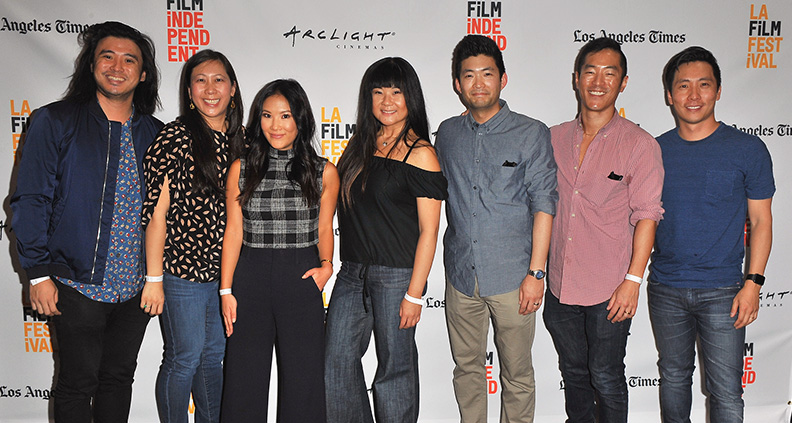 ASIAN AMERICANS ON FILM
The subject of opportunity transcended throughout the day. In the panel Whitewashing: Asian and Asian-American Representation in Film/TV, actor Kelvin Yu (Master of None) said, "This is a country of excess. There could be an Asian-American wave" referring to the current lack of programming centered on the Asian-American experience. In fact, a recent diversity study by USC's Annenberg School of Communication found that only one out of 20 speaking roles goes to Asians, with only one percent of leading roles.
The panelists—which also included Leonarda Nam (Westworld), Kelly Hu (The Scorpion King), Ally Maki (Wrecked), Phil Yu (the Angry Asian Man blog), Bruce Thierry Cheung (Don't Come Back from the Moon) and Fox VP Gloria Fan—all talked about the competitiveness of being Asian/Asian-American in the industry, explaining that the industry forces you to be ruthless when there are so few roles to offer. Cheung also spoke about a need for support within the community, saying "your burden is my burden."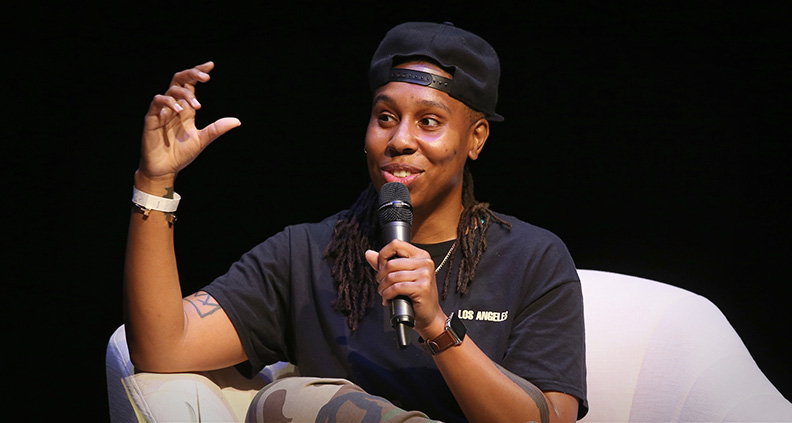 LENA WAITHE SPEAKS
In an article about Netflix's Master of None (starring Aziz Ansari and created by Ansari with Alan Yang) called POC Can Empower One Another By Helping Tell Each Other's Stories, The Huffington Post's Zeba Blay wrote the following: "There's truly something to be said for solidarity among POC, especially in the entertainment world, which so often seeks to tokenize minorities, shining a light on one 'it' person of color at a time." In particular, Blay was referring to the relationship between Ansari's Dev and the character of Diane, played by 2017 Diversity Speaks keynote speaker Lena Waithe.
In a dedicated Saturday panel, Waithe spoke with Film Independent curator Elvis Mitchell about her collaboration with Ansari, as well as how being a queer black woman is equivalent to having a "spidey" sense in today's film industry. "I look at it as a superpower rather than being ashamed," she said. "People are fascinated about it, so let's get together and make some money." Waithe talked about how she wanted to make TV that transcended boundaries and spanned generations, like The Mary Tyler Moore Show and A Different World—shows she said made her "feel human" as a child.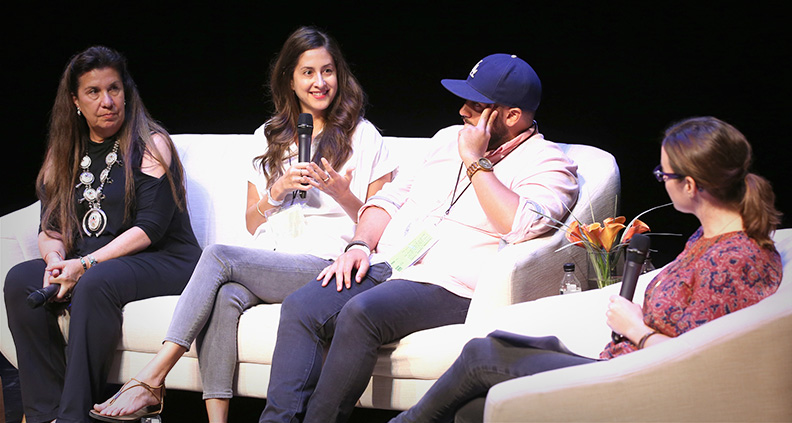 TRANSCENDING 'THE OTHER'
Exploring issues of representation across a variety of demographics, the panel The Other: Documenting Marginalized Stories, writer/director and Project Involve Fellow Marvin Lemus (Gente-fied) spoke about his need for representation as a kid. "I grew up my entire life wanting to be white and rejecting my culture," he said. Lemus continued to talk about all the white faces he saw on TV as a child, and how they were often the lead characters and superheroes. "The only roles for Latinos were the maids, gardeners… I didn't want to do that," he said.
Writer/director/actor Amy York Rubin (Boxed In) agreed, adding: "If I [had seen] the body of a woman who wasn't thin as a child, my life would have been better. When you don't see a certain type of woman reflected back to you, you think they don't exist." The panel—which also included Sydney Freeland (Diedra & Lacey Rob a Train), Valerie Red-Horse Mohl (Mankiller), Xan Aranda (Room 104) and JuVee Productions President Julius Tennon—discussed how such intersectional inclusion plays an important part in how people view themselves in the world. Said Tennon: "Diversity is good, but inclusion is better."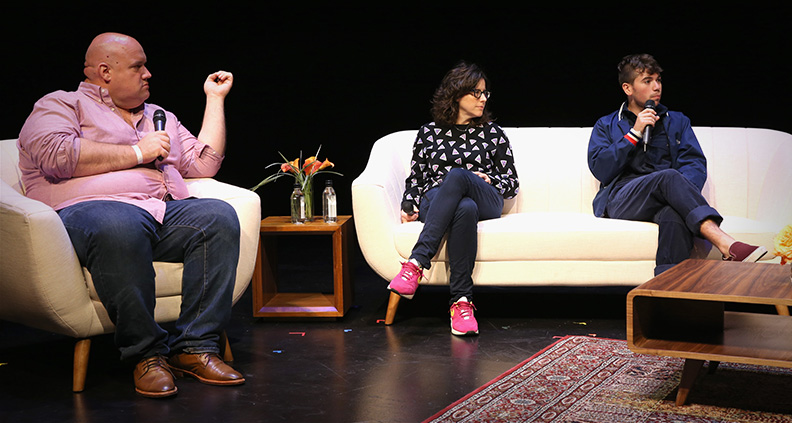 ON BEING OUT ONSCREEN AND OFF
Saturday closed with the panel Reclaiming Gay for Pay: What It Means to be 'Out' in Hollywood. Comedian Guy Branum of TruTV's Talk Show the Game Show pointed to fellow panelists Keiynan Lonsdale (The Flash) and Noah Galvin (The Real O'Neals) and said, "These guys will have to work extra hard to prove they can play straight, whereas straight people can play gay characters with no problem."
The panelists—which also included Karey Dornetto (Portlandia) and Anne Clements (Political Animals)—discussed how being gay in Hollywood is so often correlated with activism. "I only came out a month and a half ago," said Lonsdale, joking, "a few weeks after, I got an invite to this." Lonsdale continued to explain alongside his fellow panelists why it was necessary to advocate for less stereotypical gay stories, as well how the lack of mentorship and strong role models can hinder young queer creators from being their truest self. "The sense of love for yourself attracts other love," Lonsdale said.
This insightful speaker series was—and still is—a necessary action towards intersectional inclusion and representation, as there are still so many marginalized stories still waiting to be told.
The 2017 LA Film Festival is currently underway, June 14—22, headquartered at the ArcLight Cinemas Culver City, with additional screenings at ArcLight Hollywood, ArcLight Santa Monica, LACMA and The Theatre at Ace Hotel. Check out the Festival Guide here.
Stay tuned to our Twitter, Facebook and Instagram for the latest new additions and updates. And don't forget to subscribe to our YouTube channel for more exciting announcements. Tickets and passes are on sale now.
Sold out screenings? Get in with a Festival pass. In addition to screenings and special events (even when sold out) Festival passes provide entry to our super-fun Festival Lounge, featuring a 21+ hosted bar and the opportunity to rub shoulders with Festival filmmakers and other film industry professionals. Buy yours. Film Independent Members save up to 25%.
(Header: L-R, Sydney Freeland, Xan Aranda, Valerie Red-Horse Mohl, Julius Tennon, Amy York Rubin and Marvin Lemus)