Horse Actors and a Six-Man Crew: How Chloé Zhao Made 'The Rider'
On April 11, multiple Film Independent Spirit Award nominee (and inaugural Bonnie Award winner) Chloé Zhao brought her new film—the intimate cowboy drama The Rider—to the Writers Guild of America West for a special screening and Q&A moderated by Film Independent at LACMA curator Elvis Mitchell. The conversation included Zhao and her Rider lead, IRL-cowboy-turned-actor Brady Jandreau. Together they spoke to the unique experience of making the film.
In The Rider Jandreau plays a loosely autobiographical version of himself: a young cowboy dealing with the physical and emotional consequences of a traumatic rodeo accident, struggling to find a new purpose away from the allure of the rodeo ring. The film was nominated for four 2018 Spirit Awards—Best Feature, Best Director, Best Editing and Best Cinematography—and was the recipient of the first-ever Bonnie Award to honor a mid-career female filmmaker.
Zhao is an alumnus of the 2011 Film Independent Screenwriting Lab. Her previous film, 2015's Songs My Brothers Taught Me, was supported by Film Independent's Fast Track program.
HOME ON THE RANGE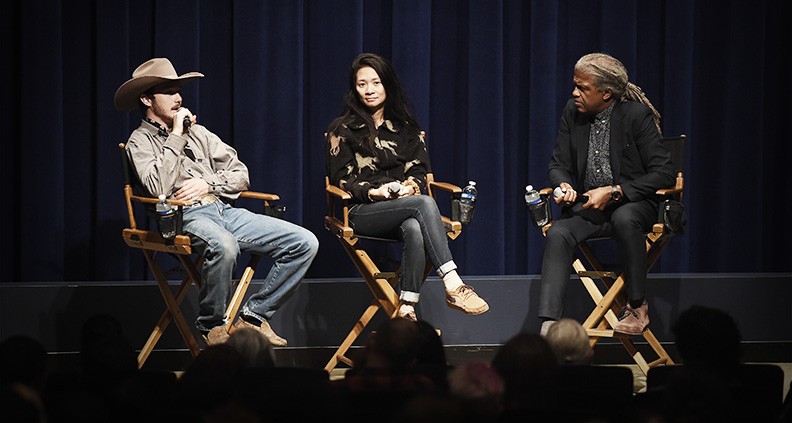 So, what was the first day of shooting like? For the (then) non-actor Jandreau, "it was probably the most hectic day of the shoot"—owing in no small part, Zhao said, to the fact that base camp was located a full three hours from the rural set, on the Pine Ridge Indian Reservation of South Dakota.
On discovering Jandreau during the filming of Songs (also shot on the Pine Ridge Reservation), Zhao said: "I was playing video games and [Brady] walked in from the ranch and I thought, 'Oh wow, there's a presence to this kid.'" Zhao later mentioned she was searching for a young Heath Ledger type, with Jandreau fitting the bill. "I saw him training horses and honestly, it was nothing I've ever seen before. He was a mother to that horse, a father, a friend and a dance partner."
Jandreau added, "Throughout the day, [Chloe] asked me things like, 'Show me how to saddle a horse' and asked what the [area] was where the horse's neck meets the saddle's back. I said, 'That's the wither, it's just a little bone that God put in there to keep the saddle on.'"
"From my background, if someone said that [sentence] to me, I would probably not believe you—that line about how God puts the bone in the horse to hold a saddle," said Zhao.
WRANGLING AUTHENTIC MOMENTS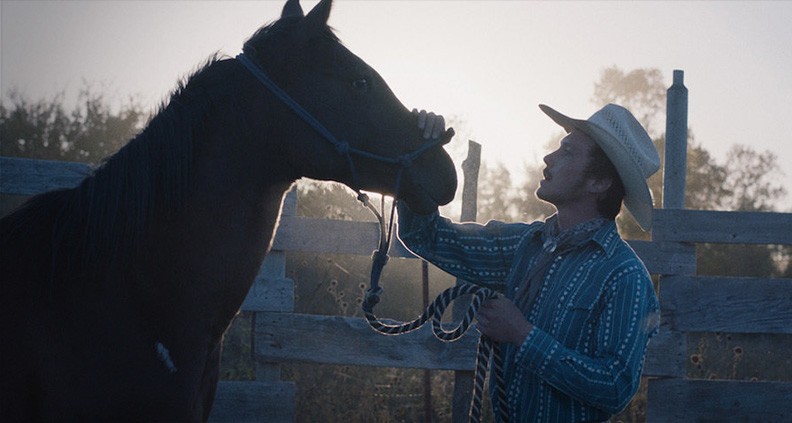 Before being "roped" (rodeo pun intended) into starring in The Rider, Jandreau said, "I had hardly ever thought about acting. I had seen some movies, but never really analyzed it."
Said Zhao of her star, "He has such strong convictions to his way of life; he believes every word." Zhao spoke to one exceptional scene where Jandreau trains a baby horse. "It was two 25-minute takes that were actually happening in real time as the sun was going down." Mitchell jumped in: "I'm sorry—one of the most incredible scenes from the movie is improvised as the sun is setting? Let's go buy lottery tickets right now," he joked.
"I think Brady is definitely acting," said Zhao. "There's a difference between the personality of Brady Blackburn and Brady Jandreau." For the director, the speed and rhythm of a set determines how she will be able to best create useful spontaneous moments. "How the story is written and how the set is run [allows] these spontaneous interactions between human beings to happen," she said.
Much of the film involves Jandreau interacting with horses—with the horses' behavior often difficult to predict. "There were times when the horses were very calm. The next day, the weather might have been a little different or something might have been a different color and we'd have to do a whole desensitization process [between the horse and the crew]." Meaning having the cameraman pet the horse and letting the horse smell and acclimate the camera every single day—a lengthy process that required the patience and respect of all involved.
ANIMALS, AMATEURS & ACTORS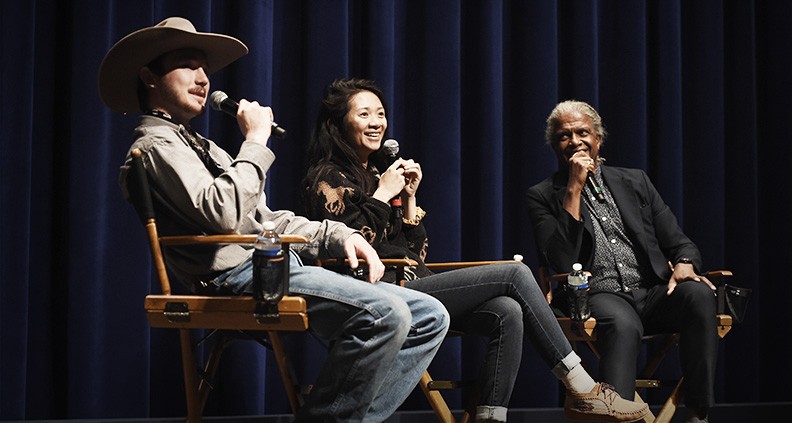 Zhao credits her filmmaking style in part to limitations she's faced with. Her two features, she said, "came out of a lack of resources. You either work with limitations or let it work [you], so we chose to do that with the first film and it was a rocky process. I learned from that." With The Rider, Zhao was prepared and knew exactly what everyone's abilities were, ultimately executing the entire shoot with a scant six-person crew.
"You work with those limitations, and a style comes out of that. For example, not having money for lights," Zhao said. "If you don't have money for lights, you've got to look at that one up there," she pointed skyward, "and schedule your shoot accordingly. Or you have nothing."
Of her cast—which also features Jandreau's real-life father and sister—Zhao said, "The hard line between 'professional' and 'non-professional' doesn't exist for me," noting Jandreau's unique ability to be present and focused despite the disruptive presence of both cameras and horses.
"He's so focused in that moment," Zhao said. "If he [isn't] he can die. So being a rodeo rider and also a horse trainer gave him that ability, to be present in front of a camera with another actor with a horse." She noted that you can train forever to achieve this, but ultimately either have it or don't.
Brady Jandreau has it.
The Rider is currently in theaters, distributed by Sony Pictures Classic. For more information, please visit the film's website. To learn more about Film Independent's Artist Development programs, click here.
Coming up at Film Independent at LACMA
For the complete lineup of upcoming Film Independent at LACMA events, click here. Not a Member of Film Independent yet? Become one today.