LA Film Festival Update: Diversity Speaks Shines the Spotlight on Underrepresented Voices
Among the many pleasures independent film provides, the ability to enter the experiences of underrepresented social groups is among the most important. The late film critic Roger Ebert was fond of describing the movies as an "empathy machine"—a tool that enables audiences to step inside different viewpoints and understand at least something of the struggle met each day by the many different sorts of people who too often find themselves marginalized in Hollywood.
But of course, no one can see these projects unless someone makes them first. And for underrepresented creators the struggle behind the scenes to make their voices heard is rarely an easy one. That's why we're glad to welcome Diversity Speaks back for the 2017 LA Film Festival. Taking place Saturday, June 17 and Sunday, June 18 in the Kirk Douglas Theatre in Culver City, Diversity Speaks features five in-depth panel discussions aimed at expanding the definition of diversity and act as a call-to-action.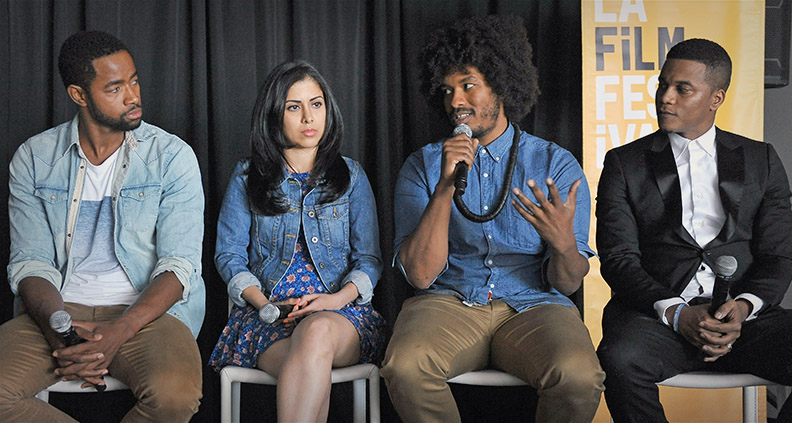 What's more, this year's Diversity Speaks keynote will be the amazing and talented Lena Waithe from Netflix's Master of None (be sure check out her standout episode "Thanksgiving" in the show's second season). Waithe will sit down for a keynote conversation with Elvis Mitchell to discuss her life and career as a queer woman of color working in Hollywood. Additional panels will include:
Cis in a Trans World: Transgender Visibility. Members of the trans creative community will discuss on-screen cis appropriation in depictions of trans stories, panelists include Candis Cayne (The Magicians), Mari Walker (Swim) and Rachel Crowl (And Then There Was Eve). Moderated by Riley Silverman (Not Safe with Nikki Glaser). 12:00 – 1:00 pm
Whitewashing: Asian and Asian-American Representation in Film and TV. Leonardo Nam (Westworld), Kelly Hu (The Scorpion King), Kelvin Yu (Master of None), Ally Maki (Wrecked), Phil Yu (Angry Asian Man blog), Bruce Thierry Cheung (Don't Come Back from the Moon) and Gloria Fan (VP of Current Programming, FOX) will discuss packaging of Asian cultural properties. 2:00 – 3:00 pm
In Conversation: Lena Waithe Sits Down with Elvis Mitchell. Lena Waithe sits down with Film Independent curator Elvis Mitchell for an intimate off-the-record talk. 4:00 – 5:00 pm
The Other: Documenting Marginalized Stories. Panelists Sydney Freeland (Deidra & Laney Rob a Train), Valerie Red-Horse Mohl (Mankiller), Amy York Rubin (Boxed In), Xan Aranda (Room 104) and Marvin Lemus (Gente-fied) will shine a light on how these filmmakers and storytellers work within, and around, the current systems to be seen and heard. 6:00 – 7:00 pm
Reclaiming Gay for Pay: What It Means to be 'Out' in Hollywood. Panelists Keiynan Lonsdale (The Flash), Noah Galvin (The Real O'Neals) and Guy Branum (Talk Show the Game Show) question why it remains difficult to come out in Hollywood and the future of storytelling for the LGBTQ+ creative community. The panel will be moderated by Marc Malkin of E! 8:00 – 9:00 pm
All Diversity Speaks panels are free of charge—so come join us! See the Saturday, June 17 schedule here and Sunday, June 18 here. Diversity Speaks is sponsored by HBO with additional support from Twentieth Century Fox Film and Yvonne Huff Lee and Jason Delane Lee | Lagralane Group. To see the lineup and buy tickets and passes, visit tickets.lafilmfestival.com.
The 2017 LA Film Festival takes place June 14-22, headquartered at the ArcLight Cinemas Culver City, with additional screenings at ArcLight Hollywood, ArcLight Santa Monica and more. Stay tuned to Film Independent's Twitter, Facebook and Instagram for the latest new additions and updates. And don't forget to subscribe to our YouTube channel for more exciting announcements.
Tickets and passes are on sale now. Sold out screenings? Get in with a Festival pass. In addition to screenings and special events (even when sold out) Festival passes provide entry to our super-fun Festival Lounge, featuring a 21+ hosted bar and the opportunity to rub shoulders with Festival filmmakers and other film industry professionals. Buy yours today. Film Independent Members save up to 25%.
(Header: 2016 Diversity Speaks Speaker Issa Rae with Film Independent at LACMA Curator Elvis Mitchell)