Exploring Los Angeles with the Filmmakers of LA Muse, 2018
Famously, LA is a collection of neighborhoods, many of which aren't easily recognizable as having any relationship to each other. The chic vibes of Venice Beach seem a world away from the inland grit of East LA. The glitz and glamour of classic Hollywood practically alien compared the hardscrabble desperation of the city's many subterranean homeless encampments. But savvy Angelinos know that these many faces are all of a piece: our city is complex prism of interconnected communities—with plenty of surprises for those on the lookout.
Naturally, any 10 films chosen to represent the scope of stories and experiences found in modern day Los Angeles will necessarily be as wide-ranging as the city itself. And while it would be impossible to capture every single facet of the City of Angeles with just 10 titles, you could do a lot worse than this year's LA Muse.
For the fourth year, we left the air-conditioned confines of Film Independent HQ far behind, venturing out to meet this year's LA Muse filmmakers on location to learn the stories behind this year's films—learning what makes these locations so special and finding out what these creators (and subjects) are looking forward to at this year's LA Film Festival.
THE ADVOCATES
Why We're Excited: Going behind the headlines and debate that mark the public outcry over LA's unprecedented homeless crisis, The Advocates offers pragmatic, hopeful stories of real-life transformation, told straight from the trenches. As experts supply insight into the underlying causes of the crisis amid a changing policy landscape, the invaluable role that caseworkers play—and the personal toll it takes on them—is laid bare. These workers demonstrate in daily practice what the lost ideal of "care in the community" looks like, and encourage others to do the same. Keeping pace with the tireless work and around-the-clock commitment of his subjects, director Rémi Kessler paints a realistic portrait of an ongoing crisis that still allows for moments of grace and humanity to shine through. (Drea Clark)
STUNTMAN
Why We're Excited: In 1974, Evel Knievel attempted to jump the Snake River Canyon in a rocket-powered craft—but failed to clear it when a parachute deployed too soon. Forty years later, veteran stuntman Eddie Braun attempts to successfully recreate the launch of his boyhood idol with the help of Scott Truax, whose father constructed Knievel's original rocket. Braun calls upon the expertise and connections he's earned over three decades in the industry while Truax seeks to prove that his father's design will hold. Director Kurt Mattila provides incredible access and dynamic visuals, blending a rich history of the stunt profession with the visceral imagery of a man in flight. At the heart of it all lies Braun's curiously contradictory, but co-existing, traits: levelheaded family man and fearless stunt crusader. (Drea Clark)
SAINT JUDY
Why We're Excited: In a landmark case—her first as an immigration lawyer—Judy Wood represents Asefa Ashwari, an Afghan woman who fled her home country after being persecuted by the Taliban for opening a school for girls. While juggling her life as a single mother and struggling against her own demons, Judy fights tenacious battles both in and out of court alongside Asefa, weathering together devastating series of losses and setbacks. Director Sean Hanish brings an assured and empathetic touch to this timely reminder of a true story that changed the laws of asylum for women entering the United States. Michelle Monaghan shines as the titular character, a woman whose passion and intelligence influenced every part of her life, from being a mother, to being a neighbor, to being a citizen. (Drea Clark)
MAKING MONTGOMERY CLIFT
Why We're Excited: The presumed-be-tragic legacy of classic film star and queer icon Montgomery Clift's life and work is re-examined through the eyes of the family he left behind. How did a man who was supposedly deep in the closet leave behind partners with so many affectionate memories of times shared together in the open? How could a four-time Academy Award nominee—whose entire career was an exercise in personal agency—come to have his labors seen as the accidental output of a disturbed mind? Directors Robert Clift and Hillary Demmon delve into a rich archive of materials left behind by Montgomery Clift and his brother Brooks, wrestling with questions of family, legacy, representation and who ultimately gets to say what a person's life is allowed to mean. (Drea Clark)
FUNKE
Why We're Excited: When prodigious chef Evan Funke inexplicably walks away from his critically acclaimed restaurant, his life and career are thrust into a dark vortex. Years later, still healing from the pain of emotional and financial ruin, Evan begins mounting his comeback, eyeing the most competitive street in America as a stage for the dying art of handmade pasta. Reconnecting with the best artisan pasta makers in the world, Funke finds himself fighting to fulfill his artistic destiny while battling the impossibly volatile LA restaurant industry. Putting his years of work behind-the-scenes to good use in his feature debut, director Gabriel Taraboulsy gives equal measure to the artistry and passion that are crucial in the kitchen. Imagery that practically smells delicious offers a wonderful balance to Funke's fiery personality as the chef strives to leave a legacy that will repair the mistakes of his past. (Drea Clark)
WE THE COYOTES
Why We're Excited: Amanda and Jake are young, in love and can fit all of their worldly positions into the vehicle they drove from Illinois to Southern California. Their initial housing plans fall through, leaving them to spend a day discovering LA—from gray industrial smokestacks to the postcard-perfection of the beach at sunset. Facing setbacks, the young lovers fight to stave off the adult-tinged darkness of frustration and keep their youthful bliss shining bright. A textured and artful feature debut from writer/directors Hanna Ladoul and Marco La Via, We the Coyotes is romantic but unsentimental, allowing tension to be felt as keenly as the sense of wonder. Watching them find joy in LA's absurdity and beauty is a balm to any aged soul. (Drea Clark)
EL CHICANO
Why We're Excited: Growing up in East LA, twin brothers Diego and Pedro always knew they had each other. As adults, Diego became a police officer looking out for the streets, while Pedro turned to a life of crime. When clues start connecting Pedro's death to a case Diego is working on, the mysterious vigilante figure of their youth—"El Chicano"—returns, drawing Diego in deeper than he ever expected. Director Ben Hernandez Bray puts his skills with action and authenticity to good use, balancing adrenaline-filled beats with moments of emotional connection. Writers Bray and Joe Carnahan offer up a socio-political allegory within the framework of the superhero genre, taking advantage of audience's familiarity with what they see in the movies and what they see in the news. (Drea Clark)
FIRE ON THE HILL
Why We're Excited: In an area known to many as synonymous with crime, Compton and the surrounding neighborhoods have also been the longtime home of a unique subculture: Black cowboys. Located in South Central, "The Hill" is the last horse stable of its kind, turning generations of inner-city youth into rodeo champions, and now finds itself under threat. When a mysterious fire forces the closure of the Hill Stable, the very culture of Black cowboys is in peril. First-time feature director Brett Fallentine deftly draws out the contradictions between public perception and the reality of a community as he follows cowboys Ghuan, Chris and Calvin. Their stories of perseverance paint the full picture of the Hill Stable, shine a new light on South Central and explore what it truly means to be a cowboy. (Drea Clark) 
SOLACE
Why We're Excited: At 17, Sole finds herself mourning her father's death, adjusting to her new life in the Ladera Heights neighborhood of LA with her estranged grandmother Irene. Desperate for an escape, she discovers a performance art grant that would take her back to New York, recruiting party girl Jasmine and musician Guedado to help—whom Irene has forbidden her to interact with. Sole's plan becomes complicated as she faces Jasmine's volatile instability, Guedado's confusing flirtation and her own battles with secret binge-eating to numb the pain. In a coming-of-age story that takes on the claustrophobic isolation of mental health issues, Tchaiko Omawale offers up a directorial debut that shows how the themes of adolescence can mirror those of addiction. (Drea Clark)
STAYCATION
Why We're Excited: Luke and Peggy are your average pair of Millennials in almost-love, living together in DTLA, placing complicated Indian food orders and making elaborate sex tapes inspired by indie film horror classics. Over the course of a day the edges of their insular relationship are tested as a discussion of exes leads to challenges neither of them thought they'd be facing on this particular afternoon. Returning to the Festival, director Tanuj Chopra (Chee and T) applies his ability to craft authentic connections to a modern sexual relationship, where erotic chemistry is as valued as humorous banter. Seeing a Taiwanese-American couple getting real—and getting busy—onscreen is a refreshing change, and Chopra's co-writers and lead actors Grace Su and Anthony Ma prove they are game for vulnerable positions, both emotional and physical. (Drea Clark)
Individual tickets to screenings and events are now available to both Film Independent Members as well as the general public. Festival Passes are currently on sale as well—see all of our different pass options below: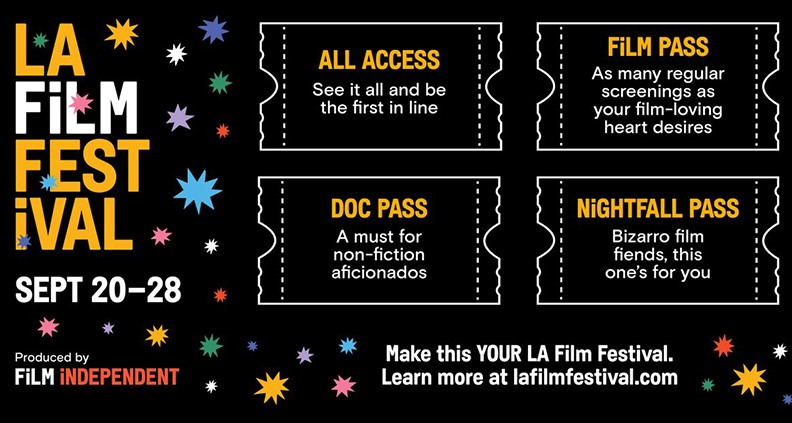 Visit tickets.lafilmfestival.com and be sure to follow the 2018 LA Film Festival on Twitter, Facebook, Instagram and YouTube. Visit our official Festival Store by clicking here.
Presenting Media Sponsor is Los Angeles Times. Official Host Venue is ArcLight Cinemas. Platinum Sponsors are American Airlines, EFILM | Deluxe, HBO and TikTok. The University Sponsor is Loyola Marymount University School of Film and Television. Official Screening Partner is Wallis Annenberg Center for the Performing Arts. Festival Supporters are Directors Guild of America, eTech Rentals, Kona Productions, TREETI and Visit Seattle. Festival Affiliates are 21st Century Fox Global Inclusion, ATK Audiotek, Konsonant Music, SAGindie and Writers Guild of America West. Additional support provided by National Endowment for the Arts. Stella Artois is the Official Beer. IMDbPro is the Official Industry Resource. CITI is the Official Credit Card. The LINE, NoMad Los Angeles and Freehand LA are the Official Hotel Partner. Essentia Water is the Official Water. Hillersden Estate Wines is the Official Wine. Getty Images is the Official Photographer.